A Wee Bit o' Irish Italy
One thing that I brought back with me from my time in Ireland this year was enjoyment of traditional Irish Soda Bread! Here in Italy I've been on a constant lookout for dense, moist, flavorful bread with some nutritional value. So much of what I've found is white, light, fluffy and dries out in a day. Believe me… I check every bakery I walk past, and there are many!
I did finally find a "delicatessen" offering foods of the Trentino-Alto Adige region of Italy. (This area is along the northern border of Italy, adjacent to and influenced by neighboring Austria.) When I first walked up to the streetside-window of this deli, I thought they should be ashamed of themselves for displaying pastries such as they have. How dare they! But I went in, glanced around and hit the jackpot. They offer dense, multi-grain seeded breads of lush, flavorful varieties. I bought several hunks and walked a mile home. (You can buy a quarter loaf of bread, or less!)
So I've been on a mission, and my family back home has helped out. I just received packages full of baking soda and baking powder, brown sugar, measuring cups and spoons, (a few sewing supplies, which have nothing to do with this story)… and today an oven thermometer arrived from my big bro.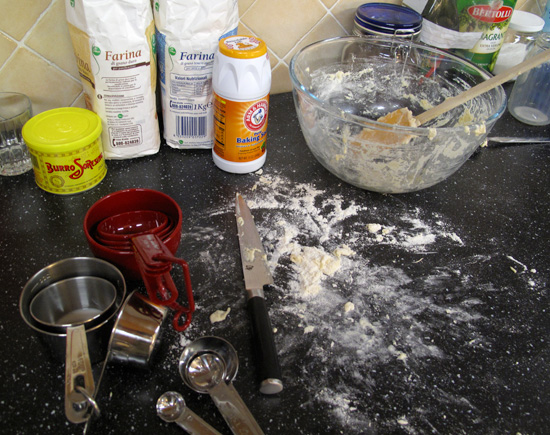 Today was my maiden bake-off. In 5 months I've never used my oven! I found a recipe online (waiting for my girlfriend to send me her real, traditional Irish recipe). I bought white flour and some sort of flour I can only guess about. I faked the buttermilk with some vinegar and made a mess in my kitchen. (Ahh, I've been missing that!) Soda bread is not yeasted, so it goes together quickly and easily; just don't overwork it!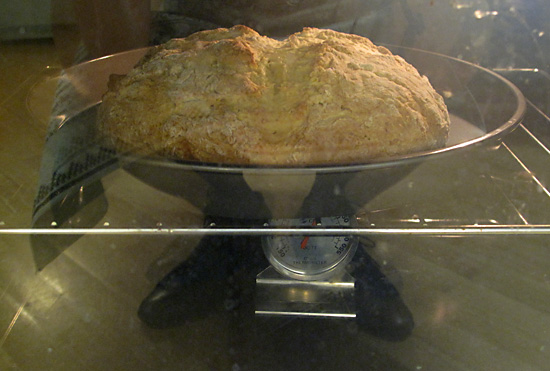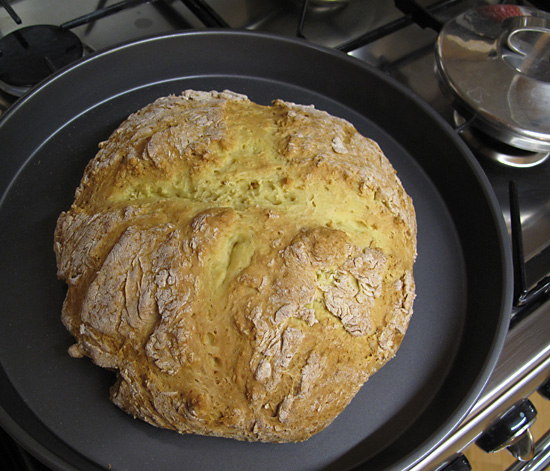 It cooked in about half an hour and looked beautiful through the oven window. Hot out of the oven, I had a slice with the first butter I've eaten in 5 months. (Truth be told, I picked the butter brand because I like the tin it comes in.) The next slice I ate with soft Italian goat cheese. Mmm. I could top it with some sliced tomato, too!
OK. I've established for myself how readily I can have the hearty bread I'm looking for, but I'll have to start finding friends that like it, too. Either give half a loaf away each time, or conjure a half-recipe and make just enough to last three days.
Next, I'll start experimenting with grain content and other variations. Mmm. A grilled soda bread sandwich with bresaola and gorgonzola? Perhaps.