At home in Milano
Sono qui! Sono arrivata a Milano!
I'm here! I've arrived in Milano!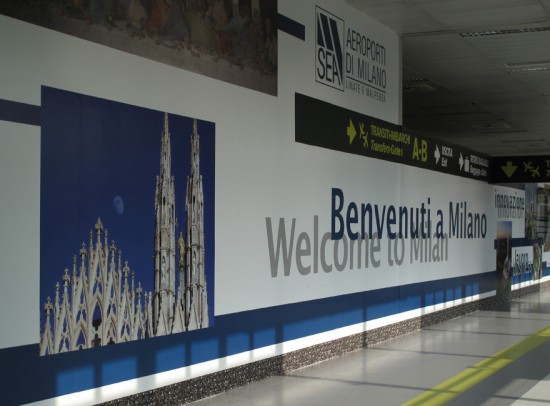 My plane got in yesterday morning at about 8:30. I found the ticket office for the Malpensa Express train from the airport to the center of town and took the 40-minute ride to Cadorna station. From there, I went to my new home in Milano enjoying and marveling at the familiarity of the streets along the way. I knew where I was! How cool is that!
This fabulous apartment is just one block north of the apartment I had for two weeks last summer, and just a few blocks' walk to the school, NABA. So I know where the grocery stores are, and the nearest subway station, 4 blocks away. On the nearest street corner is the place where I bought bottled water. Another block away is the "bar" where the guy custom-made me a tosto for breakfast because I didn't want a Nutella-filled pastry. He took two slices of bread, some prosciutto and formaggio and cooked it for me: a grilled ham and cheese sandwich. (Gotta start the day with some protein, not sugar!)
The first quick trip to the grocery store filled my bags with tomatoes, tomato sauce, pasta, pesto, grated hard cheese, acqua frizzante (sparkling water), butter lettuce, pears, lean pork, fresh mozzarella. Some white and red wine was already here waiting for me.
I puttered around the apartment for a while. Succumbed to the urge for a long nap. Awoke and cooked a bite to eat, then unpacked my bags and settled in. I'm here. I'm home.