Bubblegum & Basketweave in Seattle
As a designer and photographer, one of the most stimulating aspects of being in Italy was its visual lushness. Every surface and every structure caught my eye. (Hence, the 16,300 photos I shot in my almost-14-months there!) Before leaving Milano, I told a few friends back home that I was concerned I'd be visually bored once I returned to Seattle.
One friend, David, "The Computer Guy", offered to take me on a tour of 100 quirky and wonderful things to see in Seattle. It would be a way of seeing Seattle, my birthplace, with fresh eyes. Now that I'm finally coming up for air from resettling, and blessed with blue sky Fall days here, we had our tour last Friday.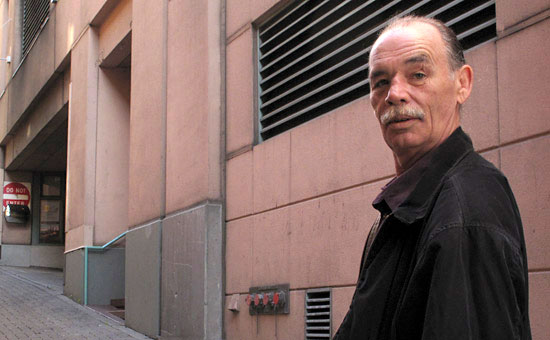 David and I met up at the International Fountain at the Seattle Center, ready to begin our 4-hour, fast-paced whirlwind through the city. (This is a tour he used to make with his son when he was little.)
After checking out the rainbow arching over the fountain, we walked through the Center House food court to the Monorail entrance. We bemoaned the absence of the old Bubbleator that used to rise through the middle of the Center House floor.
It's been years since I've taken a ride on the Monorail, and I've never made the trip as it now passes through EMP-Experience Music Project/Science Fiction Museum, designed by architect Frank Gehry.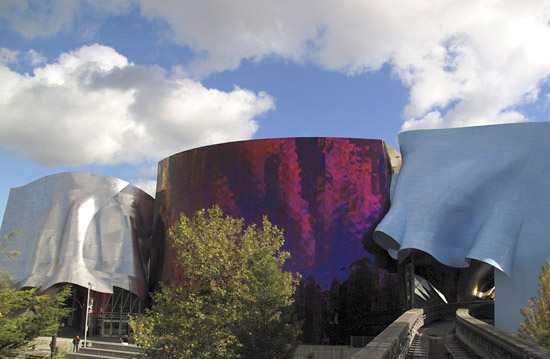 .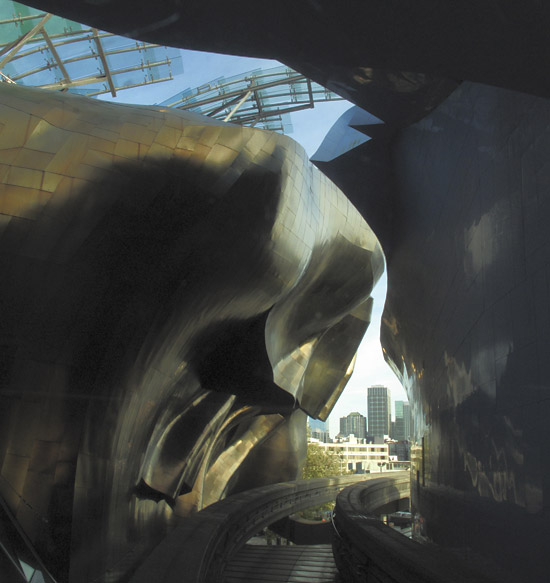 The Monorail's elevated tracks snake the short distance from the Seattle Center in the lower Queen Anne neighborhood, into the city, past the "Darth Vader" building (on the right, below). (Seattle also has the "Norelco Shaver" and "Ban Roll-On" Buildings, named for their evocative shapes.)
After a short ride, we arrived at Westlake Center, a 4-story shopping hub just a few blocks from the Pike Place Market. We wound through the lunch crowd for a quick pit stop before we began at Westlake Station for our ride through the Seattle Transit Tunnel.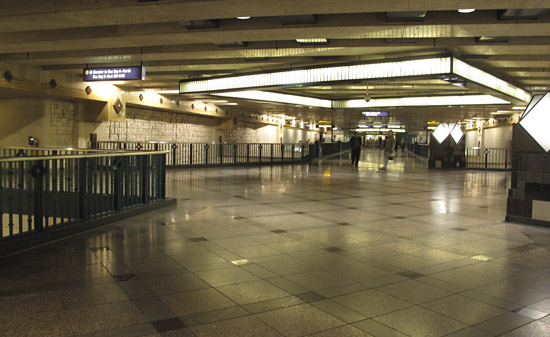 Every tourist and every local should take a free ride through this well-rendered tunnel.
From King County's Web Site: "The tunnel has five stations. One of the first mysteries of station design was which came first, the art or the architecture? It's difficult to separate the two. That's because a lead artist worked with a lead architect to develop the distinctive art and architecture for each station.
"Metro eventually commissioned 25 artists to create more than 30 artworks for the tunnel, stations, surface streets, and sidewalks. The artists worked with Metro's tunnel project consultant-Parson Brinckerhoff Quade and Douglas Inc. and architecture subconsultant TRA. Together they created the 'art-itecture'.
"Each station is a representative slice of the neighborhood it serves. The architects and artists wanted people traveling through the tunnel to know where they were below the city by looking at the architecture and design features of the station they were in.
"The designers achieved that goal by studying surrounding businesses, buildings and uses, then creating designs reflecting those elements. Some features are subtle, and others much more noticeable."
Design and aesthetic details found in the Transit Tunnel are too numerous to list. The roster of artists and architects, and their contributions, is lengthy. There is both "Art with a capital A", as well as visuals inconsequential to most but artful to me.
(Click through the left-hand side navigation on this Station Art page to read discussions about the art and treatments of each transit station.)
At the University Street Station, beneath Benaroya Hall, is "Saccodoscopoeia" by Bill Bell, perhaps the most intriguing thing I saw all afternoon. Easily dismissed as just a granite wall with vertical rows of LED lights, with a little further exploration, this piece surprises the mind and eye with imagery and words revealing themselves through a "persistence of vision" trick. Move your head back and forth quickly and Seattle-specific icons appear, hovering in front of the wall. David's trick is to stand 20 or 30 feet away from the wall and twirl on your toes a couple of times. The resulting dizziness causes the eyes to flicker and the images appear readily! (I was amused to think of the security cameras capturing our spinning in circles.)
Here's the wall, at a glance. When I stood close to the lights and held my camera up, the images flashed quickly in my screen several times, but I wasn't successful at getting a shot.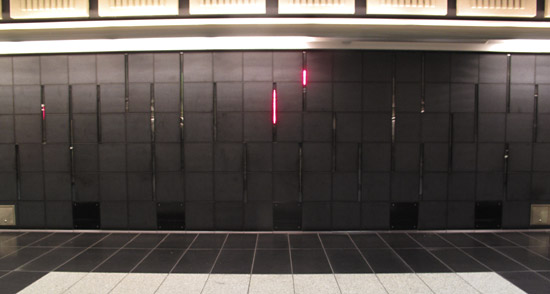 We saw big clocks, distinct at each station and all set to high noon. I appreciated the stenciled compass roses painted on the roadway. How appropriate and helpful for knowing "which end is up".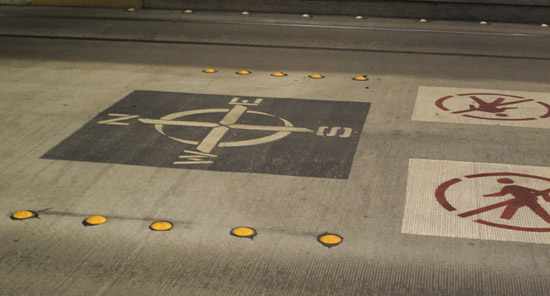 Benches, of course, are all "sit but don't lie" in their design, discouraging naps and nighttime lodging by those without a better place to sleep.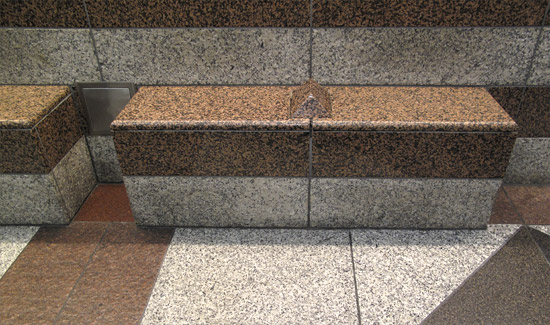 Though each station features distinctly different artwork, one element that unites all stations is the sandblasted braid created by artist, Norie Sato. It's meant to be part of the cueing system for the visually-impaired, but I found it so subtly low-relief that I question its effectiveness for that purpose. I loved it's visual addition to the tunnel stations, though. And the varied, patterned stone paving reminded me of what I've seen in Italy, France, China and Nicaragua. I'm all for visually-rich floors, sidewalks and roadways instead of monotonous gray concrete expanses.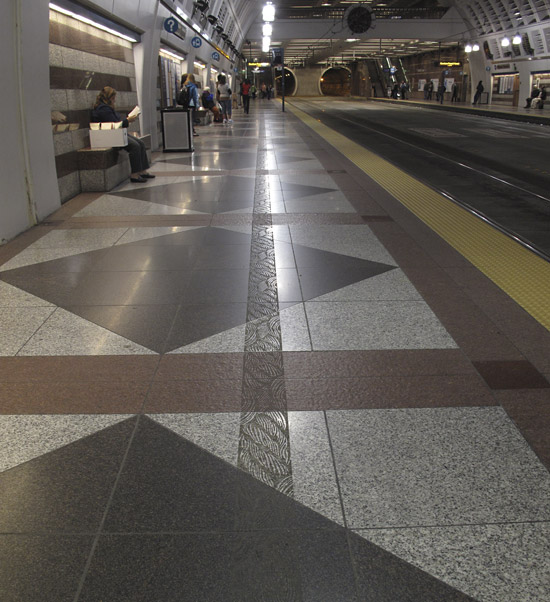 We rode Metro through the tunnel from Westlake Station to the International District, popping up at the other stations along the way. Rising up out of the tunnel at "Chinatown", poetry was sandblasted into the stair risers. This word "venture" seemed appropriate for our day's tour.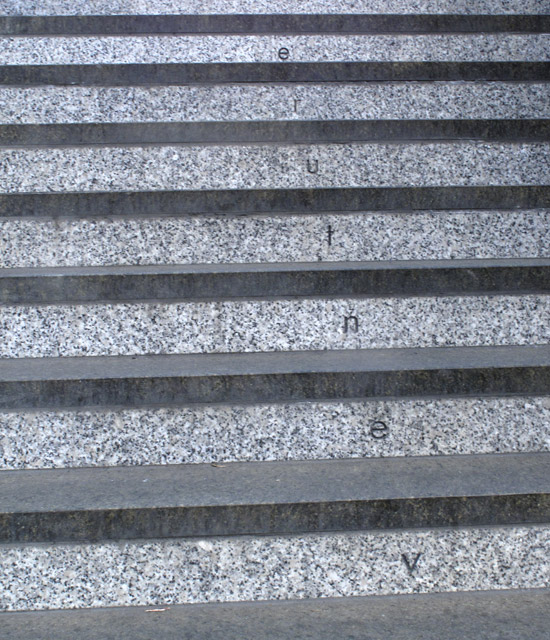 Immediately out of the station, we were greeted into Chinatown by the 45 foot high Chinese Gate, completed in December of 2007, and adorned with the characters saying "Zhong Hua Men", meaning "Chinese Nationality". It is typical of the traditional city gates of China and reminded me of a gate I photographed in Xi'an, China, years ago.
We were on a mission, heading to one of David's favorite spots in Seattle, Liem's Pet Shop in the Maynard Alley. Unfortunately, they were closed, so there was no visiting with the diverse menagerie.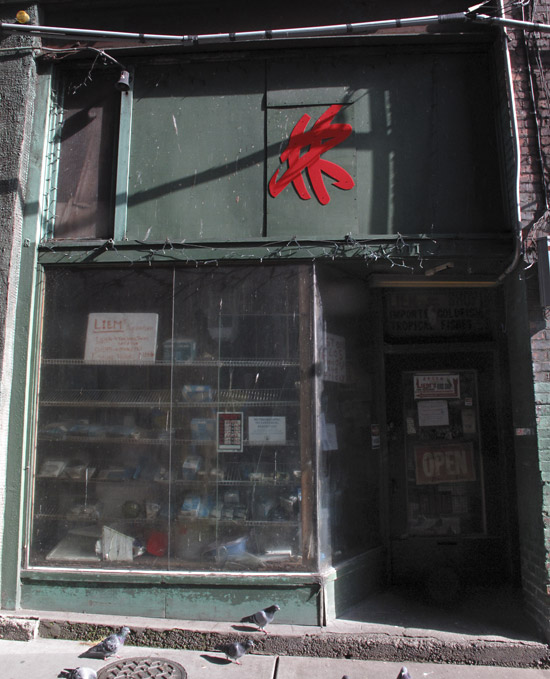 We wandered around, smelling good food, but not stopping to eat. (Why?) We passed the relic of an old dim sum shop and stepped into an art studio and gallery on Jackson Street. The painter's calligraphy had a sort of Parkinsonian jitter to it, which made it quite distinct.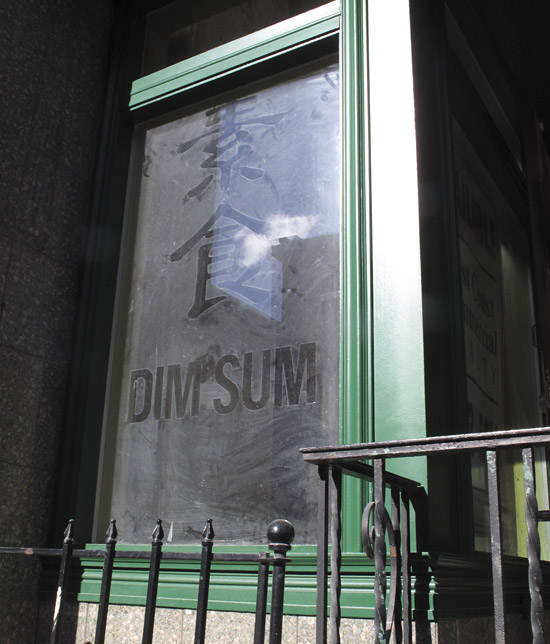 Though contemporary, this poster harkens WAY back.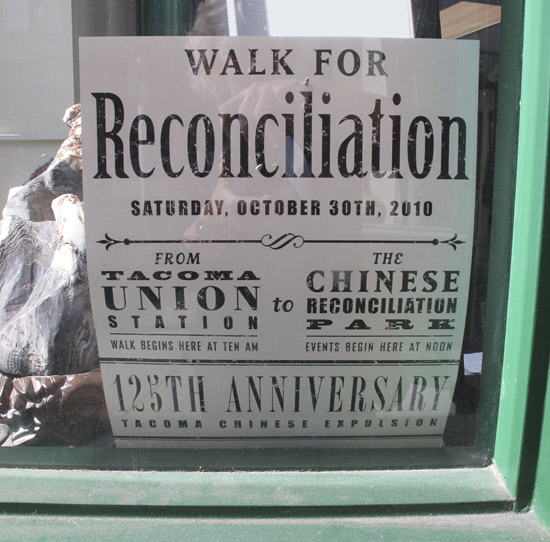 We returned to the station, reboarded Metro, and headed north back through town. Intending to get off at University Street, we overshot our stop and so, got off back at Westlake Center. We arose to street level and walked over to the Rainier Tower, designed by Minoru Yamasaki. It was completed in 1977, and I remember that people were freaked out because it appears to be like a pencil standing on its point; all were convinced it would fall over.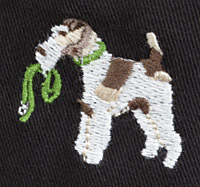 There is a long tunnel under the Tower, filled with historic photos of Seattle, Boeing and the local neighborhoods. After coming up from under the Rainier Tower, we started walking toward the waterfront along Union Street. One of the most ridiculous things I saw on our tour was a pair of pants displayed in the window at Brooks Brothers. They were embroidered with silly little doggies from top to bottom! Tell me, WHO would buy such pants? (Who would conceive of them and put them into production?!) Seeing these pants in the window stopped me in my tracks and had me laughing. Looks like this dog has his leash and is ready for a walk.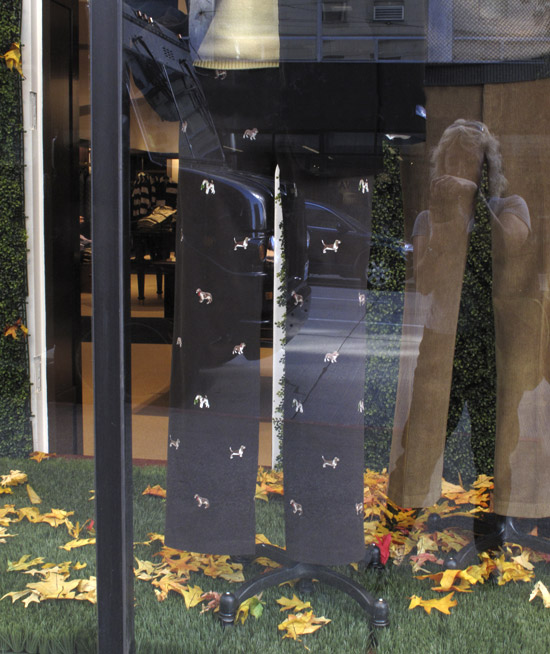 Here's a job for the not-s0-faint-of-heart… We looked up and saw window washers on a beautiful afternoon.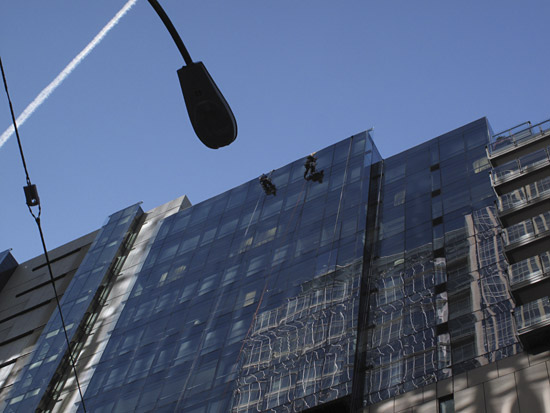 At the west end of Union Street is one of hilly Seattle's many stairways, this one leading down toward Western Avenue and the waterfront. We climbed down, arriving at the Seattle City Light power station with its metal, floral-reminiscent barrier (instead of razor wire), and then stepped into the south end of Post Alley.
Arrive at… The Bubble Gum Wall! David had told me about it months before leaving Milano, so I was looking forward to seeing it, to which he responded:  "You have blown it up beyond all expectations. It is only a 20 foot section of a brick wall between two doors on a brick roadway, with 30,000?? bubblegum wads up to thirty feet from the ground, in every color imaginable, with sculptures of gum and inserted objects. That's all."
The Bubble Gum Wall is at the south end of Post Alley at the Pike Place Market, accessed through a short "tunnel" roughly under The Pig by the flying fish stall.
It's grown since David last saw it, and far outmeasures his 20 foot estimate. It's a draw for tourists and locals alike. One girl was taking a picture of her friend who wanted to LOOK like she was licking the wall, but was terrified of accidentally touching her tongue to the wall in the process. This is THE place for portraits, cell phone cameras always at the ready.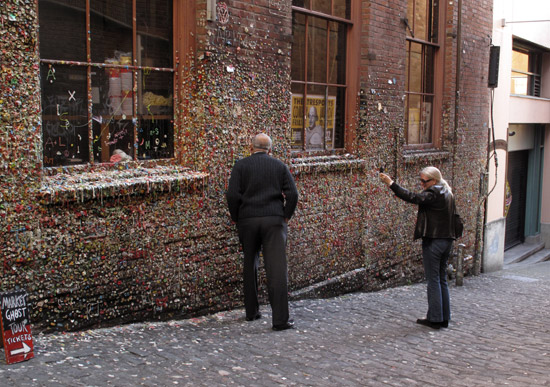 .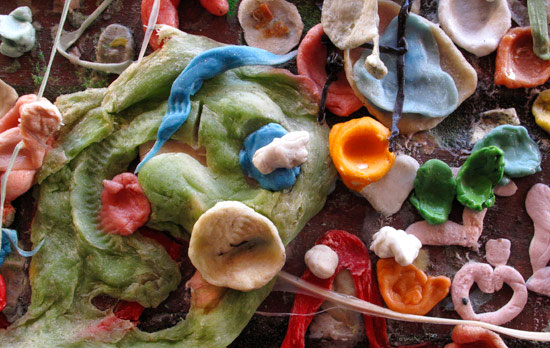 What is any city without it's share of graffiti? Love it or hate it, there are times when it's just plain gorgeous. This is rich like fabric, with its step-and-repeat stencil.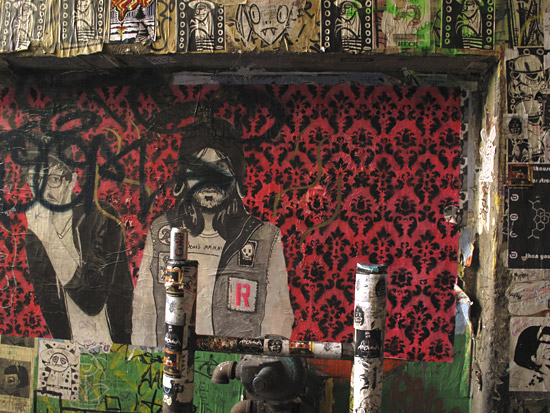 Of course, after covering Seattle, end-to-end, on foot, it was time for another pit stop and the Market was a perfect spot. There are several public restrooms hidden in the rabbit warren maze that is the Market. We went to the two that are just down the stairs from the flying fish. Black and white tile male and female figures stand outside the doors. Inside the doorway, the icons become more scientific: "XX" and "XY" figures indicate gender. (I wonder what percentage of the population knows the significance of those letter combinations.)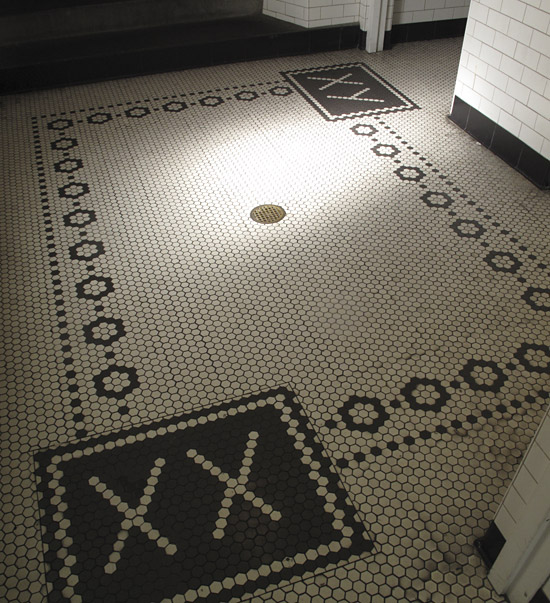 And it wasn't until I was leaving that I realized that the wall tiles inside the bathrooms form Morse Code! Too bad I didn't photograph the whole message.
(Update, December 21, 2010. The last time I was at the Pike Place Market (a couple weeks ago) I went back into the restroom and wrote down the full morse code message. I had only photographed the first portion of it before, which was enough to guess the meaning, but my second visit confirmed it: "Meet the producer." Ahhh. That's what it says over one of the fruit stands, regarding meeting and buying directly from the growers. How many people have 1) ever noticed that it's Morse Code, and 2) if they've noticed, have decoded the message?)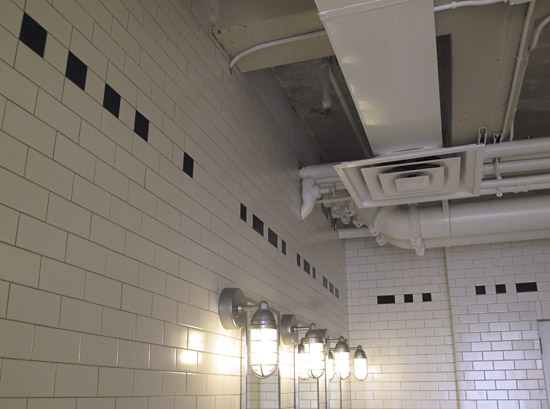 Time for a mid-afternoon bite to eat while we strolled: a half-dozen deep-fried morsels from the Daily Dozen Doughnut Company (right across from DeLaurenti's). They tumble directly out of the hot oil, and into bowls of powdered or cinnamon sugar.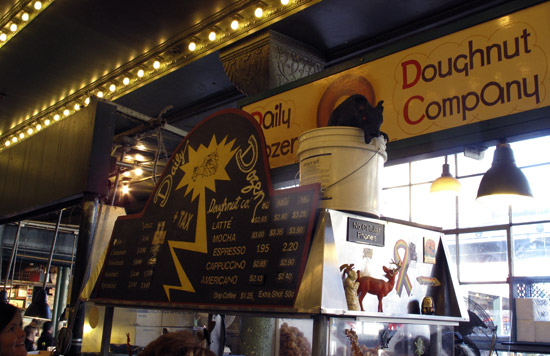 Gobbling piping hot doughnuts, we wandered to Tenzing Momo… a neighboring toy store… the belly dancers' clothing store… and the Magic Shop. I'd been wanting to buy one of those trick balls that won't roll in a straight line but rather wobbles aimlessly. (It's a physical representation of how I'm feeling these days, still needing to re-establish my direction.)
This was my second Magic Shop in less than a year! The other one was Mayette Magie Moderne in Paris at Christmas time. Don't you love the drawers of treasures in an old magic shop?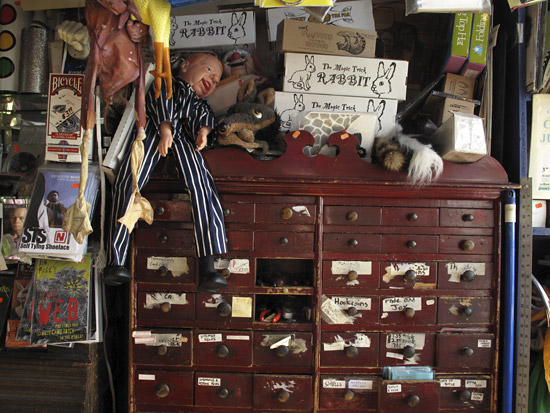 As a teenager I used to go to the Pike Place Market and wander its historic "bowels"… the many unlevel walks, ramps and stairs leading to tucked-away shops selling oddities. I still have the long strand of glass African trading beads that I bought for a quarter each. They're worth a fortune now.
The Giant Shoe Museum is marked by a great example of the classic circus-style bills.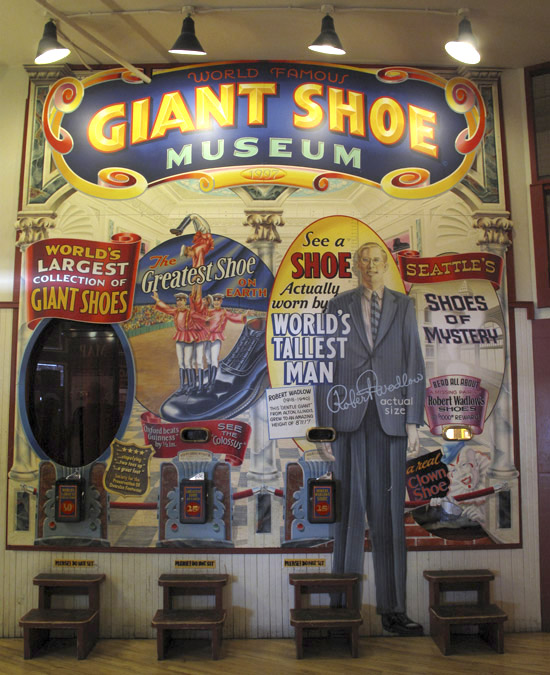 I'm amused by the visual treats that we encountered from one end of our Seattle tour to the other. Look at this light fixture near one of the Market stairways. These touches add humor and visual flavor to a city.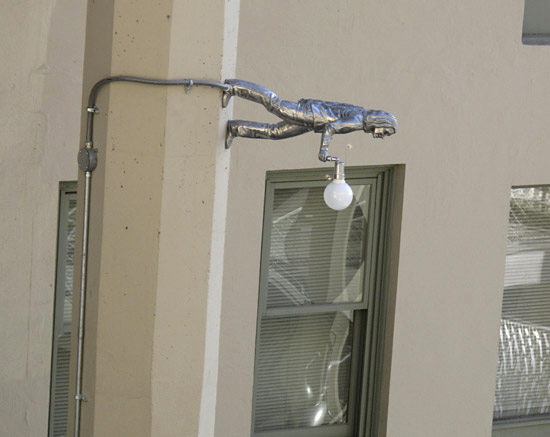 After our doughnuts had settled and we had walked past the endless food, craft and flower vendors, it was time for a real lunch. David took me to the Piroshky Russian Bakery, where we bought smoked salmon piroshky.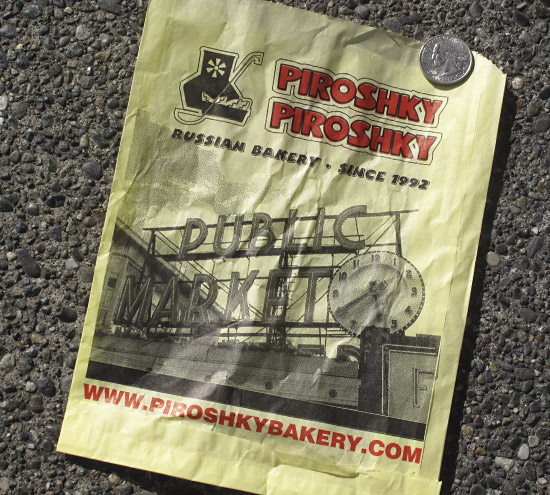 We walked to the wall-mounted tractor seats and perched there to eat and chat.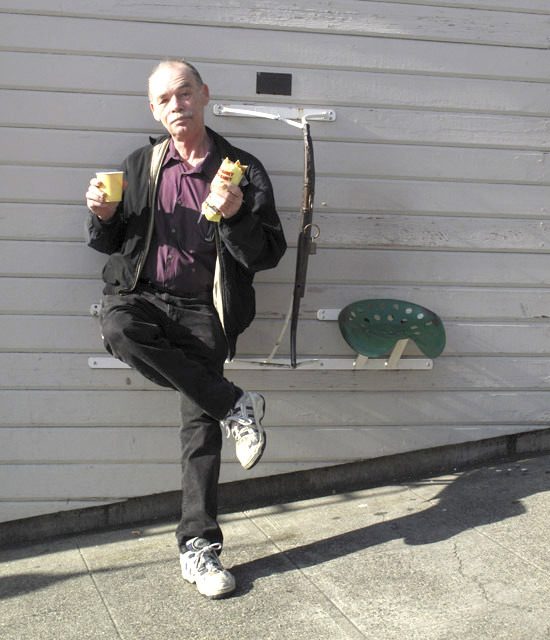 The tour was winding down, and we walked back over to Westlake Center where there was a giant chess game in progress. The fountain (to the left, below) was now flowing, so we both splashed through the tunnel of water. It's a good thing I had put my camera away beforehand! It was much wetter than David had remembered, and I was drenched afterward.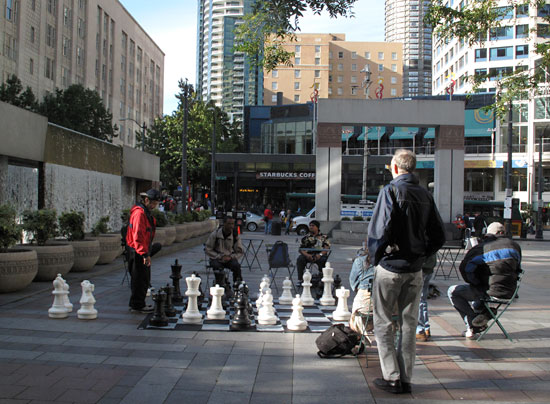 We had lucked out with a sunny, fresh Autumn day in Seattle. David and I stood on the south balcony of Westlake Center's food court and watched the people go by.
The paving pattern is derived from a Northwest Coast Salish basket from the collection of Dr. Allan Lobb, first executive director of Swedish Medical Center (now deceased). He was the one that let me walk out of his condo 20 years ago with 4 of his 100-year-old baskets to use as photographic references for my paper models. I am thrilled every time I see this broad and beautiful paving that enlivens this plaza and roadway. (It reminds me, again, of the foreign pavers I've loved.)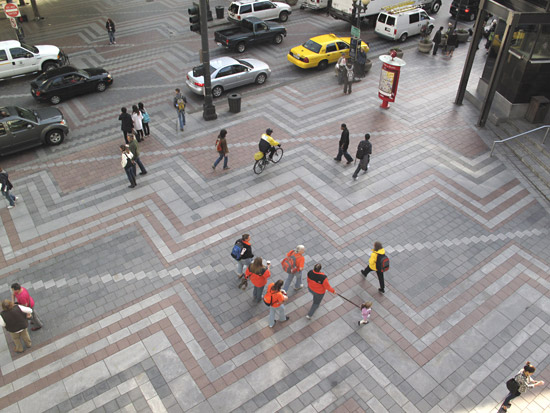 OK. Tell me. WHY would a woman be walking through the middle of downtown Seattle carrying a lifering?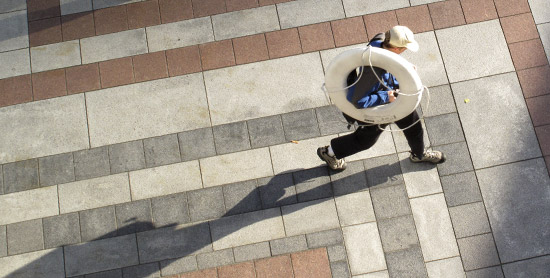 Seattle cops have two types of saddles to choose from.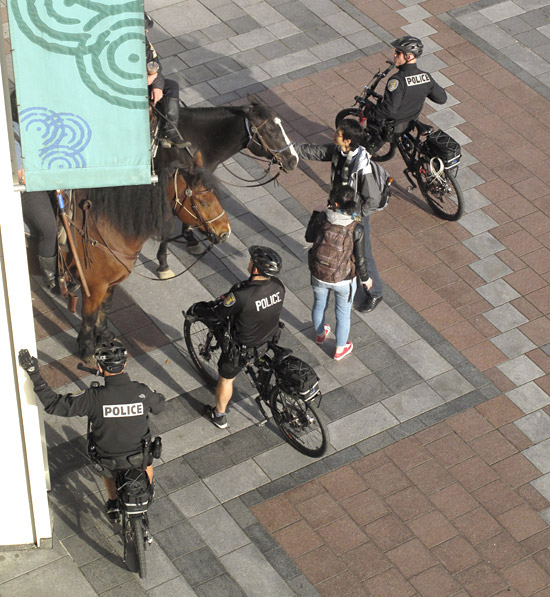 We rode the Monorail back through town, hovering over the city streets, and emerged again through EMP. The afternoon light bounced off the deep violet tiles of the museum, and colored the structures across the way. The tour was finished with a slow amble around the Seattle Center, viewing the scattered artwork in the shadow of the Space Needle.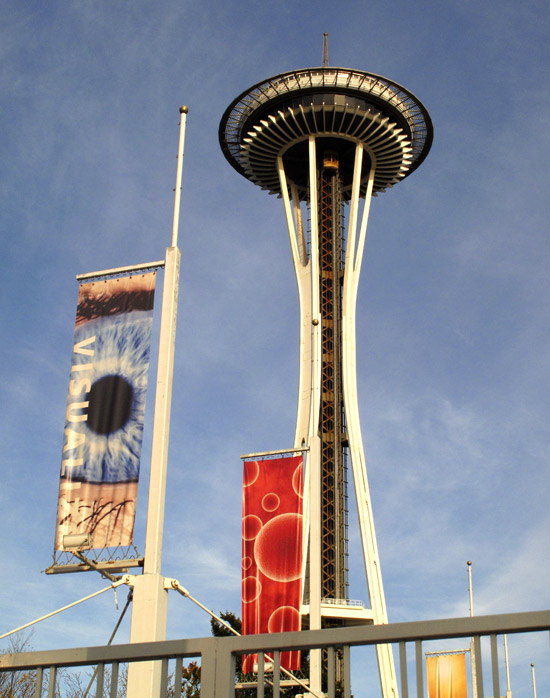 I was leaving town on a Friday evening at 5:00, getting onto the Viaduct with the rest of traffic. It reminded me of why I'm glad I no longer commute, but also pleased me with the waterside view, looking up from the roadway.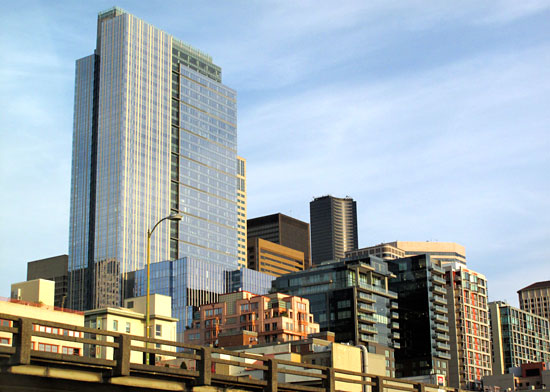 And my impression of Seattle after the day's tour? There's ART everywhere! "Art-with-a-capital-A", and art in small, informal, spontaneous ways. With Seattle's awareness of and commitment to Public Art, the city has created a visually rich flavor. Go for a walk with eyes wide open.
– – –
For those of you needing computer disaster prevention or rescue, get in touch with David. He's saved me and my friends countless times over the years!
David Anders – The Computer Guy, Seattle
TEL: 206-286-8438 • davidanders@gmail.com • webpresenceseattle@gmail.com