Crockawaddy Glebe
There is something deeply stirring about standing on the farmland of the homesite where my great grandmother, Bridget Manley, was born. I had hoped simply to find the region and share a glimpse of what she saw as a young girl. To meet distant cousins, tour the county and drive up Corr's Lane to the home site, was more than I had dreamed of!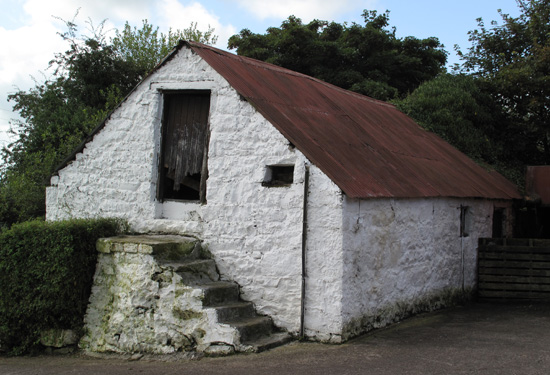 My godmother, Mary Fran, my Mom's cousin, had given me the names of "cousins", Tom and Mary. (I still haven't found everyone in the genealogy, but after a point, "cousin" will suffice.) Just days before, I had made a call from up north, which boiled down to: "Hi. My name's Maureen and we're cousins. I'm visiting Ireland from the United States. May I come see you?" Four days later, I drove south and Tom met me in the small town of Aughancloy, near his hometown of Rosslea. He greeted me with a hug and I followed him home to dinner with him and his wife, Mary. More cousins, I met their son, Thomas, and his wife, Carmel, and I slept cozily at their home, after we had talked into the evening.
The following day I got the full tour of County Fermanagh, as Tom took me to all the noted family sites and told me stories along the way. The home of my great great grandparents, Crockawaddy Glebe is west of Rosslea, north of Aghadrumsee in County Fermanagh, west of Belfast, Northern Ireland. "Crockawaddy" is the name of the Townland (a unit of 50-70 acres), and "Glebe" indicates that they had to pay rent to the Protestant Church of Ireland.
One of the original white-washed stone buildings still stands and is being used for farm storage next to the cow barn. It likely had a thatched roof when first built. The house where Tom's great grandfather had lived had been "tossed" a few years back, but its outline still shows (under a trampoline and clothesline). A field next to the house holds grazing cattle and is the site of past gardens.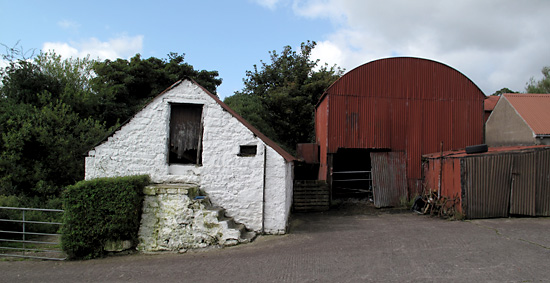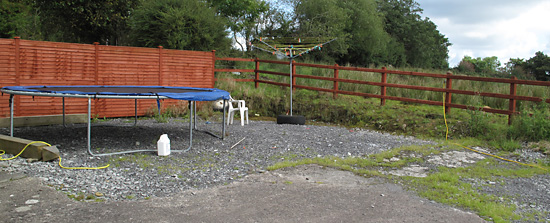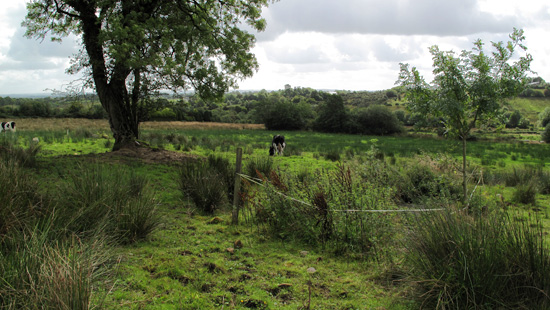 (The next day, when visiting cousin Lily – Aunt? – I notice she had a decoupage clock on the wall with a photo of Crockawaddy before the house had been torn down! So here's Crockawaddy as a clock. The whitewashed stone building I show above is at "8 o'clock".)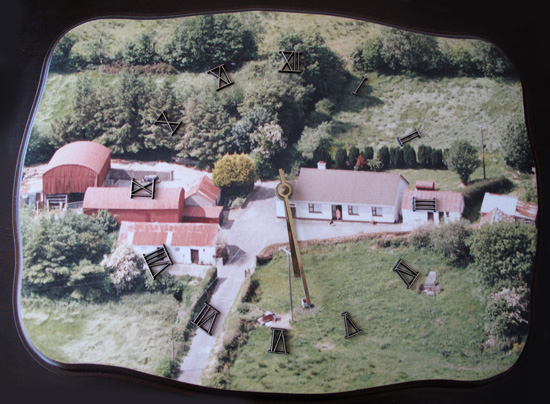 County Fermanagh: Green all around in a rippling landscape of fields and thorny hedgerows. I think it's probably changed little in these past two centuries. Tom took me to the Carnmore View Point, just an Irish field's stone's-throw north of Crockawaddy, from which I could survey all the countryside. I nibbled a few bilberries (much like a huckleberry) on our way along the path. (I'll bet my great grandma had her favorite berry-picking spots.) From the top of Carnmore "Mountain", Tom pointed out Crockawaddy, not too distant. (On this carved-stone map, he points to the farm's location.)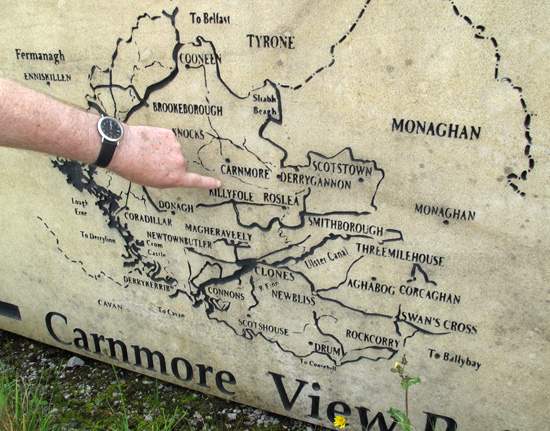 From Carnmore View Point, looking southward toward Crockawaddy Glebe.