Eating the South
In Italy, one can go 100 kilometers and find a very different food culture. There are dishes and combinations found in just one town, and certainly in one region, not others. What Americans think of as "Italian Food" is a tiny representation of what Italians eat. In planning to visit the south of the country – Sicilia, Calabria, Puglia – I was looking forward to seeing how the food differed from what I've eaten in the north. When traveling, I ask the hotelier what some of the typical, local foods are, and where the locals eat. This serves me well.
ARANCINE – Palermo
A classic Sicilian quick, snack food. A deep fried rice ball, stuffed with prosciutto and mozzarella. (Sometimes with ragu sauce.) Probably as much fat as a Big Mac.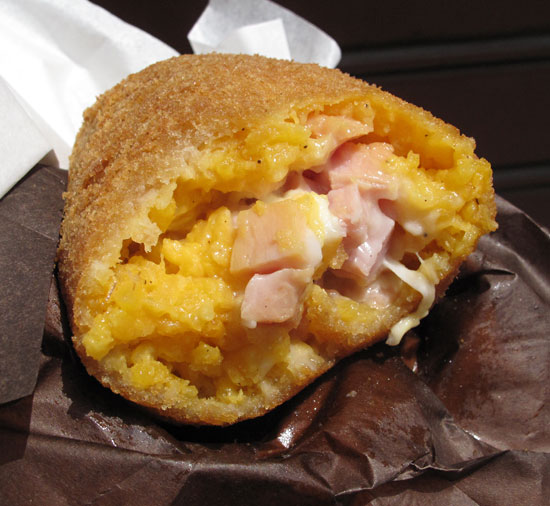 CANNOLO – Palermo
Another classic Sicilian treat. A deep fried shell, filled with sweetened ricotta cheese. I had to have one to say I did, but they're really much to sweet for me.
DATTERINI TOMATOES – Palermo
Purchased at the street market. The vendor made a cone out of a scrap sheet of paper, and filled it with tomatoes. They were perfectly ripe, red and sweet.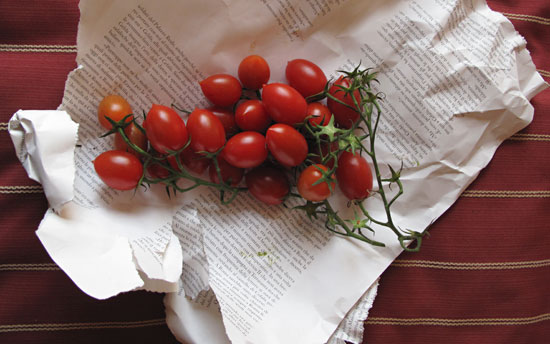 MIXED PALERMITANI APPETIZERS – Palermo
A great way to sample all the best: caponata, grilled eggplant, caciocavallo cheese, green olives, fried dough balls and potato.
SPAGHETTI CON SARDA – Palermo
Buccatini pasta (with a hole through the center of the noodle), with sardines, bread crumbs, wild fennel, raisins, pine nuts.
MILZA – Palermo
Fried spleen, served on foccacia with grated cheese.
RISOTTO NERO – Palermo
Rice, cooked slowly with black squid ink.
SPAGHETTI CON GAMBERI E COZZE – Palermo
Spaghetti with shrimp and mussels.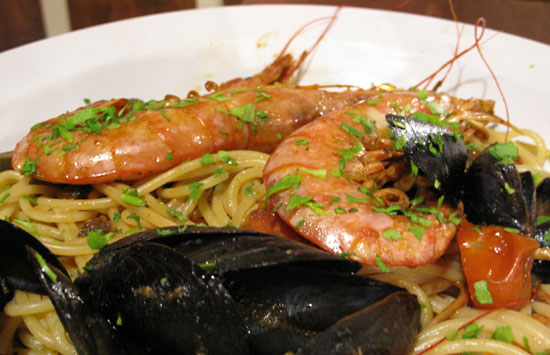 POLPETTE SPADA – Palermo
Swordfish meat balls in tomato sauce.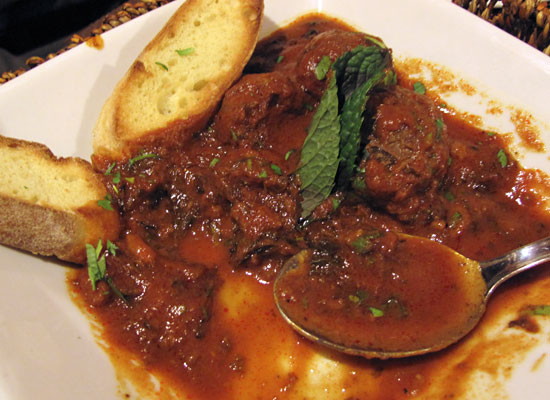 INSALATA DI POLPO – Palermo
Octopus salad.
GNOCCHI SARDI CON SALSICCIA E SCAMORZA AFFUMICATA – Palermo
A different sort of "gnocchi" pasta than I'm accustomed to… unlike the little dumpling-types. This served with sausage and smoked scamorza cheese and some tomato.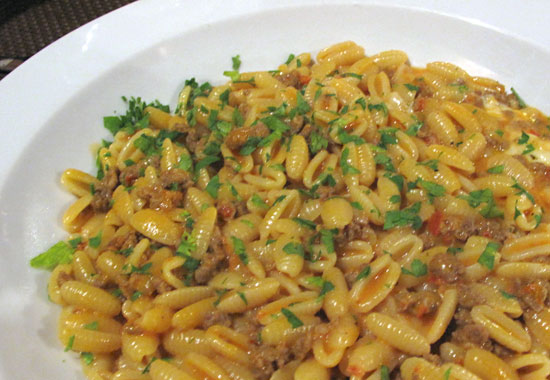 SPAGHETTI ALLO SCOGLIO – Palermo
Flat spaghetti with mussels, swordfish, clams, squid and parsley with a light broth. In this case, the house wine was poor. (It's often pretty decent.)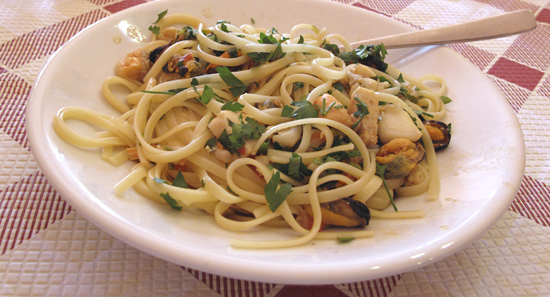 BUDELLO/STIGLIONE GRIGLIATA LUNGO LA STRADA – Palermo
Cooked on a roadside grill, these are veal intestines, skewered, grilled, cut and squirted with a little lemon juice.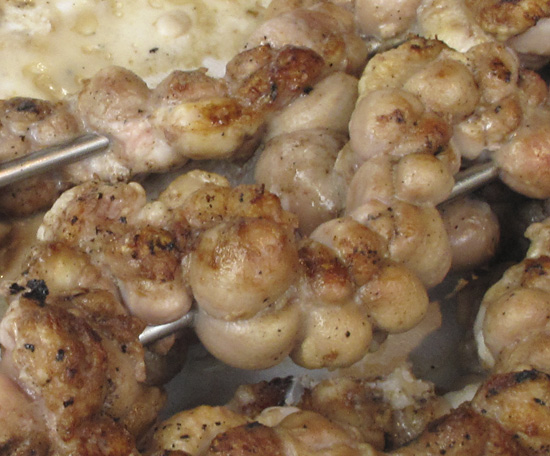 CUNZATU – Monreale
The woman at the bakery made one big "grinder-style" panino, drizzling the bread with LOTS of olive oil, laying down some sardines, a slab of cheese and some tomato slices. Simple and perfect. I shared it with two friends.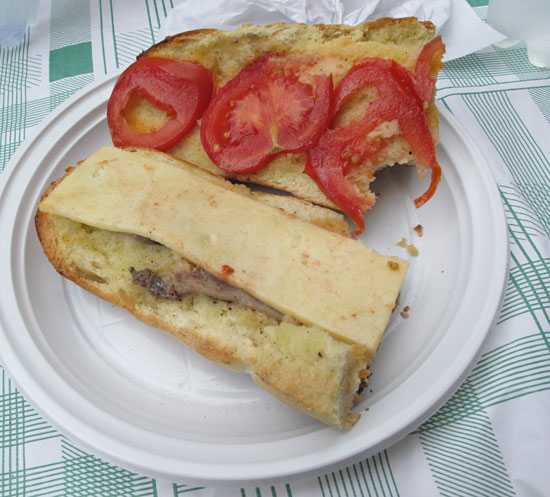 SPADA GRIGLIATA – Cefalú
After all that pasta, I just wanted a simple, grilled filet of swordfish. The Donna Fugata Anthilia wine was wonderful with it!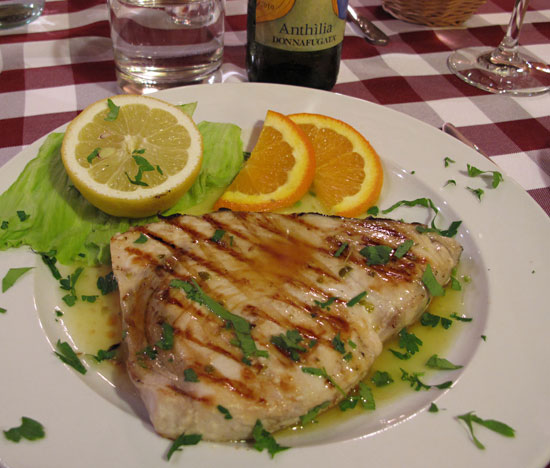 MELANZANE PARMIGIANA E CAPONATA – Taormina
Eggplant parmigian with eggplant caponata. (I wanted veggies!)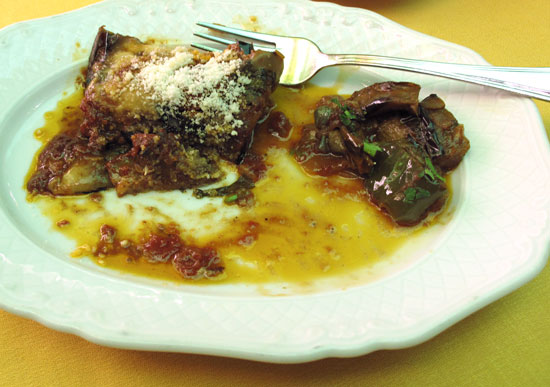 PASTA ALLA NORMA – Taormina
Tortiglioni pasta with tomato/eggplant sauce and ricotta cheese.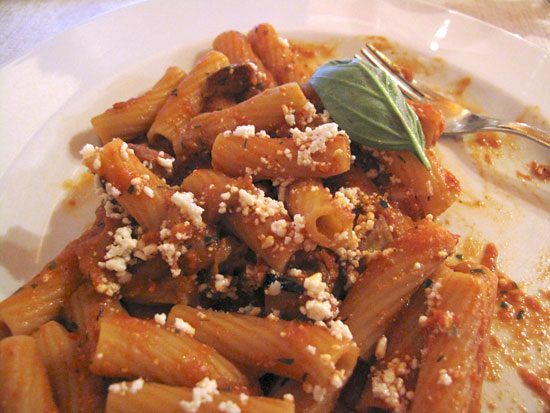 TONNO CON CIPOLLE – Taormina
Grilled tuna with sauced onions.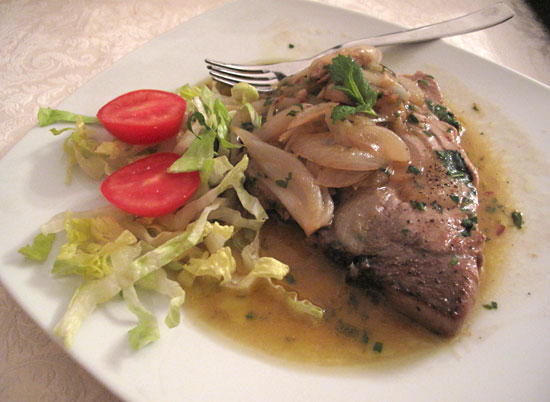 MACCHERONI CON POMODORO E MELANZANE  – Taormina
"Macaroni" with tomato and eggplant.
STREET LUNCH: FOCCACIA, MORTADELLA, BLUE CHEESE  – Catanzaro
Foccacia with tomato, mortadella slices, blue cheese folded together on a park bench.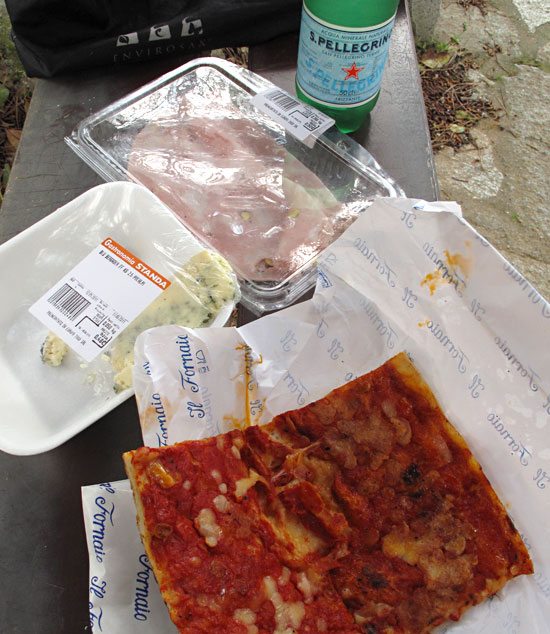 BAVETTE ARRIGANATE  – Catanzaro Lido
Like a flattened spaghetti, with a slightly "mad", spicy sauce in Calabrese style.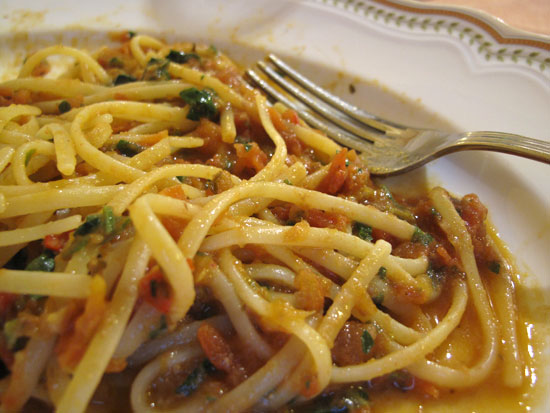 DINNER AND TRAIN LUNCH  – From Catanzaro Lido
Fresh peas-in-the-shell, mozzarella di bufala, rolls, datterini tomatoes, biscotti, pears, mandarins.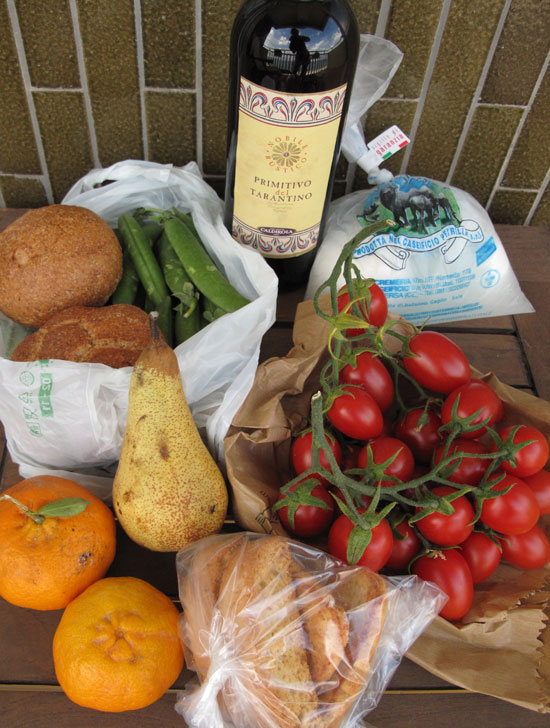 GNOCCHI CON 'NDUJA  – Catanzaro Lido
Gnocchi served with a sauce of 'nduja, a soft, spreadable aged sausage of ground meat and red hot chili peppers. Very Calabrese!
SCALOPPINA ALLA MARSALA  – Catanzaro Lido
Veal with a marsala wine sauce.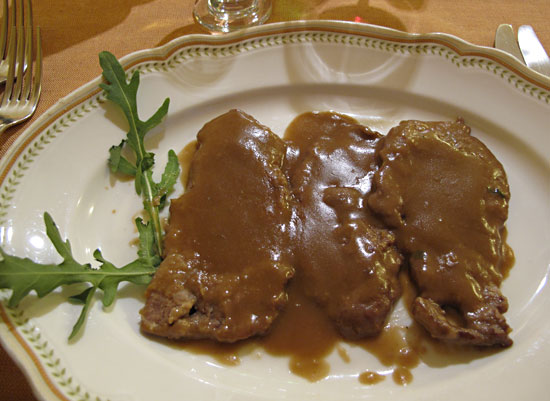 VERDURE GRIGLIATE  – Catanzaro Lido
Grilled eggplant, zucchini and radicchio.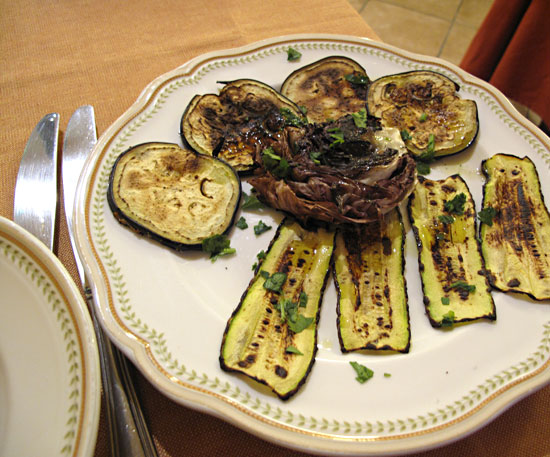 SOPPRESSATA  – Catanzaro Lido
Aurelia's gift of spicy, slightly smokey soppressata.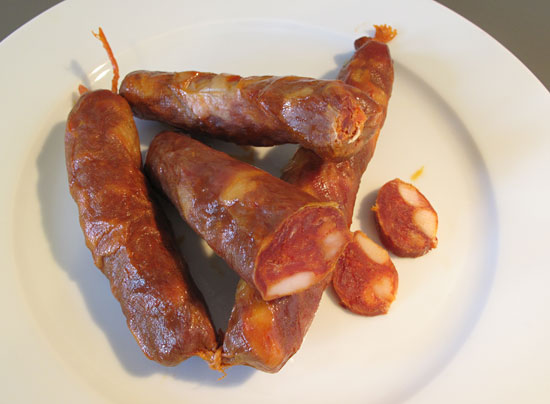 PITTULE  – Lecce
An appetizer of fried balls of dough with potato, tomato and…?
MIGNOLATA  – Lecce
Freshly made whole grain flat noodles, some fried (called "tria"), some boiled. With mussels, fresh squid, clams, garbanzo beans, parsley, tomato.
CICCORI CON OLIVE NERI  – Lecce
Cooked chicory with black olives.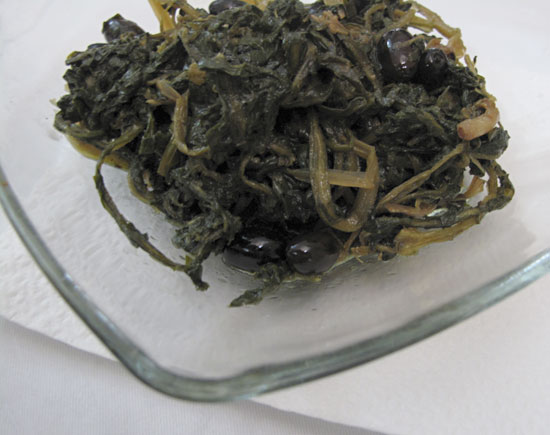 ORECCHIETE CON POMODORO  – Lecce
Orecchiete – "Little Ears" – pasta with tomato.
GNOCCHI DI OLIVE NERI  – Alberobello
Gnocchi made with black olive paste, served with cooked tomatoes.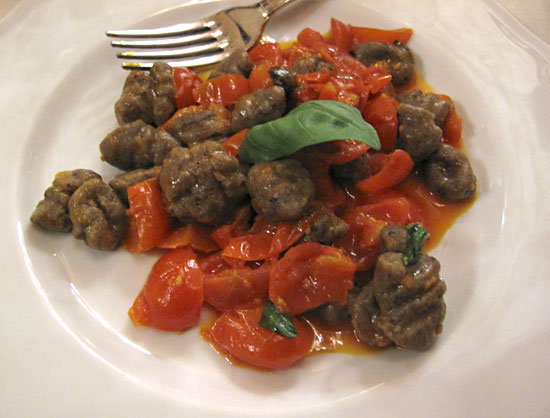 FRICELLI CON FUNGHI E SALSICCIA  – Alberobello
Fricelli pasta with mushrooms and sausage, with a creamy tomato sauce.
PESCE MISTA GRIGLIATA  – Rimini
A mixed selection of seafood, grilled. I don't recognize the fish here!
CHE RIMANA  – Rimini
The leftover backbone and head. I did fish out the tiny cheeks afterwards.
INSALATA DI RUCOLA, GRANA E POMODORI  – Rimini
A perfect salad of arugula, grana padano cheese and cherry tomatoes.