Farm Fresh on a Sunny Day
Saturday. Clear blue skies. About 50 degrees. Yes!
I headed down the canal on my bike, but decided on a change of scenery and followed the path I learned about from Angelo, my surprise tour guide in mid-January. The one lane road wound though small towns and rice fields. I found my way back to the same old "cascina" (large, formerly-fortified farm) that Angelo had shown me. The farm store had been closed that time before, and though they were closed again, a young woman came out of the house and welcomed me into the shop.
"What do you recommend?", I asked her. She pointed out all of their own farm-produced foods and I selected fresh ricotta, fresh mozzarella, brown rice and salami. What could be better?!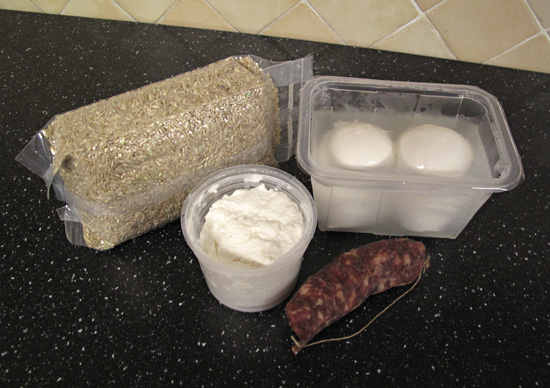 I found a way to secure the little bundle on my bike and continued my ride. There was a woman on a pink scooter. A lawn hosting 4 peacocks. An old tile roof warming 3 black cats. 1 Woman on a bike. Swelling buds on the trees. And a stop to say "hello" to Padre Pio at his shrine in Zibido San Giacomo. What a day!
Gauging the position of the sun and the remaining daylight and warmth, I went as far as Noviglio then turned around to head north back to home.
The very first thing upon coming in the door was to open the ricotta and mozzarella and have a taste. OH…MY! That fresh ricotta was better than most ice cream. I simply got myself a spoon and started eating it. Wow. Delicious. And the salami was good, too.
I'm really liking this. Go for a bike ride and, not far out of the city, pick up home grown rice and fresh ricotta cheese. (This is so unlike my previous life experience.)