When I rounded the corner and saw the wall of red and cream damask patterns, I skipped both a breath and a heart beat. These are the textiles I came for. These are the fabrics I prowl and lurk for at the antique fairs.
"The Thread of Dreams – Il Filo dei Sogni" is a show at the Palazzo Morando Costume Moda Immagine here in Milano. The show marks the 150 years of the Frette Linens company, 1860-2010. Absolutely gorgeous damask/jacquard patterns from the time of Frette's beginning were gathered on a heart-stopping wall. I swooned. And then turned and strolled to look at them all.
Having been a seamstress for as long as I can remember, my heart rate really does pick up a few beats when in the presence of beautiful fabric. And, owning a red-on-cream embroidered piece from my great, great grandmother that she stitched at age 12 in 1861, I have a tremendous soft spot for that color combination. Combine those two joys and of course it was dreamlike for me to see this show!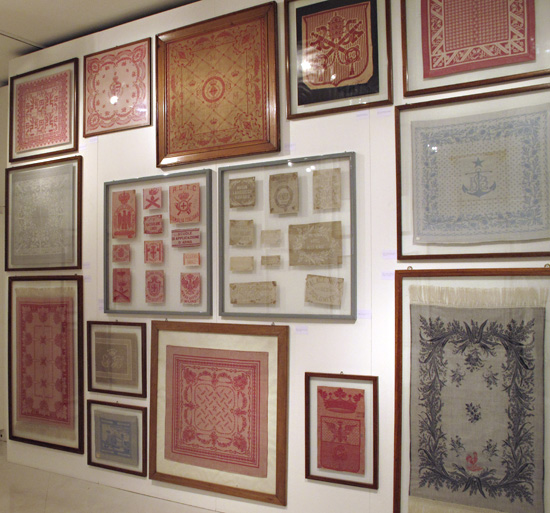 Original hand-painted and hand-drawn designs were shown side-by-side with the final woven fabric. A pleasure to see "the hand" of the designer. (And impossible to avoid glare and reflection in the exhibit space!)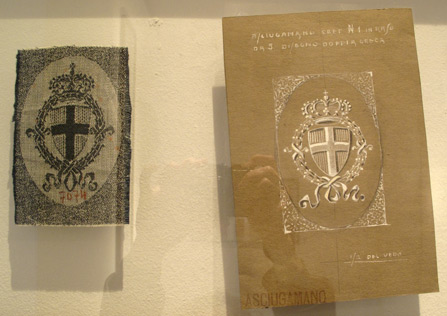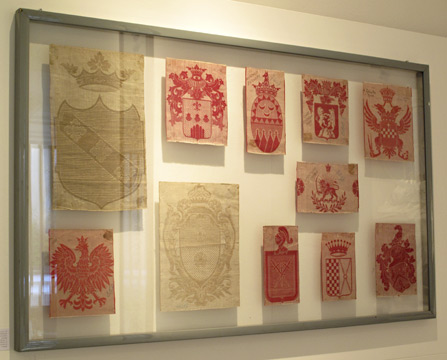 They showed overall patterns, borders, coats-of-arms, hotel emblems, nautical, floral and heraldic designs. If I were to bring home any "souvenir" from Italy, I would love to get my hands on one of these Frette fabrics, either vintage or modern day!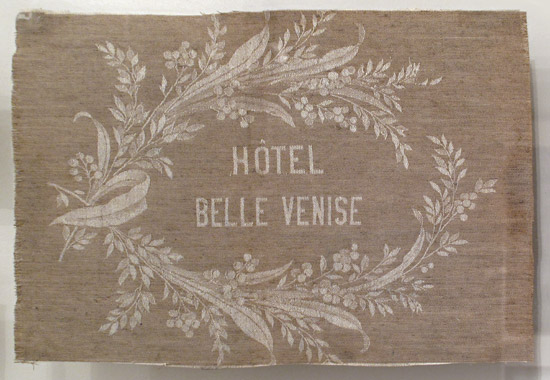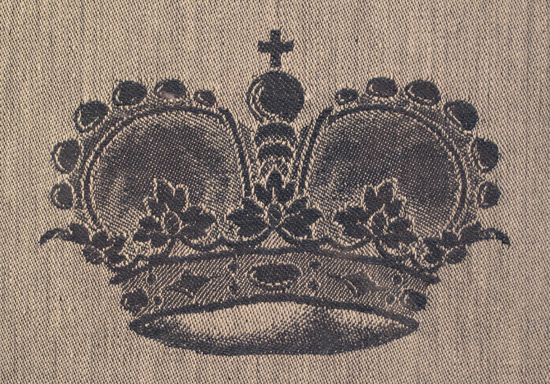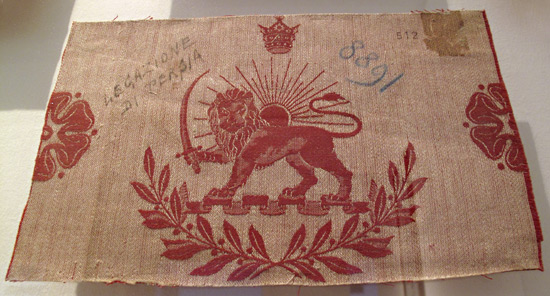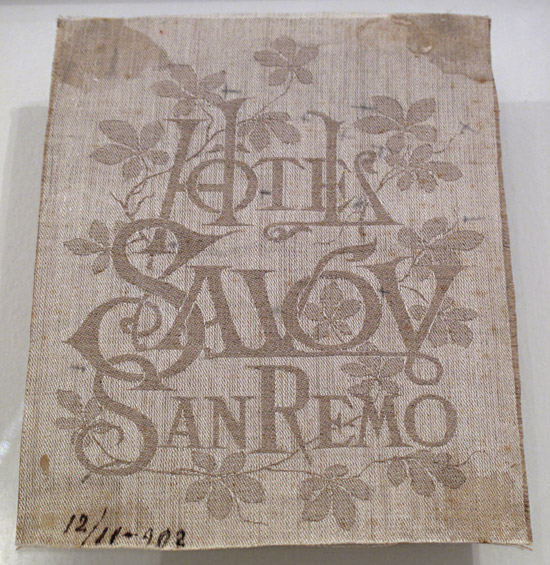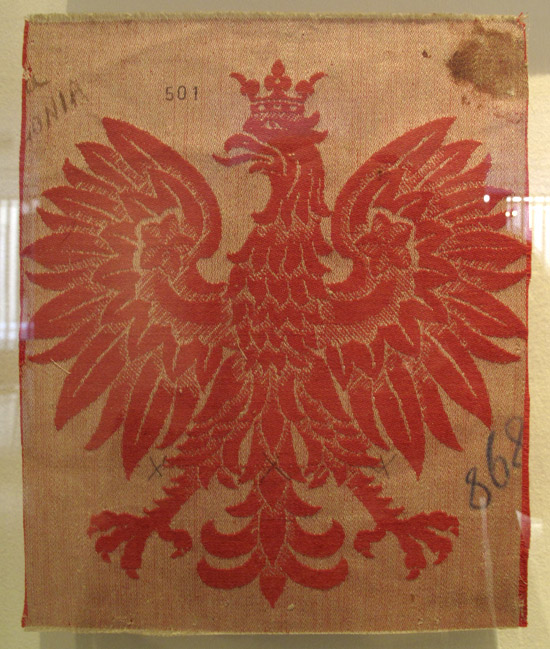 Why fight the reflection? Here's a Frette self-portrait. (My sister is always saying "I want to see pictures of YOU over there," so this is my way of complying with her request.)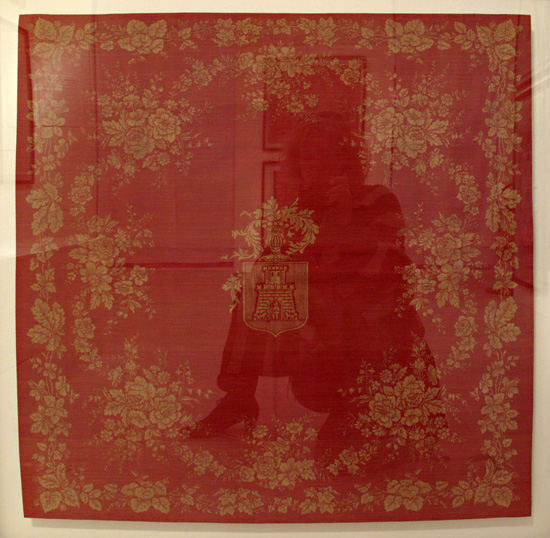 Currently, Frette is known for their very sumptuous bed linens. Ooo lah lah. A damask top sheet alone can be $250 or more and the fabric is supple and luxurious to the touch.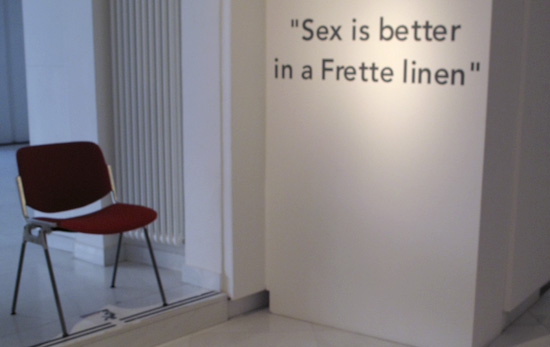 Part of the exhibit was a "mood wall" showing ideas, sketches, fabric samples and inspirations for a contemporary collection. I appreciate that they show original pencil drawings and a variety of renditions of a given motif all the way to the final fabric.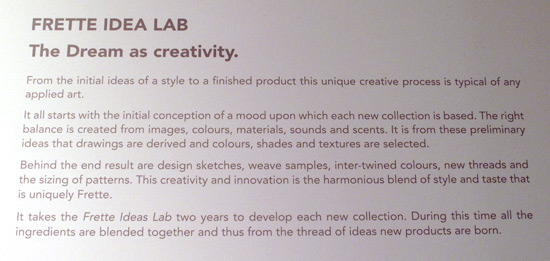 Another part of the show was an amusing, playful sculptural installation in an homage to Frette. I delighted in it as I walked into the room and circled.