Friends on Bikes
Out for a good ride this morning, down along the canal 17 kilometers (10 miles) south of Milano. Mid-80s and the temperature was fabulous. I needed to get my heart rate up and my blood moving.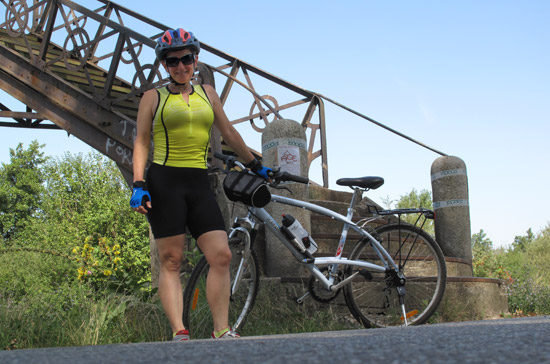 I stopped for a short break at a decorative bridge. Aside from a couple of fishermen at the canal edge, I could see a couple of bicyclists, loaded up with full paniers and heading north in my direction. They got to the bridge, said a fleeting "ciao" and kept on moving. At my break's end, I turned around and headed for home. Unburdened, it wasn't long before I caught up with the two riders. We crossed the busy highway together, then stopped in the shade for a brief chat.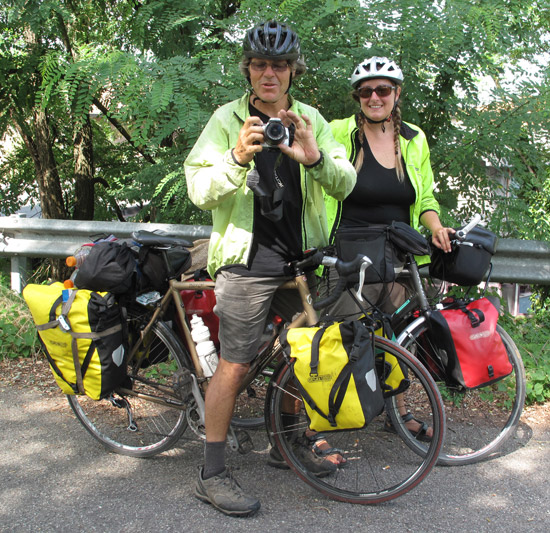 Erin and Peter are from Adelaide, South Australia, and they've been riding around Europe for 4 months. It was fun to stop, say hello, exchange travel stories and e-mail addresses. I should have invited them to my place for a shower and a home cooked meal! (Erin and Peter… sorry for the oversight, and very nice to meet you! Good travels to you!)
Here's their "loose idea":
Loose idea – England, France, Spain (walk the Camino de Santiago while our bikes are magically and mysteriously transported to the end of the trail), Portugal, up through Spain and south of France, Italy, ferry to Greece, Albania, Croatia, Italy again on the way to Switzerland, Germany and then either the Netherlands, ferry to England or Denmark, ferry to Shetland Islands, Scotland and back down to England (option 2 sounds like more than 6 months but who knows? We'll wait and see).
You can read about their travels on their blog.