Impromptu Wine & Appetizers
"Maureen, there are a few of us having some appetizers and wine. Why don't you come join us?"
It was Mario, the regional director for ONAV, the National Organization of Wine Tasters. We had met a few times at their wine-tasting events: Prosecco-tasting, Barbera- and Barolo-tasting, Champagne-tasting. I'm going to attend their 9 week course in wine-tasting, beginning in February. Any of their gatherings, formal or casual, are opportunities to sample some diverse and very special wines… and meet new people.
I took the Metro across town, walked two blocks and entered the ONAV classroom full of tables and chairs. These four guys – Michele, Vicenzo (giving me a choke-hold), Mario, Carlo – sat at a table cluttered with meats, breads, wine, oil and sweets. (The three are long-time friends of Mario, not with ONAV.) As you can see, it wasn't a stuffy group.
We sampled a number of wines and also enjoyed a tasting of Extra Virgin Olive Oil from the San Gimignano region.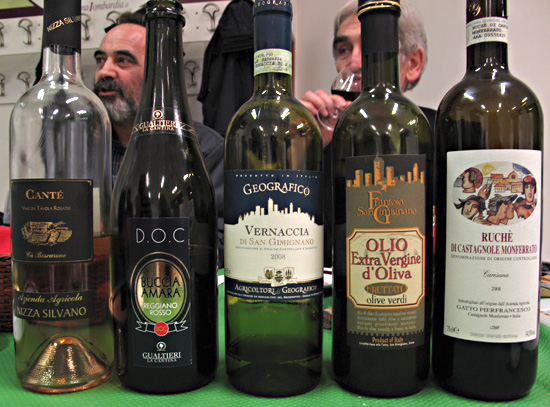 I didn't realize until afterwards that I should have gotten a photo of Carlo in his striped sweater, with Vicenzo in his striped hat and me in my striped coat. It would have been a highly-visual photo. (Vicenzo asked if I know of any American women I could set him up with.)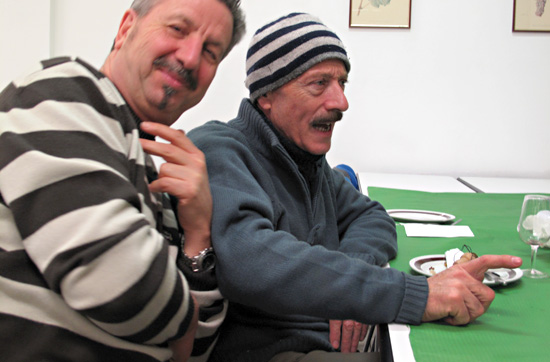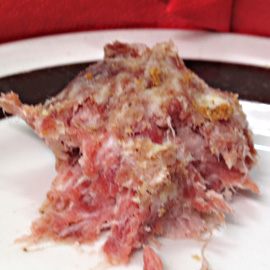 The table bore mortadella, salami and a raw, seasoned meat/fat combo that Mario simply peeled the casing off of and spread on bread. (I know the photo's out of focus, but at least it gives you an idea of the meat's appearance.) We ate from a large rustic loaf, a potato loaf, and Sicilian bread sticks and rounds.
There was a bone-white spread of pecorino and ricotta cheeses pureéd together. And a special treat was the "Lardo di Colonnata", raw, salted, herbed pig lard, aged at least six months and served as thin slices on bread. Mmm, good!
(I've become quite fond of eating raw meats and moldy cheeses.)
We drank a sparkling red, a white, a rosé. The most "startling" wine was the deep red Ruché (Roo-kay); I had never tasted anything like it with its very distinct flavor. (I'll have a better vocabulary to describe it AFTER I take the class.) You could ask for Ruché* at your local specialty wine shop, but its very low production makes it unlikely that you'll find any.
Our little post meal sweets were dried figs and apricots from Sicily, and almond pastilles that are frequently offered as favors at weddings. (In the States, too.)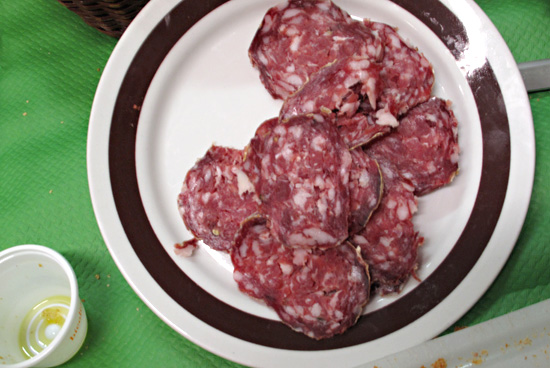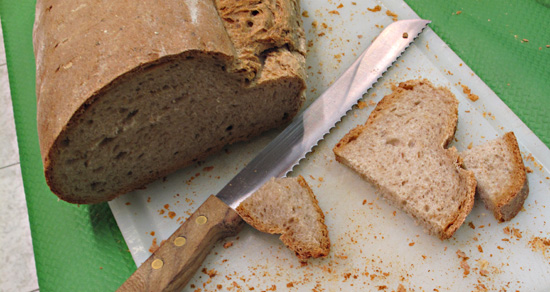 The very special end-note to the evening was a wonderful Passito di Pantelleria from the tiny little Island of Pantelleria, Italy, between Sicily and Tunisia. Passito, made from dried and shriveled moscato grapes, is a gorgeous amber color and a drink that requires every sip to be savored. I couldn't keep my nose out of the glass; the scent was divine.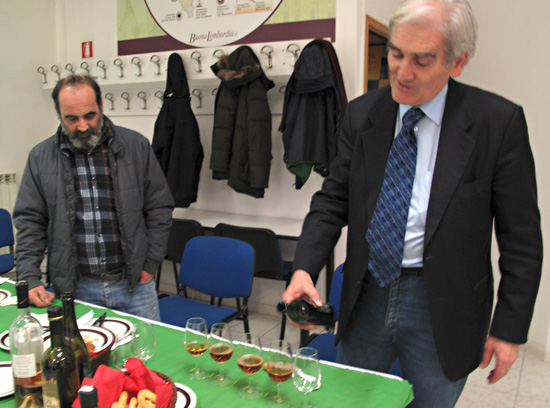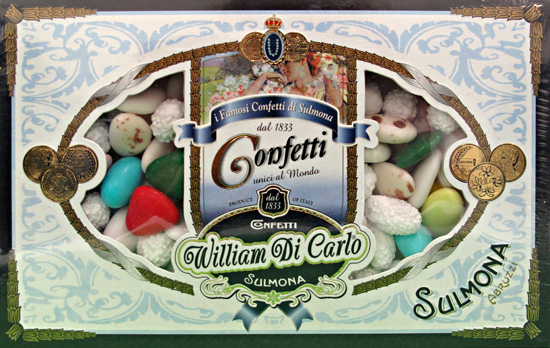 Below, on the right, is a bag of the not-fully-dried, shriveled moscato grapes used for making passito. You can eat them much like raisins.
Ruché is a red Italian wine grape variety from the Piedmont region. It is largely used in making Ruché di Castagnole Monferrato, a small production red varietal winewhich was granted Denominazione di Origine Controllata (DOC) status by presidential decree on October 22, 1987. The current DOC recognized area of production for the wine, covers only about 100 acres [[40 hectares) of vines around the villages of Castagnole Monferrato, Refrancore, Grana, Montemagno, Viarigi, Scurzolengo andPortacomaro.[1] Ruché di Castagnole Monferrato is, therefore, one of the lowest production varietal wines in Italy. The grape is also grown to some extent in the neighboring province of Alessandria.
There is some debate about the origins of the Ruché grape. One theory is that the varietal is indigenous to the hills northeast of the town of Asti. Another theory is that the grape is a local variation on a French import. It has been grown in the area for at least one hundred years but has only recently been marketed and consumed outside of the immediate vicinity of its production. Ruché di Castagnole Monferrato tends to be medium bodied with notes of pepper and wild berries and floral aromason the nose.[2] The wine is often characterized by moderate acidity and soft tannins. In the Piedmont region it is often paired with slow-cooked beef, northern Italian cheeses and mushrooms.