My "Tricolore" Year
One year ago today my plane landed at Milano Malpensa Aeroporto. I caught the train into the center of town, to the Cadorna Station. It was a hot day. I started sweating quickly. My Irish/German skin was bone white in contrast to all those on the street and I laughed. I was whisked through the city here to my apartment where the French doors were open to afternoon light and air pouring through the sheer curtains.
It's been a YEAR!
(NOTE: "Tricolore" – meaning "three colors" – is the nickname given to the flag of Italy. The colors are listed "green, white and red" (never "red, white and green". Currently, many Italian flags are flying or hung from windows and balconies in support of the Italian soccer team at the 2010 FIFA World Cup in South Africa.)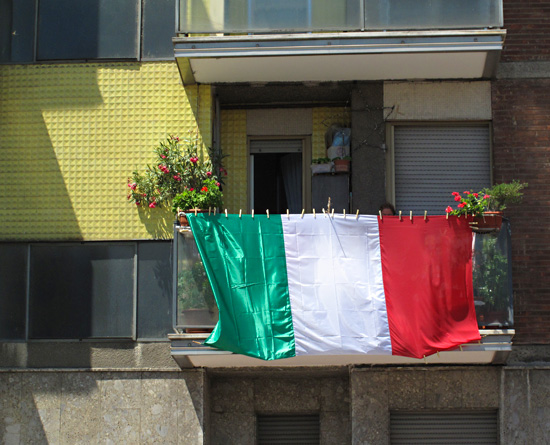 Recent journal snippets:
25 Maggio – May 25 – Milano
"The morning sounds have changed to those of summer. Our days are in the low 80s and I sleep with windows open (until the mosquitoes discover me and even the nights require air conditioning).
The birdsong is loud and constant and a joy to me, as it is in Seattle. The other night/morning, I heard the first bird song at 4:14 a.m (I had stayed up late reading). I hear courtyard neighbors chatting. The drone of T.V. Distant traffic and the passing train. I hear the breeze in patio foliage and sounds throughout the building as people go about their morning. Cars come and go through the courtyard gate. All these sounds move through the ever-heavier, ever-warmer air as summer blooms.
Returning to Milano last week has begun a new stage in my time here. It points out my ease and familiarity with this place and its people. Spontaneous conversations come more readily. What a time to leave now that I'm having so much fun! It's no longer a daily struggle. (It really isn't much of a struggle at all any more.)
I'm moving in on the 1-year mark and what a year! What an absolutely amazing time this has been (and still is). I've really settled into a rhythm. My Italian has advanced enough that I can discuss more complicated ideas, not just my rudimentary daily needs. This allows meetings and connections withheld from me otherwise. Language lets me in. Without language, one is on the outside.
All of this and now I'm leaving? Now that it's become "easy", I'm going?!
Yes.
My Italian Year. Complete with the cycle of seasons, a long, dark winter and blazing summer. Sights to inspire and make my head swim. Food and wine so good that I'm bringing 5 pounds of Italy home around my waist. I have met hundreds of people in hundreds of ways and those meetings are the highlights."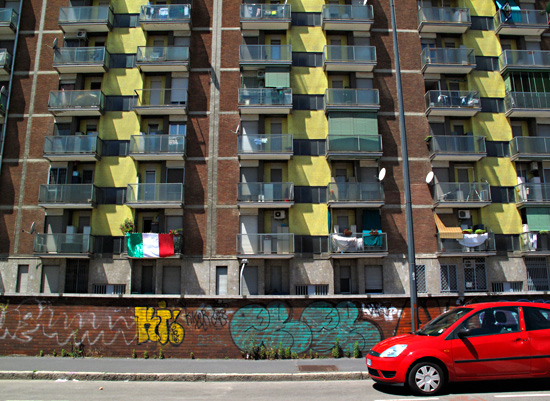 17 Giugno – June 17 – Milano
"A year ago today I got on a plane after having packed up half my life and given the other half away. My coming felt providential. I was compelled without knowing why. There have been times more difficult than I had anticipated, and other times that will always make my eyes sparkle. I truly believe this has been one of the best things I've done in and for my life. How wondrous!
And now, just a little over a month before my departure, I find myself as wide-eyed and seeing about Milano as I was about Seattle before I left. My senses are keen. I'm open to all of it with an intensity. I want to take it all in to carry back with me.
I feel a sadness about leaving. Now I know people. Now my heart is tied. I went out for pizza last night with Ewa, at the same restaurant where we met last July, a month after my arrival: Il Kaimon, (in the artsy Brera district. A street musician played classical music on a violin throughout dinner). Last year I was ecstatic to meet her and Piotr. They were my first spontaneous, independent friends here. Ewa and Piotr have remained friends all this time and their friendship has been a blessing. Ewa has fed me countless meals at their home. We've shared language, conversation and confidences. As my language grew, so did the depth of our talks. (She has invited me to stay with her when I return to Milano to visit.)
After our dinner, Ewa and I walked back to her apartment arm-in-arm, in Italian tradition, chatting all the way."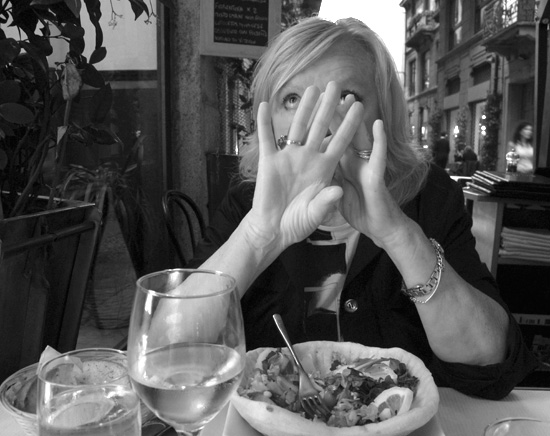 Ewa was shy about my having the camera out.
– – –
The Tricolore shows up in many ways. Yes, I really did see these two t-shirts hanging out to dry over the canal today as I was riding.