A pigeon wandered into the other bedroom, twice, off the balcony.
A child was practicing lessons on a recorder flute, playing "Somewhere (There's a Place for Us)". The sound was amplified through the courtyard, allowing us all to "enjoy" the practice. It actually wasn't too bad.
The neighbors next door must be good cooks, or at least they use aromatic ingredients. Our corner balconies are just 10 feet apart and I've been enjoying the scent of their meals wafting through the balcony doors at lunch and dinner.
- – -
I arrived in Milano yesterday after my southern tour, and got into my apartment at 5:00. After a bit of a breather, I launched into nesting, making it mine. This is a "student-grade" apartment, for 19-to-22-year-olds, and they've cleaned it about like one would expect of 19-to-22-year-olds. I scrubbed grime until 1:30 in the morning. I had bought groceries, but couldn't put them away until I cleaned the fridge. I couldn't clean the fridge until I had a clean sink and counters to work on. And so it went. I couldn't go to sleep until I had a clean bed to sleep in.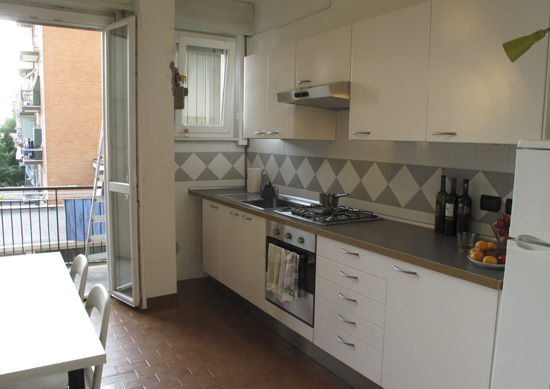 This apartment building is two blocks away from the apartment I had when I lived here, but that one was on a quieter, dead-end street. This first floor (one floor up from the ground) apartment has one balcony that looks out onto a four-lane road that dumps right onto and off of the highway. At 1:15 in the morning, just before heading off to sleep, sure enough, the street cleaners – my nemeses – were out pressure-washing the streets and sidewalks, as if to say "Welcome Back." The traffic noise is a constant "white" in the background, but I actually slept well last night.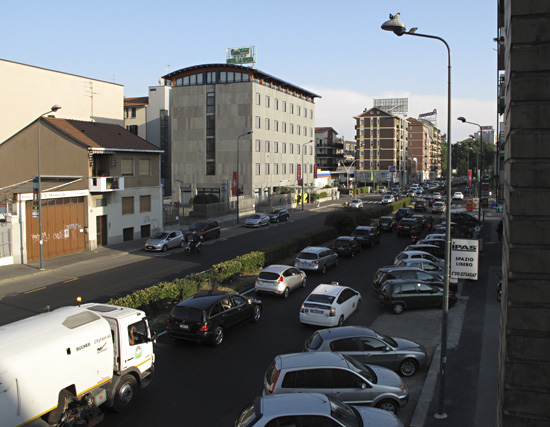 Everything got scoured: floors, counters, stove, dishes, fridge, desktops, sheets, bathroom fixtures, shelves. I couldn't put things away until I had clean places to put them. I took all of the unneeded items and stashed them out of sight in the other bedroom, or decoratively on the wall storage units. I rearranged. Then I bought some string and tied the two scrawny-thin beds together to get an approximately queen sized bed. Ahh. Room to turn over at night! I also bought a new shower curtain, and a few other cheap details that add a little character.
"My Room", with shelves, desks, string-tied beds, closets: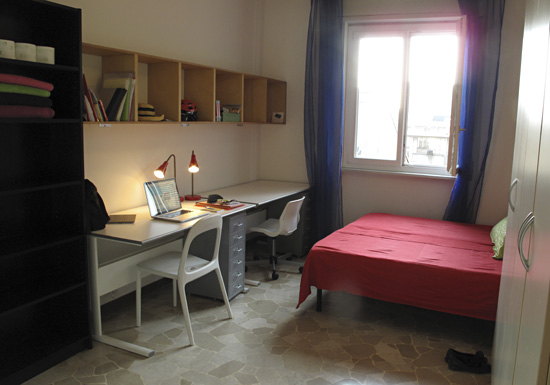 The other bedroom, with my attempt at "art" of 4 fans and 3 lights. (My towels and toilet paper are similarly arranged in "My" room.) The poster was already on the wall, and I decided to leave it:
Of the shower curtains readily-available for cheap, this was the best option. (The old one was torn and mildewed. Being here for 5 weeks, I can afford to buy a new shower curtain for the pleasure – relief – it will give me!)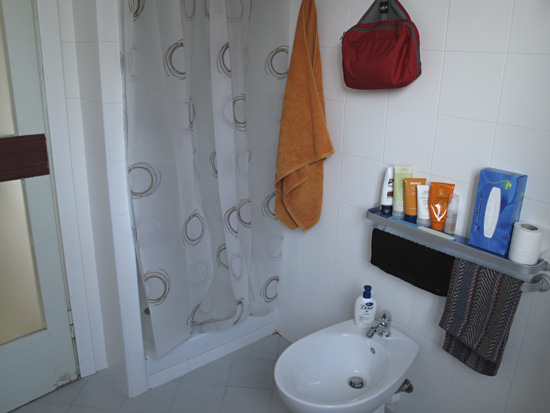 I'm 4 doors away from the best pastry shop in the city, Pasticceria Spezia Milano. Too bad I generally don't like pastries. I make an exception for their "Babá" though. That's the sponge cake that's soaked in rum such that the rum runs down my arm to my elbow when I take a bite.
The apartment's also only 2 blocks away from my treasured Naviglio Pavese Canal, along which the paved bike path runs! I've got a bike in the other room waiting for a ride tomorrow.
(If I told anyone that I have a two-bedroom apartment with 4 beds, 2 balconies, fabulous kitchen, full bathroom and ideal city location I'd probably have a crowd flying into Milano Malpensa Airport for a visit! What a great apartment, all to myself. Shhh. Don't tell.)
Now that I've cleaned, organized and gotten settled in for my 5 weeks here, I can breathe easy and get back to work on my clients' projects, and I can post some of the 1600 photos I've shot in the last 3 weeks. Stay tuned.