Nice, along the Coast of Blue
They're not kidding! When they call it The Coast of Blue – Cote d'Azur – it doesn't begin to describe  the jewel-toned, intensely saturated blue of the shoreline of Nice, France. Beyond-blue waters. Pebbly shores. Picturesque architecture and a richly-visual old-town. There's much that's nice in Nice. I could easily go back again.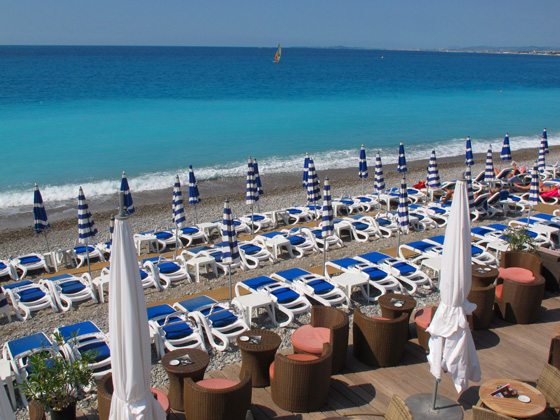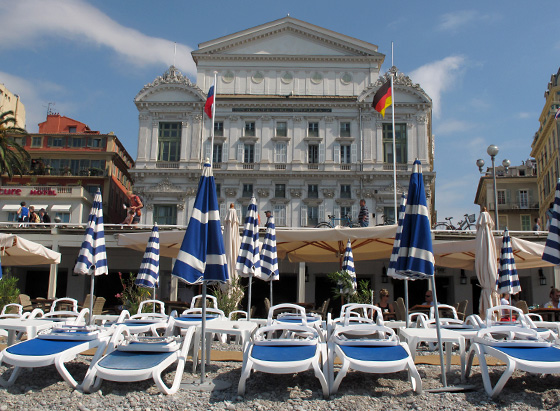 My travel partner in Nice was Miriam. We were there a week ago for the wedding of our friends, Glenda and Massimo. Miriam was SO patient as I stopped repeatedly to shoot images of the town (on the mornings before and after the wedding). (Grazie, cara.)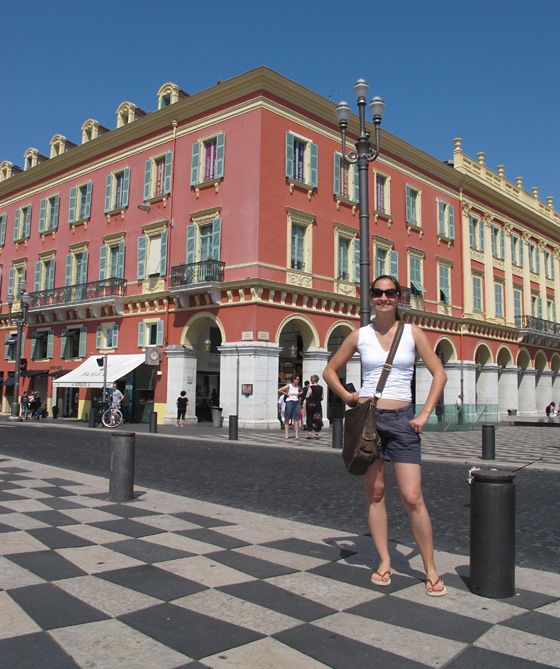 In all my international travels – Central America, Asia, Europe – I have been absolutely enamored of the lush, visual patterning of the sidewalks! Why can't we have beautiful paving in the U.S.!!!? It adds ART to everyday life!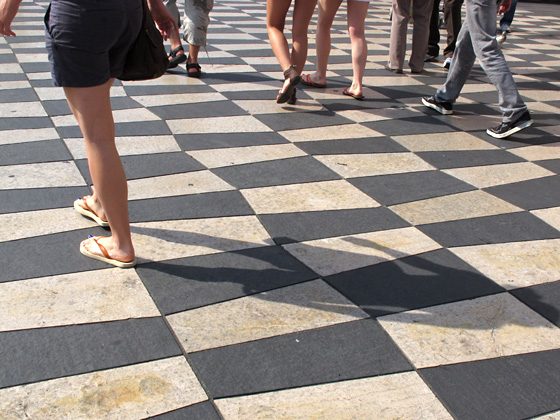 Look at these slabs of stone for the strip between the sidewalk and the roadway! And cupped for water drainage. Beautiful chunks of rock!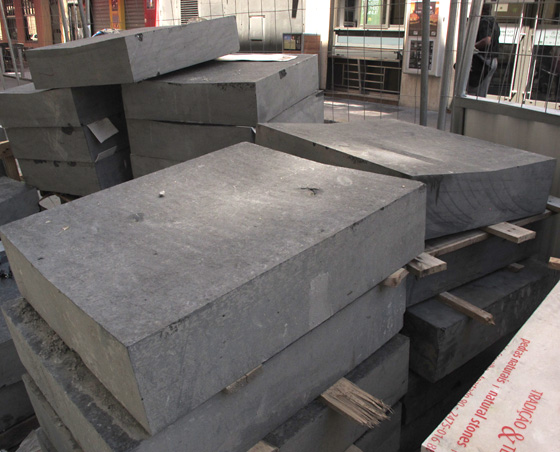 In the heart of Nice, in the Messena square, squat 7 figures of nude men, created by Spanish artist, Jaume Plensa. "These seven characters represent seven continents and the communication between the different communities of today's society." They light up at night, in various colors. Again, I can't imagine such a thing in Seattle or Burien.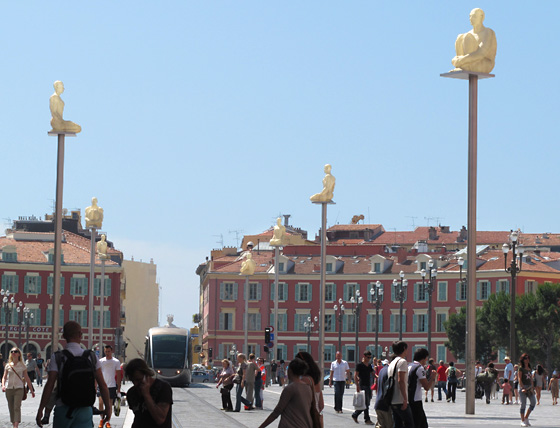 A little coffee break from sightseeing.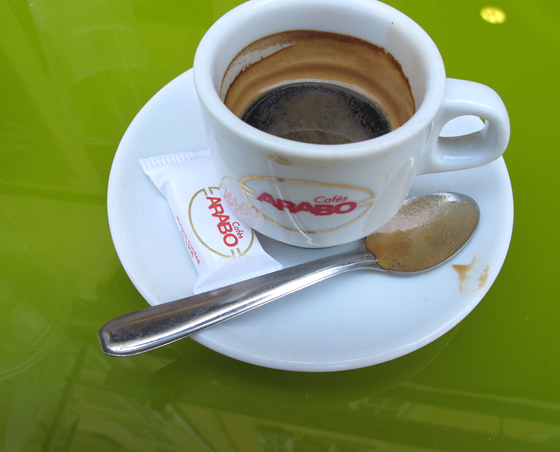 This chocolate shop was enough to make anyone drop their jaw. I did NOT go in.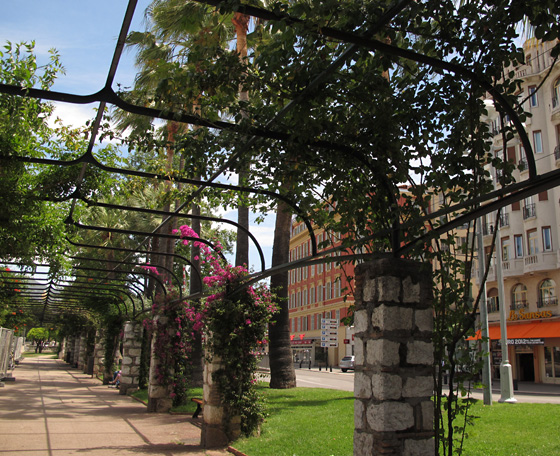 Imagine THIS piece of art in the middle of Burien's Town Square! (It would be a stretch for Seattle, let alone Burien!) Titled "La-Tête-au-Carré-de-Sosno" by Sacha Sosno, the 30m-tall sculpture is actually a building.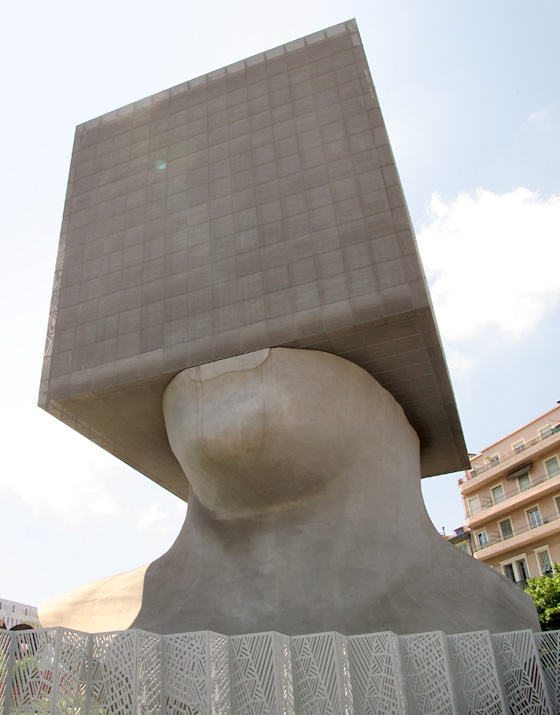 Hungry for lunch on Sunday, we followed the example of the crowd and each consumed a bucket of 100 steamed mussels. (Click the link to find out HOW to do it!)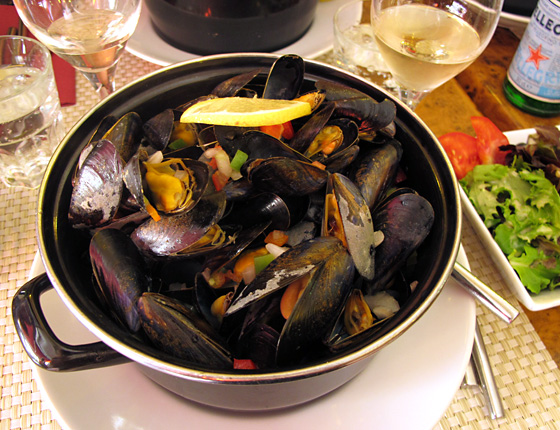 When we weren't at the wedding and its celebrations, we were wandering and expoloring the city of Nice.
Nice was beautiful, lovely, and private on the side streets. As in Venice, stray from the well-worn-path and you'll avoid the tourists and see the true soul of the place.