Playing with my Food
So, I went in search of some "prosciutto crudo" today and found a little shop, Fratelli Giancola, selling "salumi e formaggi" (meats and cheese). I told him, in Italian, that I wanted to eat some melon wrapped with prosciutto and asked for a recommendation. He pointed, pulled a whole hock off a shelf, shaved some of the fat away, then started slicing paper thin. I could easily and readily buy prosciutto prepackaged at the grocery store, but I wanted to try walking into one of the many specialty stores. There was much he said to me that I didn't understand, but at least I walked out the door with what I came for!
He also had yet another cheese that caught my eye. It's a smokey knot! OK. I had to have some of that. I gestured the quantity and ended up with about 8 "knots". They're kinda like a string cheese, tied in a knot, then smoked. Mmm, mmm good! The thing is, they're great for "playing with my food". You can actually UNTIE the knot and then retie it! What fun, AND smokey, salty, tastey.
I'd better start discovering some fabulous fruits and vegetables instead of cheeses and meats (with a half inch layer of fat on them). What will my doctor say!? (OK. In a year, I'll check my cholesterol level and make a decision then.) Right now, it's "no holds barred". Try it all. Jump in. EAT!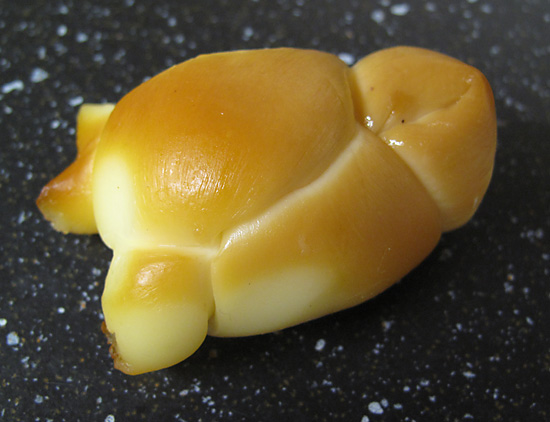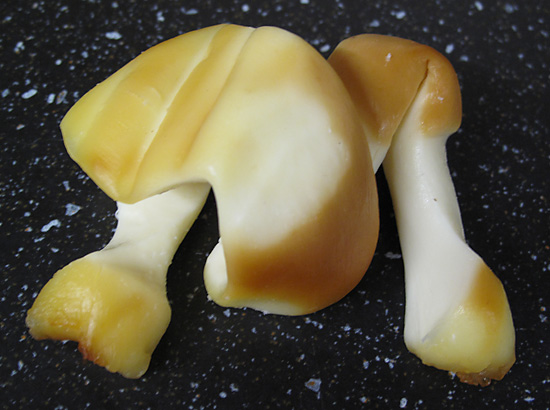 Hey! It's an "M" when untied!