Tasting Wine with Friends
The grape varieties and resulting wines here in Italy are numerous and quite different than in the U.S. What better way, then, to learn about the wine I'm drinking than to take a wine-tasting class. After attending intensive language classes last winter, I figured I was ready to enroll in the preliminary class series offered by the Organizzazione Nazionale Assaggiatori di Vino (ONAV) – the National Organization of Wine Tasters.
Some of my Seattle friends have joked that the class was a bunch of people sitting around drinking wine. "Hey! How do you like this wine?" "It's great. Pass me the bottle!"
No. It was a series of 18 lessons, 2 per week, from 9:00 in the evening 'til 11:00 or so. It was held across town and I usually got home on the subway after midnight. (I started the class in February.) The course content was very technical, including discussions of chemistry, cultivation and fermentation processes, wine types and their characteristics, defects and regulations.
And all of this was in Italian. Each session was taught by a person with a different expertise… and a different manner of speaking. On good nights I understood 80% of what was said. (At least I think so.) There were a few nights when I may have understood only 10 -20%. Most lessons were complete with powerpoint presentations, charts and graphs. What I couldn't understand by listening I could understand by reading. I felt I was learning more than I knew before, even though I didn't get it all.
Most evenings, we had 4 wines to taste, being given a small sampling of each but not even taking the first sip until about 10:30. We used a complex table to judge each wine for its visual, olfactory and in-the-mouth characteristics, tallying a score for each wine on a 100-point scale. We judged on clarity, tone, intensity, frankness, fineness, harmony, body, persistence and overall ranking.
Taking the class did change my understanding of and appreciation for wine. And it probably spoiled me for drinking "cheap wine", though here in Italy I can get a pretty nice, very drinkable wine for 4 or 5 euro. ($5 or $6)
When the class was ending in late April, we were told to prepare for the final exam. Yes. A final exam! I considered not taking the test; after all, I had attended the course simply for my own interest, not to become an official sommelier.
Having convinced myself to take the exam, I then considered taking the test in English, an option offered. But no. I took the 10-question short essay test in Italian. I had to understand the question; know the answer and know how to say and write it in Italian! We then had 5 wines to taste and judge; our judgments of the wine were expected to fall within a few points of the ONAV judgments. (ONAV was serious! They had several versions of the test. We had to sit with an empty chair between us. And we had to remain silent.)
I passed! It was a little, personal triumph.
Last Sunday we had our diploma ceremony at the beautiful Ferghettina vineyard high on a hill in the Franciacorta region east of Milan. Our class was joined by classes from other locations of the Lombardia region of Italy for one grand celebration.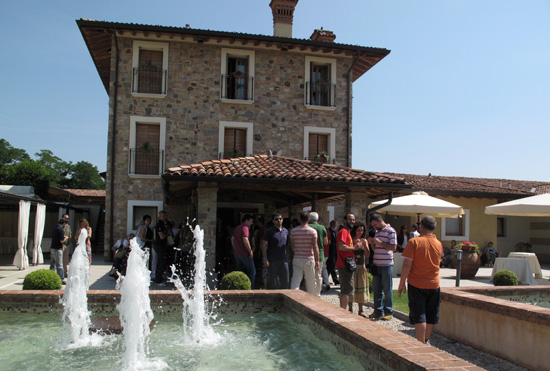 Not having a car, I could not have attended without the kindness of my classmate, Giuseppe, letting me ride along with him and Alessandro. Once there, we met up with Federica and Valentina from our class.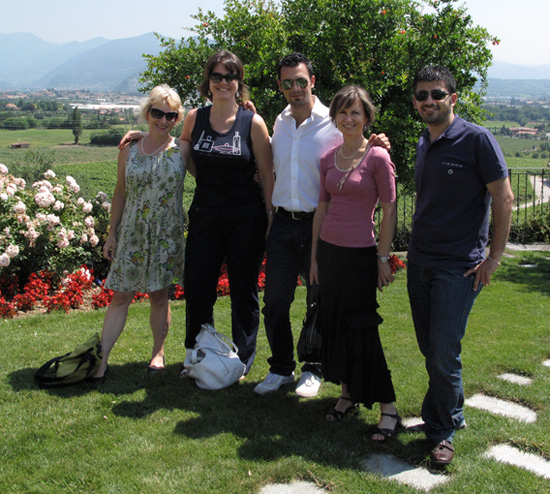 Rocco and Gianni were also there, as were other classmates.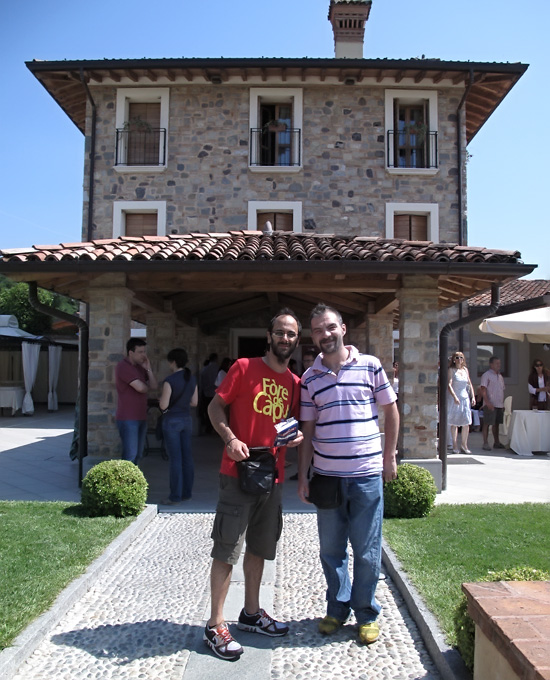 Our names were called out individually and we went to the front to receive our diplomas.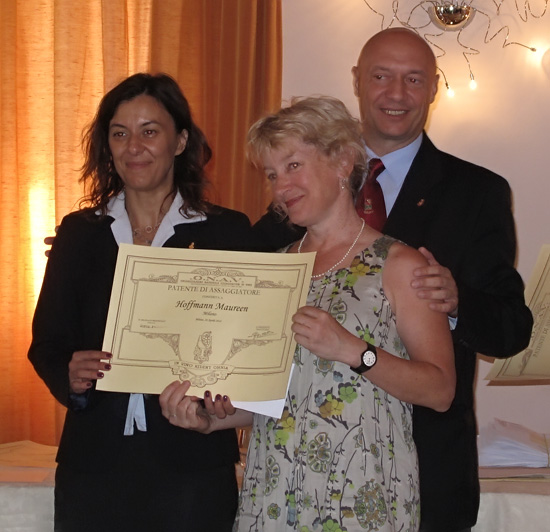 Afterwards, we were treated to Ferghettina Brut, along with typical meats, cheeses and breads. On that sweltering hot day, a tour of the winery's cool, underground "cantina" was a refreshing break, and fascinating.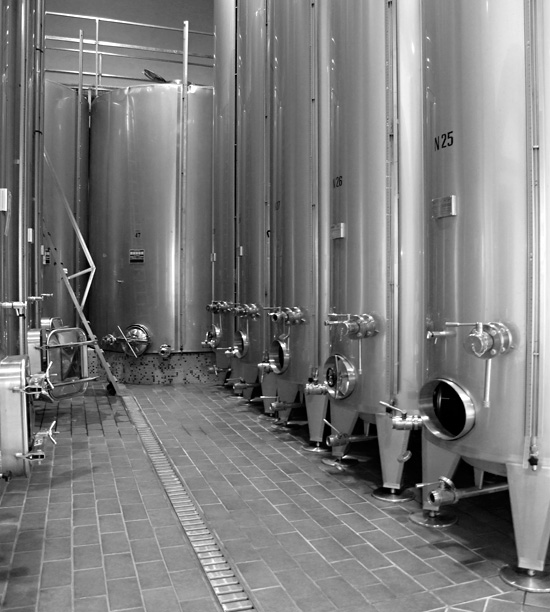 .
.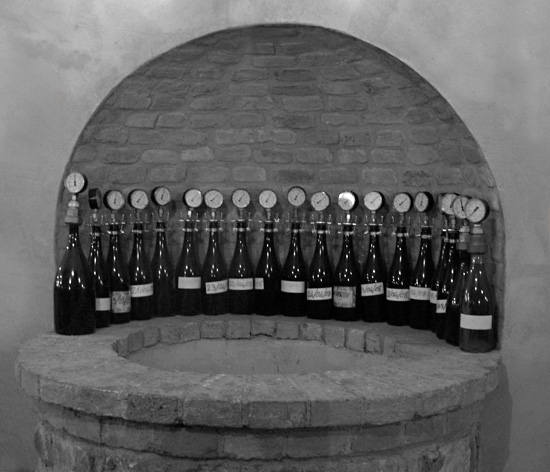 .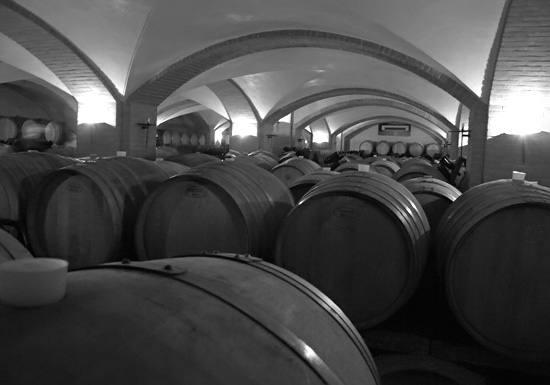 Ahh, nice and cool standing next to the 2008 Franciacorta Brut.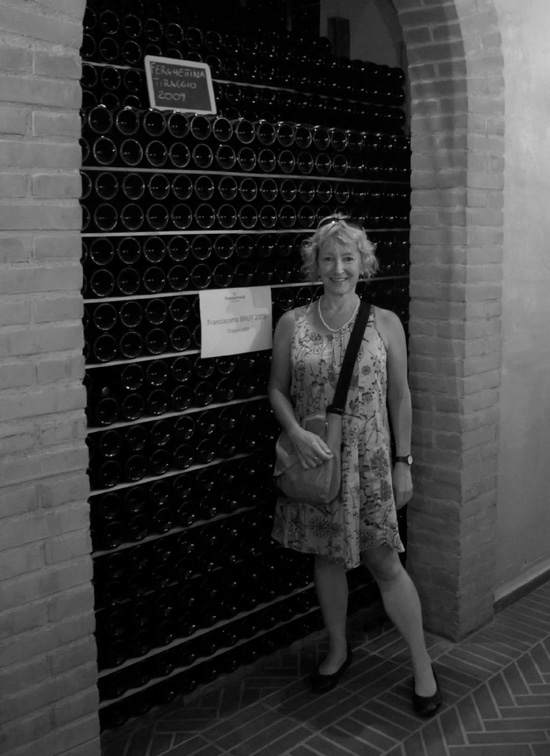 After celebrating with our other ONAV classmates, the 5 of us headed off in two cars to a place that Federica had heard about. It was a laughable, roundabout tour through the countryside of Brescia trying to find the agriturismo, Cá del Lupo. We enjoyed a light lunch on the terrace: Alessandro, Valentina, Giuseppe and Federica.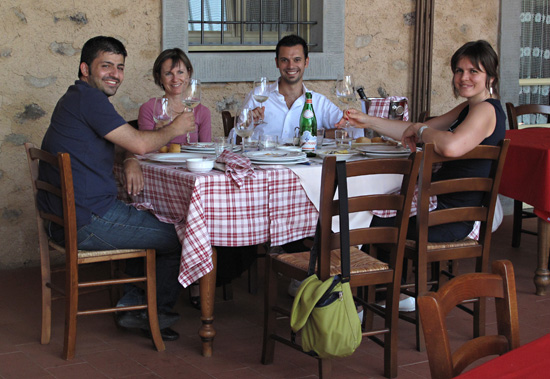 Alessandro.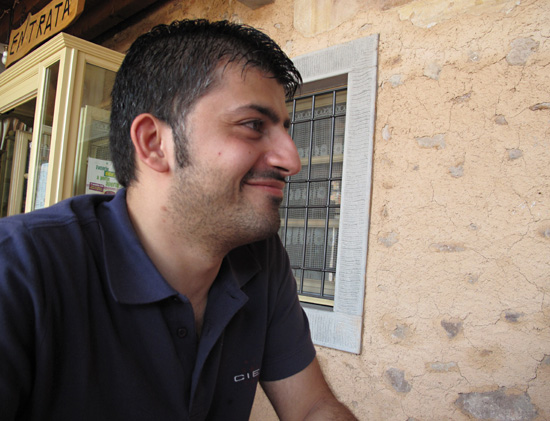 Valentina.
Giuseppe.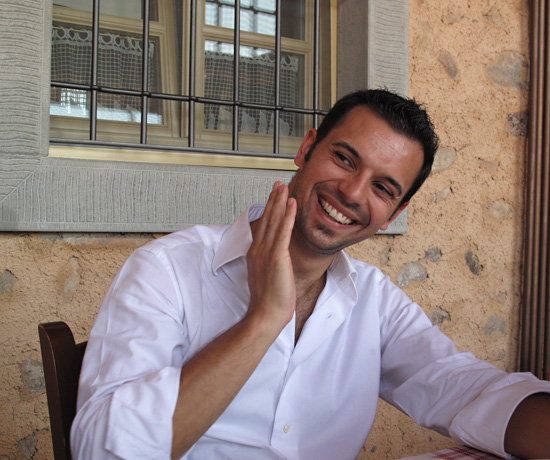 Federica.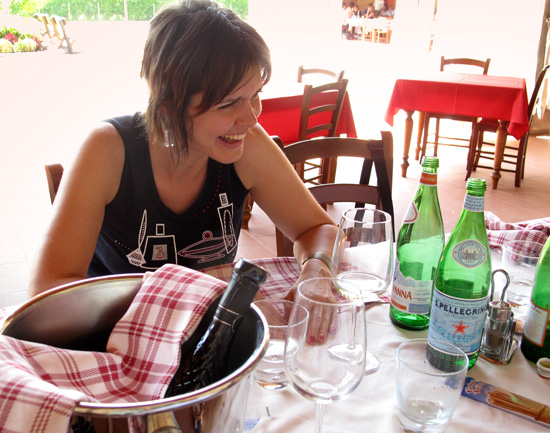 It took much hemming-and-hawing to decide whether to go walk along the shore of Lago d'Iseo. We consulted the GPS to figure out how to get there and how long it would take.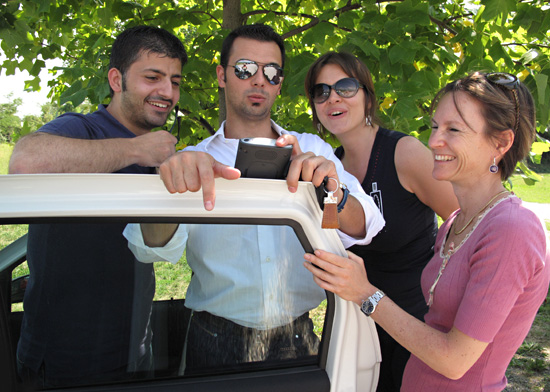 Lago d'Iseo is between Lago di Como and Lago di Garda, nestled in the ring of mountains to the north.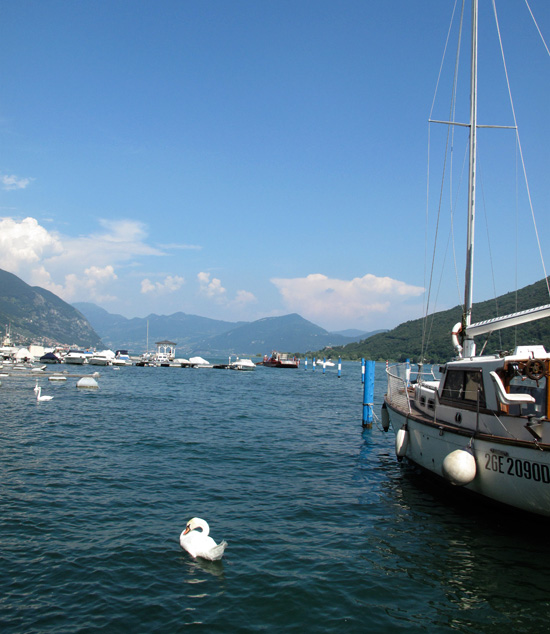 Alessandro and I goofed off at the cartoon characters on the lawn.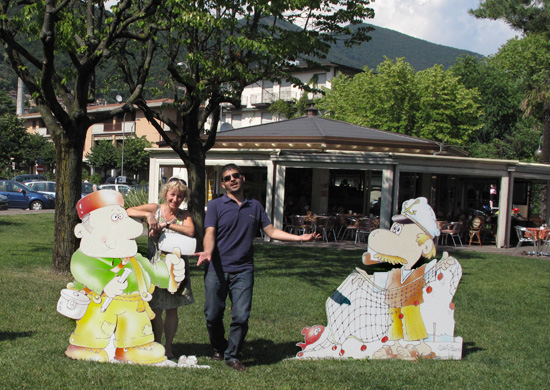 I spent my very hot Fourth of July at a winery, a farm and a lake, with 4 dear people I hardly knew. We had a wonderful time and laughed a lot. One of more of them may end up on my doorstep in Seattle some day!