Where is Crockawaddy?
Crockawaddy Glebe is west of Rosslea, north of Aghadrumsee in County Fermanagh, west of Belfast, Northern Ireland. "Crockawaddy" is the name of the Townland (a unit of 50-70 acres), and "Glebe" indicates that they had to pay rent to the Protestant Church of Ireland.
#1 – The farmhouse at Crockawaddy Glebe (the small, black square in the middle of the circle)
#2 – Corr's Lane, the "Road to America". Corr's house is at the top end of this lane and there used to be a road connecting it with Crockawaddy.
#3 – The Schoolhouse of Corranny Primary, where cousin Tom went to School
#4 – The small town of Aghadrumsee
#5 – The Carnmore Viewpoint
For those (family members) wanting a detailed map of this area, look for the "Ordnance Survey of Northern Ireland, Discoverer Series: Upper Lough Erne, Sheet 27". © Crown Copyright 2008. http://www.osni.gov.uk/mapstore.htm. The scale is 1:50,000, with Townland Map on Reverse. These can be purchased at "News Agents" and bookstores in the area. (Thanks to my childhood friend, Eva, for telling me about these maps.)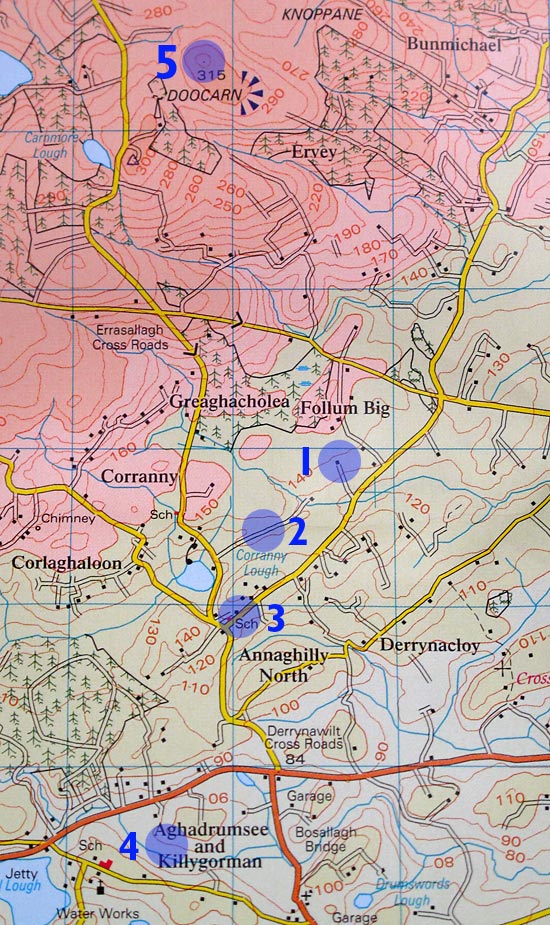 Here's a view looking southwest from Carnmore View Point (#5) toward Carnmore Lough.