Zucchi Collection
When here in Milano in the summer of 2008, I stumbled upon a Zucchi Store just a half block north of the Duomo. They sell lovely household linens (sheets and towels) and they had a curious display in the window. I didn't understand what I was seeing, so I had to go in.
Emerging up through a very large, circular hole in the first floor was a towering stack of flat wooden blocks. What were the blocks? It was then that I found out about the Zucchi Collection of wood-and-pewter blocks for printing fabric.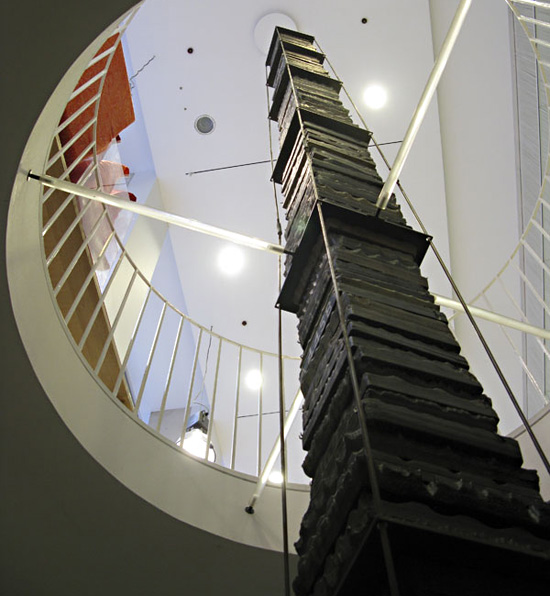 From the Zucchi Website: "The Collection's 12,000 designs bear witness, over a period which spans three centuries from 1785 to 1935, to a fashion that was both varied and popular. Such tastes were apparent during one of the most energetic and fertile periods of European culture, which ended with the first stylistic experiments of the Art Nouveau and Art Deco movements.
"The Collection houses 56,000 printing blocks, an extraordinary number by any reckoning and one which presents concrete problems not only of space but also of storage in structures able to support the weight of many tonnes. The Collection is housed in three different storage locations: the Zucchi office in Casorezzo, the Via Foscolo location in Milan and a warehouse in Ossona.
"To make the Collection accessible not only to scholars but also to the fashion people, it was necessary to choose criteria by which the artefacts could be subdivided. The Zucchi Collection has been divided into six categories, which are identified in terms of iconographic forms: abstract, cashmere, floral, geometric, ornamental and pictorial. The Collection has been further subdivided according to the specific uses not only for the borders of the materials but also for foulards, bandanas, various ties, scarves and cravats, etc. A special data card, in computerised and paper formats, has been assigned to every series of blocks. Each of these contains various items of information about the handblock concerned, including the number of pieces which make up the structure, the design style it is capable of reproducing, its historical period and its origins. Attention has also been given to the question of conserving these structures and rightly so because the wood is sensitive material. The humidity and temperature levels require strict control and beeswax and turpentine must be applied to maintain the elasticity of the wood."
A mere fraction of the collection has been on display on the lower floor of the Zucchi Store, including floor-to-ceiling, wall-to-wall shelves holding the numbered wood blocks. (They are now in the process of moving these blocks to another location.) Note that some designs have 3-5 different blocks to create the full design. (They are all numbered alike.) Being a lover of textiles I was immediately enamored of the collection.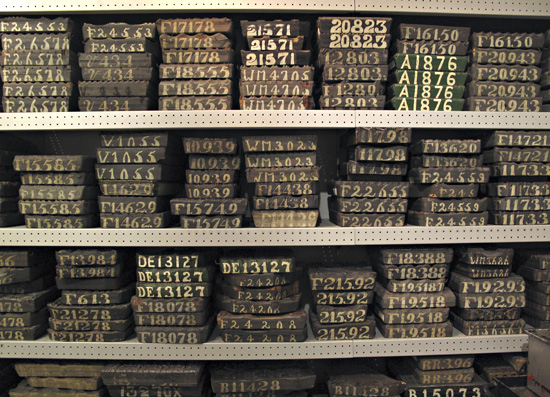 Fast-forward almost 2 years and now I'm living in Milano. Last Fall I found a curious and creative textile studio not far away named "L'Hub" on the Naviglio Grande, the "big" canal. One, they were selling vintage Zucchi linen and cotton dishtowels from the mid- and late-1900s. (Yes. I bought a bunch.) Two, they offer all sorts of creative textile classes including dyeing, sewing, construction, AND printing fabric with the centuries-old Zucchi blocks! Can you say "Sign me up!"?
I enrolled in the 3-hour class held last Saturday afternoon, taught by artist Franco Duranti (at the very far left in the next photo). Among other things, Franco is a painter, engraver, and video artist AND since 2007, he's been creating original works with the Zucchi wood blocks! Below is a photo of the working studio at L'Hub. Some women were taking a sewing class, while two other women were also taking the fabric stamping class.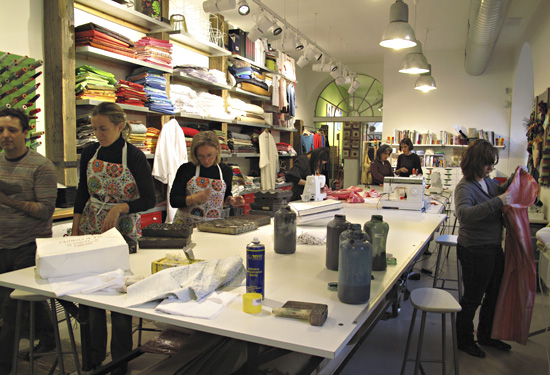 I wanted "classic". I had just seen the Frette Textile Exhibit a week ago. I'm enthralled by the traditional fabric handwork of generations past and am especially inspired by my Great Great Grandmother's work, done at age 12 in 1861. She crafted a cross-stitch sampler in "Turkey Red" on cream-colored cloth, and that color combination has launched me ever since my Grandmother gave me the sampler in 1975.
On the neighboring streets (on that recent day when I was getting snowflakes in my eyes) I scouted fabric stores and came away with Italian, 100% Linen. I bought a meter of fabric and took it home to prewash.
In familiarizing myself with the printing process, I chose a simple fleur-de-lis pattern printed in "carminio" – carmine red – on the linen. Note how, in this case, the block carries an "island" of cast pewter attached to the wood,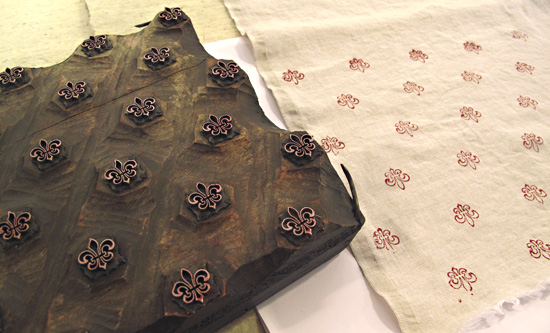 The following is an intricate, cast-pewter, paisley design from the "Cashmere" group of blocks in the collection. THIS makes my heart melt! Unfortunately, I was not able to print with this block, but printed with one I found that was as close as possible.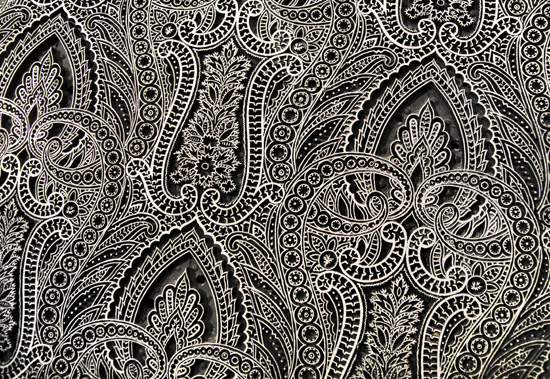 In gathering fabric for printing, I had also gone BACK to the Zucchi store downtown and they just happened to be having a sale! I bought two sets of sheets. One set is 100% cotton, satin finish with a subtle, printed khaki/cream pattern. I printed right over the top of the pattern to create a set of sheets like no other in the world.
I also paid a visit to the second-hand store 2 blocks away. I found white, cotton button-end pillowcases and bought all six at 2 euro each (about $2.75) When I got them home to wash them, I looked inside and noticed a… Zucchi label! Of course.
My plan now is to return to the L'Hub studio for a solo 3-hour stint to embellish the pieces I began, and to print even more.
As I wallow in Art and Design during my time here in Italy, I can't imagine a more exhilarating addition to my list of design experiences than printing with the Zucchi handblocks at L'Hub!