A Modified Favorite
This is my current favorite meal, either at home or at Viola Ristorante. A very simple but fabulous salad, perfect for hot days: a bed of fresh arugula, slices of bresaola, shaved pecorino in this case (or parmigiano), fresh tomato, olive oil, balsamic vinegar, fresh ground salt and pepper… and this time I modified the salad and added cauliflower and red pepper. (Viola adds paper-thin-sliced red onion, which is fantastic, but I didn't have any.)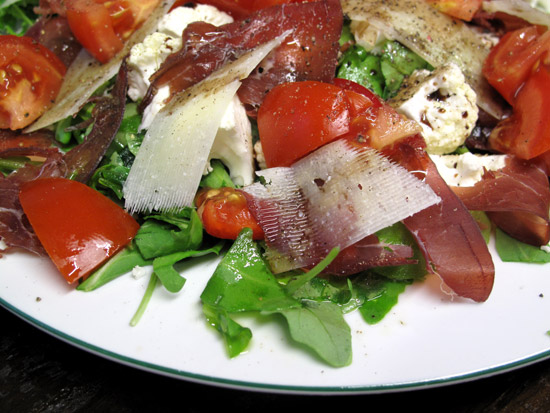 Bresaola. Mmm. I'll shoot some photos and do a whole post on that, but it's become a favorite. Good, lean, flavorful protein. Lovely on a salad like this. A good way to begin a meal, or simply make a meal.
This from Wikipedia: 
Bresaola is air-dried salted beef that has been aged about 2-3 months until it becomes hard and a dark red, almost purple colour. It is made from eye of round and is lean and tender with a sweet, musty smell. It originated in Valtellina, a valley in the Alps of northern Italy's Lombardy region.