What a street market! I rose up out of the subway this evening at 6:00 and immediately stepped into a one block section of tented stalls hosting vendors from the many regions of Italy. Wow. Cheeses, meats, spices, pastries, dried fruit. As they say "over the top"!
One stall in particular had what I can only call "ambitious cheese". Ambitious in the making and in the eating. Cheeses matured in juniper, walnut leaves, "must of nebbiolo grapes". Leaves, twigs and what looked like good rich earth were still adhering. You want a quarter cheese round? The woman will cut through the cheese wheel and send some of that must home with you. (I can't help but think that such things would never be found in the U.S. They would be accompanied by a waiver and binding agreement not to sue. I was again reminded that, as Americans, we are so removed from our food sources! …Don't get me started on THAT soapbox.)
No. I didn't try any. Mostly because the woman was busy with other customers, and her sample dishes were empty. And if I tried some, how could I walk away without buying? (And look at the prices! Some of those are about $23 per pound. But they must be sublime. I'll have to try-and-buy next time.)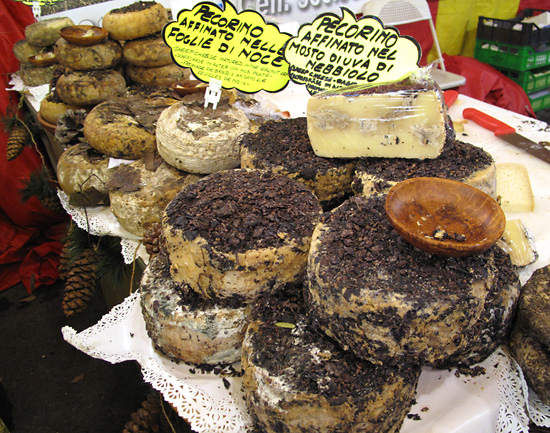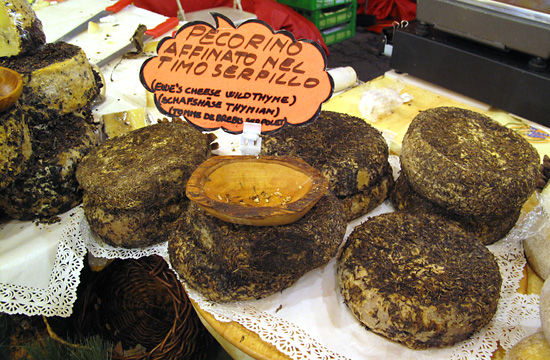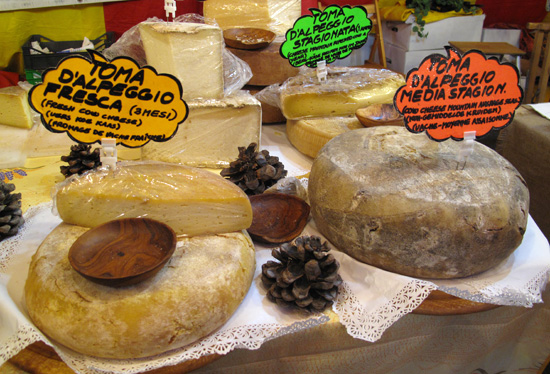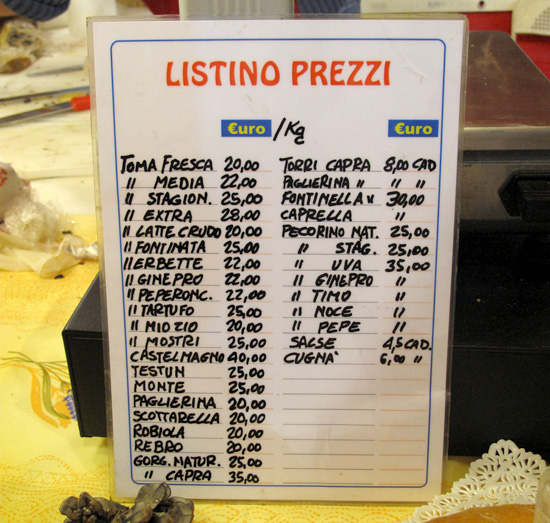 I did buy a wedge of cheese at another stall. I put my hands VERY close together and indicated that I wanted just a bit of the cheese with green olives and spicy red peppers. She came over from playing with her baby son, picked up the knife, cut a wedge and charged me 9 euro for that bit. (About $13.50 for that small wedge!)
The meats were stacked high. Spices and fruits in heaping mounds. The Sicilian cookies and pastries tempted me. The young Sicilian man packaged some various cookies for an elderly couple… maybe a dozen and a half, 2 inch cookies. "25″, he said. "What?" said the old man. "25." It was 25 euro for that little bag of little cookies. The couple scoffed, left the bag and walked away. Cautious, I bought two small macaroons and one pistachio cookie: 2,50 euro.