Bici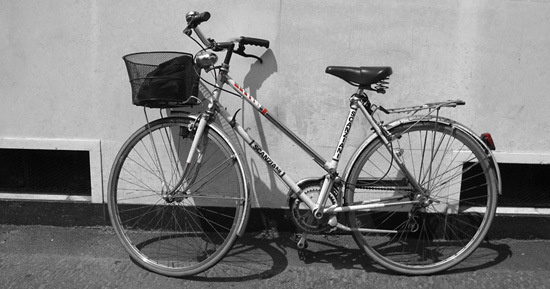 "Bici", (bee-chee) short for "bicicletta": bicycle! I borrowed a bike and have been for a couple of rides south from Milano down the Naviglio Pavese canal. It's a nice straight shot used by lots of other bikers, both serious and casual. Decked-out cyclists, leathery tan from habitual riding in Italy's sun, clustered in speedy packs, must have all been in their 60s and 70s. They were in contrast to the couples and families out for an easy Sunday stroll on wheels.
In some places it's one lane, shared with cars; on other stretches, it's bikes only. The canal fronts warehouses, apartments and office buildings…wheat, rice and corn fields and p-patch gardens. Quite a mix and it all makes for a pleasant ride. I saw a few p-patch cats at the path-side, and geese nesting in the tall grass along the edges. When seeing the intensely-green rice fields, I flashed back to being in the China countryside! Some of the scents were similar, too.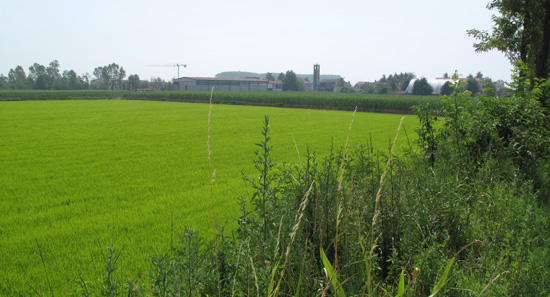 There are locks along the canal, and a very occasional boat. I saw these two twin boats heading up-current and wondered what-the-heck kind of boats those are! Any ideas? (Further north, in town, a few tour boats make short runs, and there are also some restaurant barges.)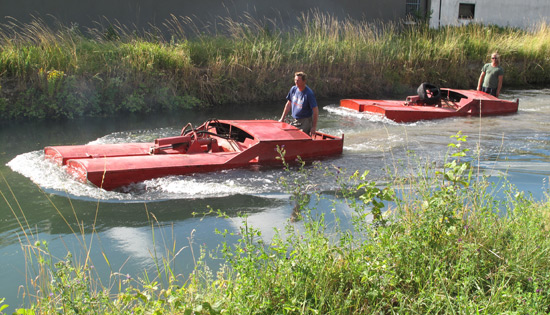 Peering down into the aerated water just below one falls, there were big schools of big fish. A foot and a half long? I was told they were related to carp, but they had a pretty streamlined silhouette from above. The water is fairly shallow and murky for the most part, so it does seem like carpy habitat.
It felt good to ride. Good to get my heart rate up, get some exercise and fresh air, and see the surrounding area. Nice to know that the canal road/path is just a block away from my apartment and an easy-out-the-door!