Dinner with Sanremo Friends
It's a natural for friends to gather for food and conversation. This is worldwide, but I find that the Italians do it well and do it often.
Last weekend, in Sanremo, seven of us got together for dinner around the table: my landlady, Sandra, and her husband, Mauro, and their friend, Sandro (all of whom I had spent the weekend with two weeks earlier), plus two friends of theirs, Renata and Angelo, and another friend of Sandro's, Livio. Everyone came with food in hand, and we had a lively time.
Below, left to right: Livio, Angelo, Mauro, Renata, Sandra, Sandro.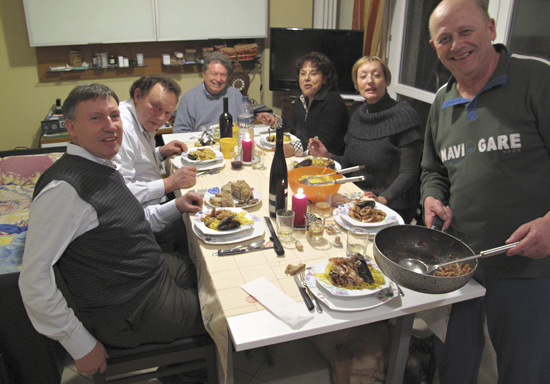 We started with some salame that Livio had made. (Yes. Those are chunks of fat.) I had made a loaf of mixed-grain Irish Soda Bread that we ate with it.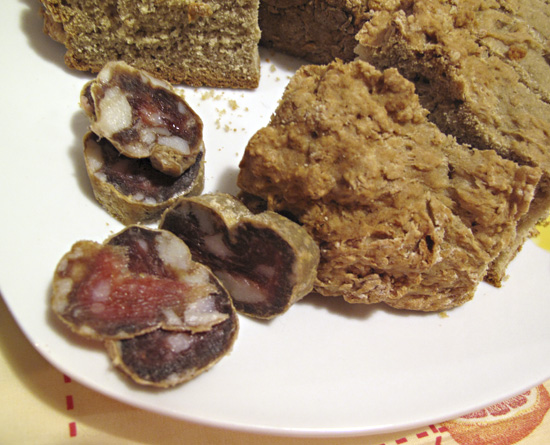 Sandro had cooked a fabulous mix of seafood, including mussels, shrimp, squid, pescatrice (that funny, deep-water fish with the "lure" hanging off the front of its head), and tiny 3 inch fillets of a local, sand-versus-mud fish. There was just a tad of hot pepper oil in this dish which added a touch of zing.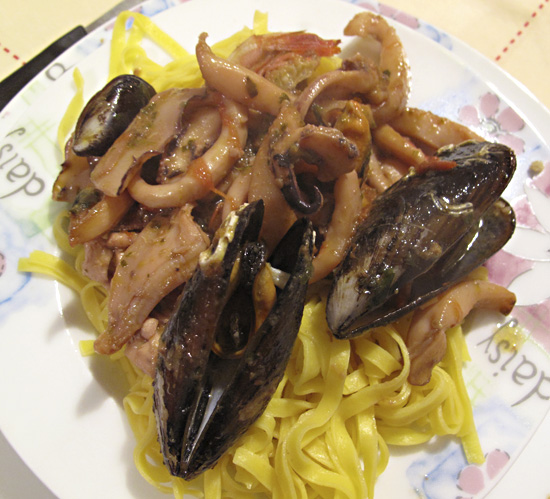 Renata had baked a fresh tart, beautiful with apple wedges emerging from the deep gold, dense, pound cake. This was pretty darned good with some of the array of gelato that Sandra and Mauro had picked up at the town's best Gelateria. We ate and talked for close to three hours. (Yes. All in Italian.)