Earl & Matthew
How do you give a 13-year-old a whirlwind overview of Milano and other spots in Italy?
I had grown up picking rocks off of Earl's parents' waterfront on Three Tree Point, just down from the house I have in Seattle now. (In other words, he's known me since I was born.) So when Earl decided to take his grandson, Matthew, on a tour of Italy, and knowing that I'm here in Milano, he got in touch with me and we started planning the whirlwind. By the time the trip was only a week away, Earl wrote to say they were "counting the hours".
The two travelers arrived at Milano Malpensa Airport, jet-lagged but excited. We caught the train into the city, with one minute to spare.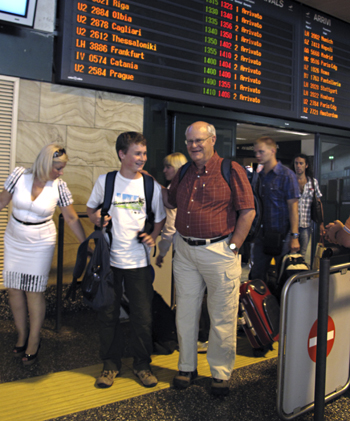 Like Hannah and Zibby two days before, Earl and Matthew's first stop, with mere 21-pound packs still on their backs, was the Spezia Milano Pasticceria. They needed a little something to take to their hotel room and picked out a dozen sweet treats. (The best in town.)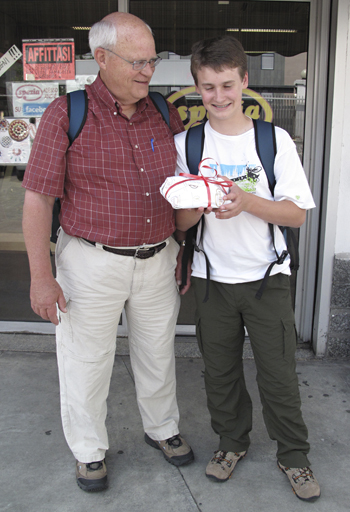 The guys needed a break after their long travels, and a little freshening up. We met up a couple of hours later when they came over to my apartment just 2 blocks away to "skype" family back home. Then we walked up the canal, Naviglio Pavese, to a pizza restaurant with a wood-fired oven. I don't know what was so funny, but Matthew enjoyed his 5 cheese pizza. Much of it was packed home though, and ended up in my frigo (and made a high-fat breakfast for me the next day).
Earl and I shared an antipasta plate of mixed cheeses and meats, then a pizza of prosciutto, mushrooms and artichoke hearts.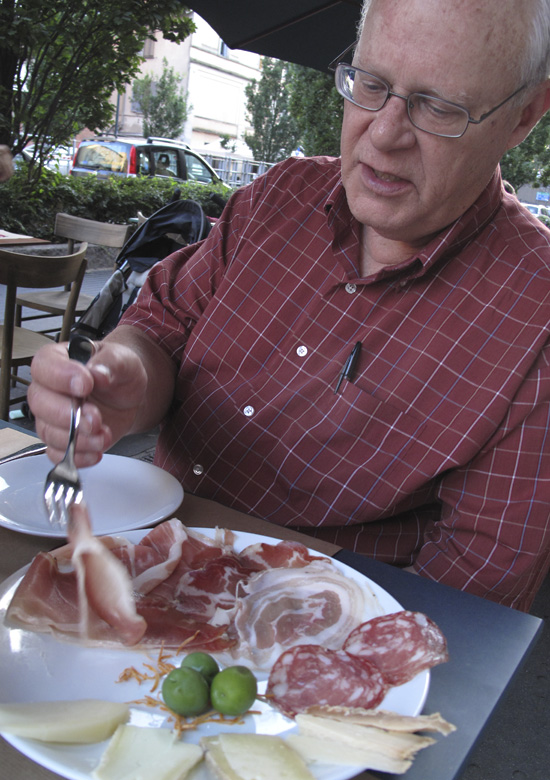 Still recovering from the trip, "The Boys" called it a night early without the evening stroll along the canal (to the gelato shop), and headed back to their hotel for a good, long night's sleep.
In the morning, having missed the breakfast part of the "bed & breakfast", they came to my apartment for made-to-order, prosciutto/grana/peperoni/cipolla omelettes with bread, jam, blood orange juice and strong coffee. Once they had been fueled for the day, we headed for the subway.
It was a day to scout for Leonardo around town; he had lived in Milano for 20 years as a young man and left his mark across the city. Our first stop was the Castello Sforzesco, an impressive moat-encircled castle in the center of town. From there we moved on to The Museum of Science and Technology and its Leonardo da Vinci exhibit.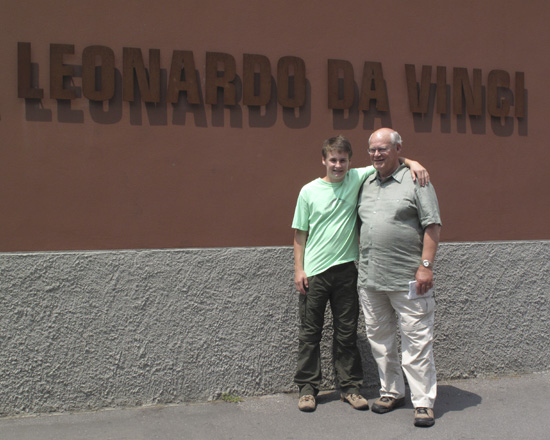 We saw some incredible models representing the ideas in Leonardo's Codex Atlanticus!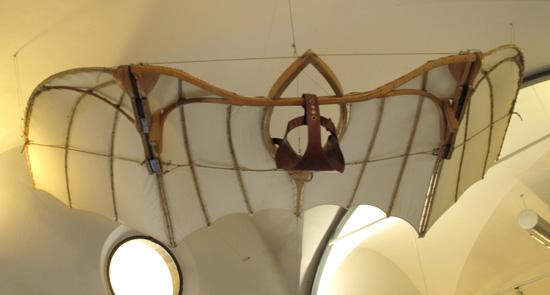 .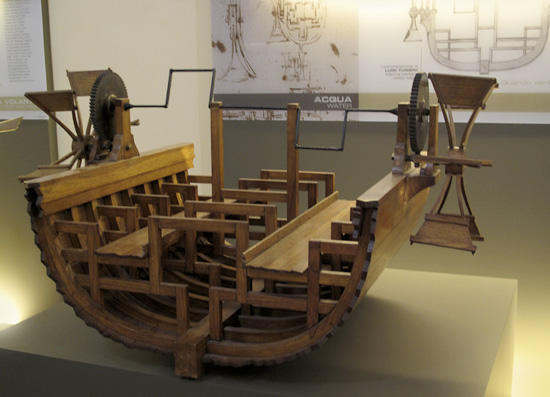 .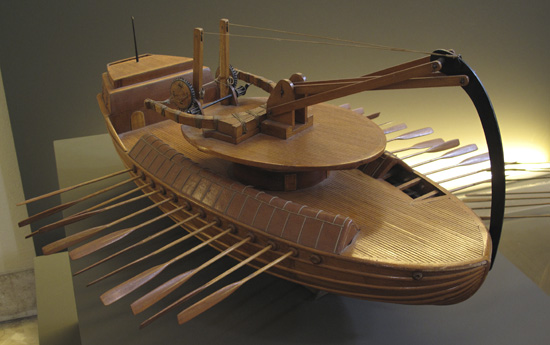 We had 3:30 tickets for The Last Supper and needed to check in a half hour beforehand. Their tours are very precise in their beginnings and endings so that they can best control the atmosphere within the chamber that hosts the fragile mural. To actually SEE the original painting, the inspiration for so many reproductions and college lectures, is an experience to add to a lifetime.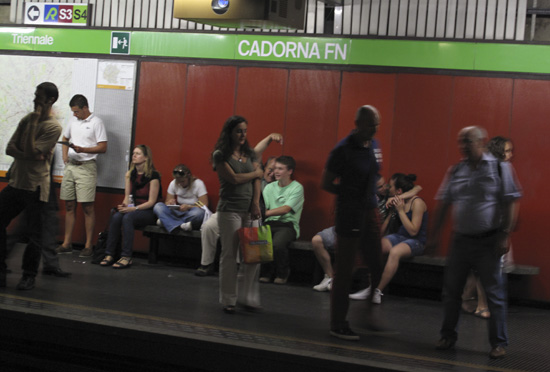 Earl and Matthew were both spent after our sightseeing. We each wolfed down a panino of prosciutto, brie and "red mayonnaise" then headed back to the subway. I was heading north to buy our train tickets for the next day, and they were going to test their navigational skills and get themselves back to their hotel. (Matthew had great fun later trying to convince me that they had gotten lost and had been wandering around for hours.)
We regrouped later for evening skype sessions with the folks back home. (At 6:00 pm here, it's 9:00 am on the U.S. West Coast.)
The big question was "where shall we go for dinner?" With so many options, I wavered in my recommendation, but kept thinking about octopus and potatoes at the Carlotta Café south along the canal. I wasn't sure how adventurous Matthew would be, but we went anyway, and took a cab since neither the subway nor our feet would get us there easily.
Dinner was DIVINE. If you ever want a good meal in Milano, head to the Carlotta Café! Matthew ordered gnocchi with speck, (like a lightly smoked prosciutto) and rucola (arugula) in a fabulous, creamy sauce.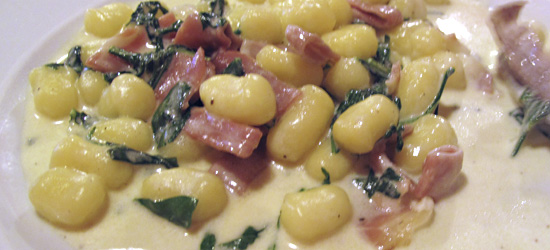 Apparently, Matthew really liked the sauce! (Matthew! I can't believe you did that!)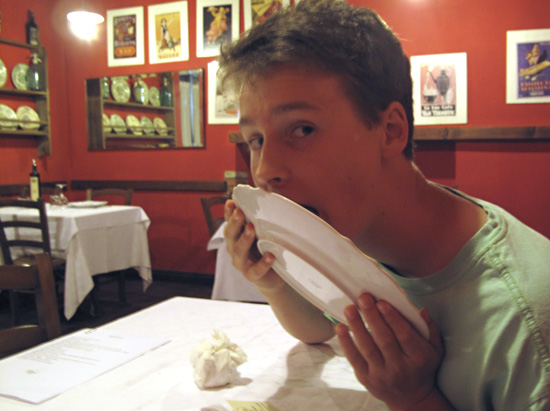 Earl and I ordered the evening special, a 7-course, fish-based meal that kept the food coming all night. At our first urging, Matthew took a little taste of the fresh-caught anchovies and he was hooked from then on. He quickly swooped in on a half dozen of the slim, silvery filets, then scooped up a portion of the much-anticipated octopus and potatoes. I was pleased by his willingness to sample the seafood variety.
Our 29 Euro-per-person meal included:
– "Paper Music" bread, hot, drizzled with olive oil and sprinkled with salt
– Piovra tiepida con patate e olive (Octopus with potatoes, olives and olive oil)
– Alici marinate (Fresh anchovies on a bed of rucola)
– Carpaccio di spada (thin slices of raw swordfish)
– Ostriche (Raw oysters)
– Paccheri all'isolana (pasta, tomato, tuna, basil)
– Spaghetti con bottarga (spaghetti with grated, dried tuna roe)
– Branzino vernaccia (Roasted branzino fish with olives)
– Mirto (an after-dinner liqueur from myrtle leaves and berries)
– Pardule (a star-shaped, pastry desert from Sardegna)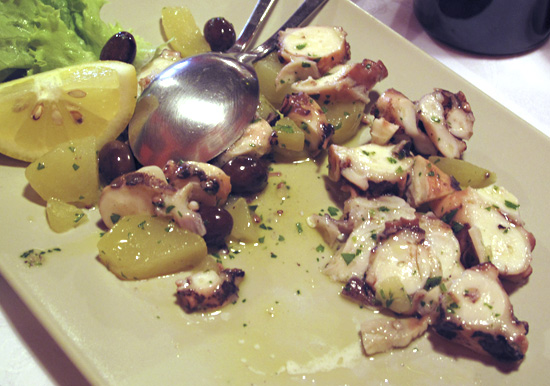 We ordered a nice, chilled bottle of Vermentino di Sardegna vino bianco to go with our seafood.
By the end of the evening we were having quite the time chatting with Erik, our wonderful waiter. When other restaurant patrons ordered a roasted, suckling pig, Erik brought it by to show us. And when it was time to leave, we met the chef/owners and the others in the kitchen, complimenting them on our fantastic meal.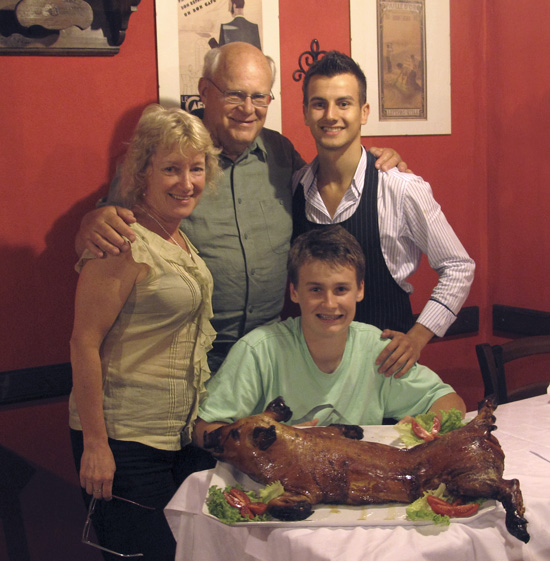 Carlotta Café
Alzaia Naviglio Pavese, 274
20142 Milano
Tel: 02-89546028
The next day we hopped the train northeast, to the town of Varenna, along the eastern shore of Lago di Como (Lake Como). Earl and Matthew were scheduled to meet with a travel group at 5:00 that evening to continue their whirlwind tour. Since I hadn't seen Varenna before, I accompanied them on the train trip and to their steep hillside room-with-a-view. From their balcony, they looked almost due west to Bellagio (hidden by the 3 tall cypress trees), and north to the town of Varenna.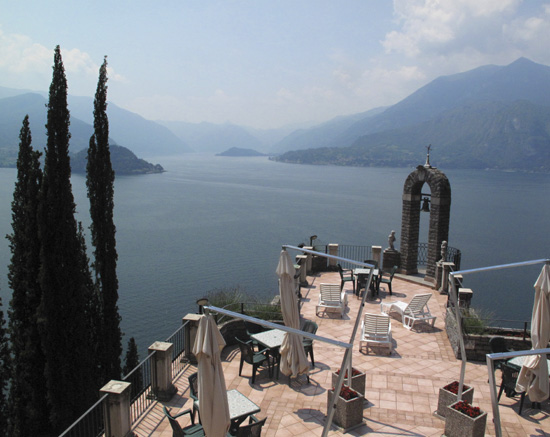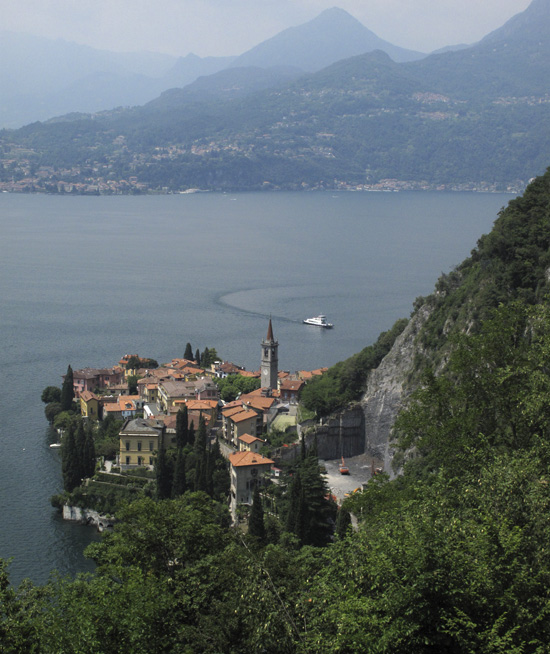 We had a little wander around the town and a lunch by the lake shore.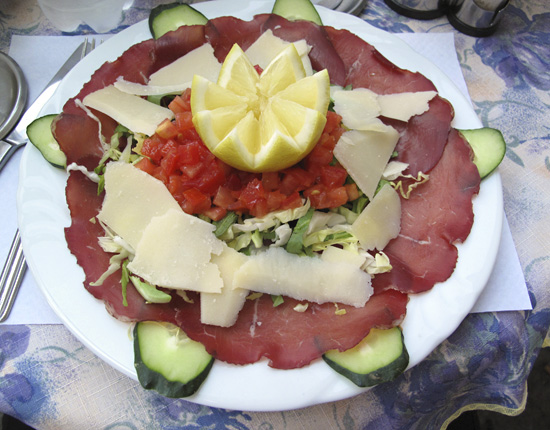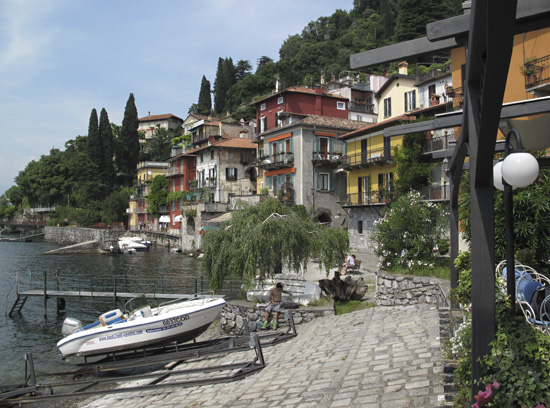 After lunch, we walked just around the bend for a treat of pistacchio, coconut and vanilla gelati, which we ate while leaning on the railing looking out over the water. We said our goodbyes, gave each other hugs, and then went our separate ways for our own exploration.
We had two very full, delicious and beautiful days! What an introduction for Matthew – nicknamed "Mateo" – to the sights and food of Italy. I'll be curious to know what his highlights are.