Festa della Repubblica
While here in Milano for the cycle of a full year, I've tried to get some sense of every holiday or special occasion. I've attended, or found myself caught in the middle of, festivals, parades, fairs and spontaneous crowds, and each one tells me a little more about Italia and her people. Yesterday was Festa della Repubblica.(See the wikipedia entry below.) I went online to find out what the city was doing for the holiday and I found mention of the ceremony at the Piazza del Duomo.
I came up out of the subway into the piazza at a quarter 'til noon. Being little, I weasled my way toward the front of the crowd so I could see better. A military brass band was playing, and a half dozen military groups were standing in formation.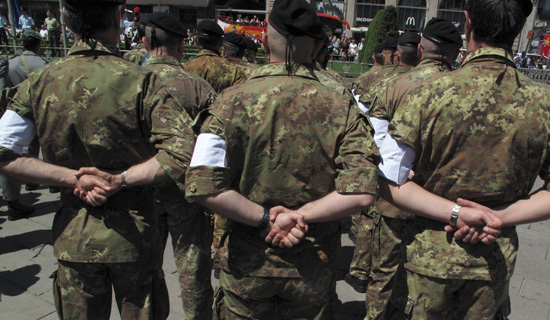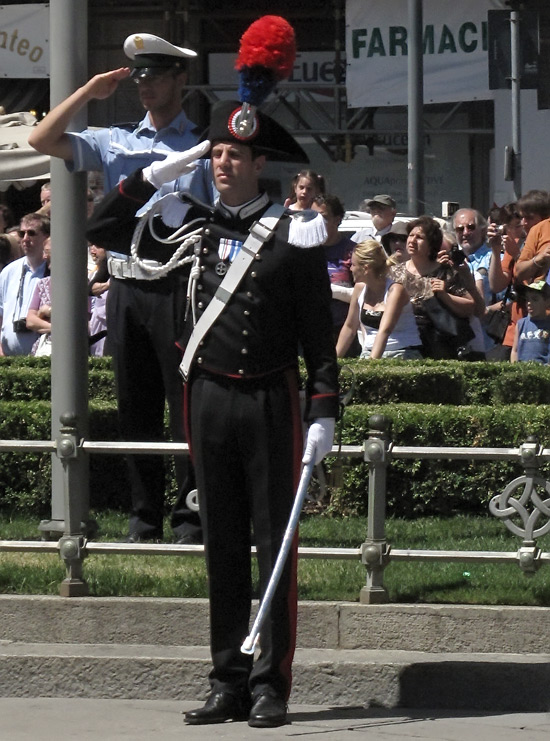 At noon, they began raising the flags of Italia, Milano and the European Union. (I was amused that the visual backdrop for the ceremony was not the Duomo, but rather a sexy sunglasses ad for Dolce & Gabbana. I'm sure D&G planned their ad placement for this precise timing!)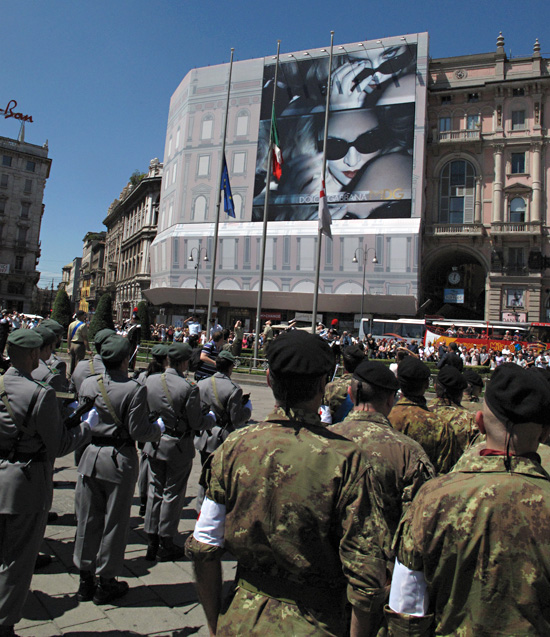 When the national anthem played, the crowd around me sang with passion, especially the older folks. A marching procession followed, with each of the military groups in formation. Firefighters and local police were included in the groups.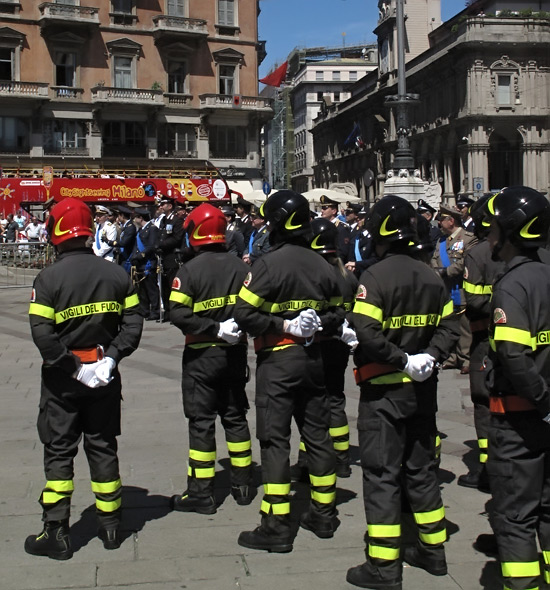 It was a short march around the corner of the piazza then down to the side of the Duomo and the courtyard in front of the Palazzo Reale. (I was surprised when I got a little choked up.)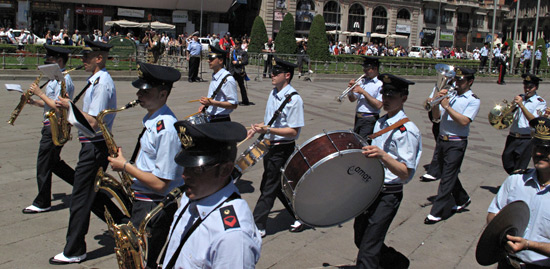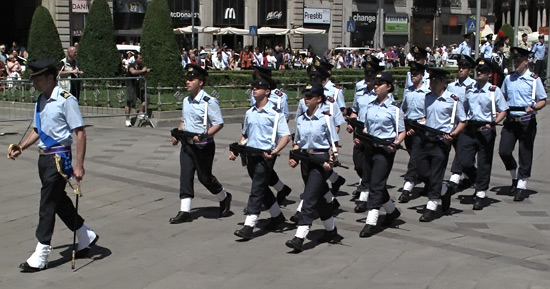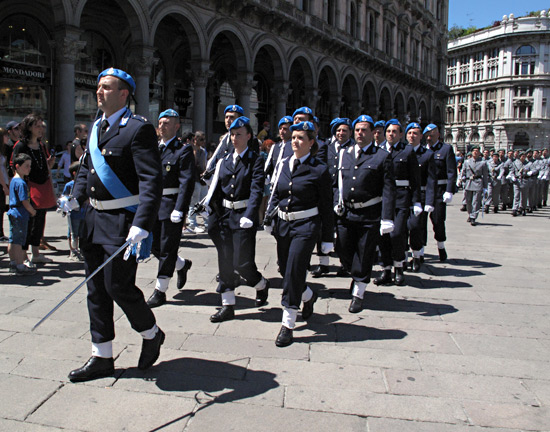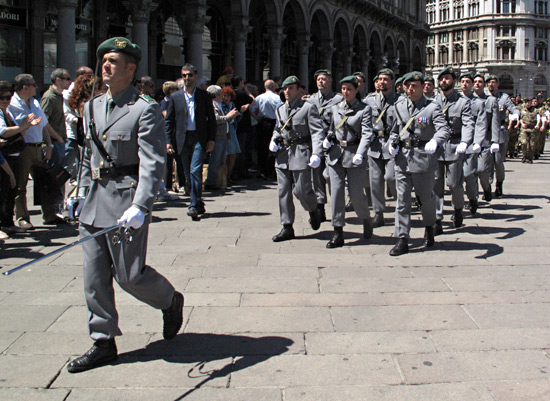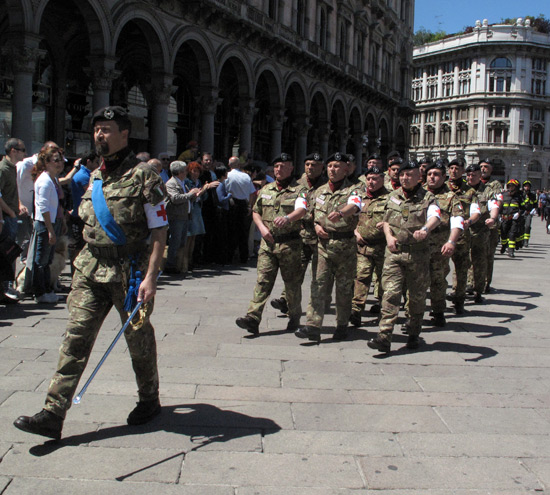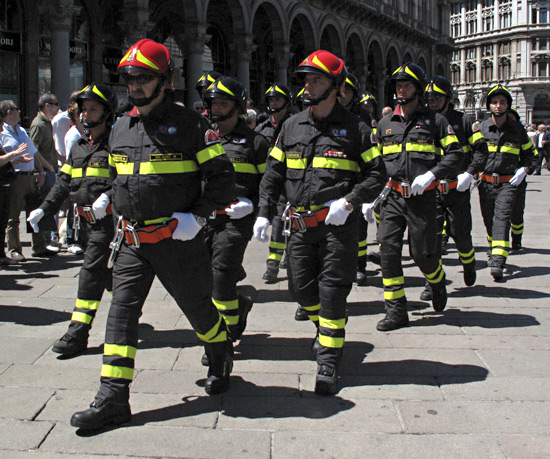 Small groups of city officials and military leaders gathered for informal portraits, then people dispersed into their midweek holiday.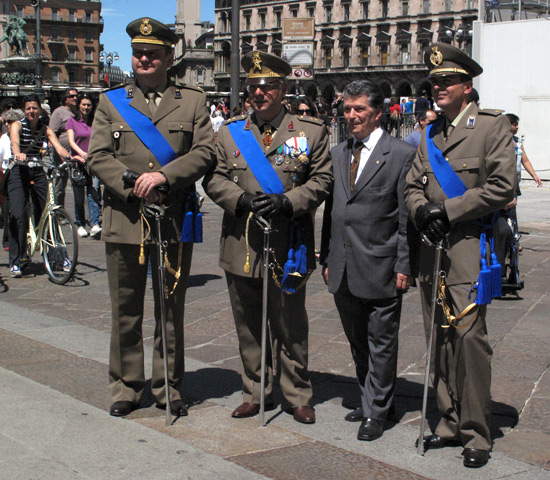 "Festa della Repubblica (literally Festival of the Republic or, in English, Republic Day) is celebrated in Italy on the second of June each year. The day commemorates the institutional referendum held by universal suffrage in 1946, in which the Italian people were called to the polls to decide on the form of government, following the Second World War and the fall of Fascism. With 12,717,923 votes for a republic and 10,719,284 for the monarchy, the male descendants of the House of Savoy were sent into exile. To commemorate it, a grand military parade is held in central Rome, presided by the President of the Republic in the role of Supreme Commander of the Armed Forces. The Prime Minister and other authorities attend too."
An article (in Italian) on Milano's web site:
"Festa Repubblica per recuperare i valori del Paese"
"Festa Repubblica to recover the values of the Country."