Florentine Flea Market
A month ago I was given a hot lead from a girlfriend in Seattle about flea markets in Firenze. What I uncovered through some digging was that the "hottest" market happens on the last Sunday of the month, in the Piazza dei Ciompi, just a few blocks' walk east of the Piazza del Duomo. OK. That little fact determined the timing of my return visit to Firenze.
I even set the alarm Sunday morning(!), ate a quick breakfast and started walking the mile to the piazza. Along the way, I kept seeing people carrying branches and scratched my head over that. Hmm. Oh! It was Palm Sunday but they were carrying olive branches, not palms! I stepped into the Basilica della Santissima Annunziata mere moments before mass started and witnessed the procession of priests and parishioners.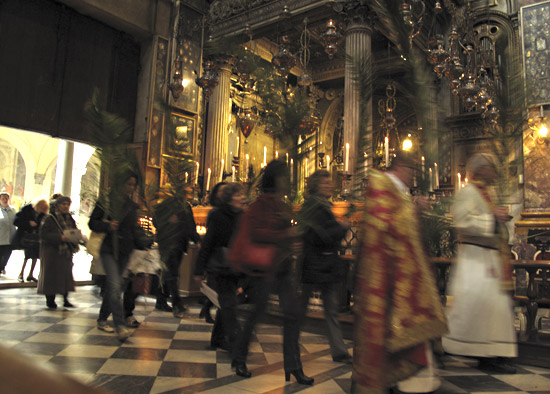 The portico between the church and the "cloister of the dead" offered a heaping bale of olive branches, so I plucked a few little twigs to carry in my pocket, then continued my mile walk.
When I arrived at the Piazza dei Ciompi, I found many of the things I expected AND I found most everything I was looking for. On the last Sunday of the month, the flea market spills out into the side streets, populated by many of the local antiques dealers surrounding the piazza. There are the vendors that know what they have and charge high prices accordingly. And there are those that have a mixed pile of junky tidbits with a "treasure" tucked in here and there. The concept must be universal among flea markets and swap meets.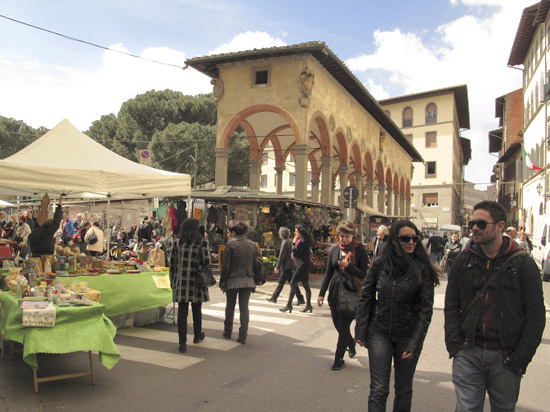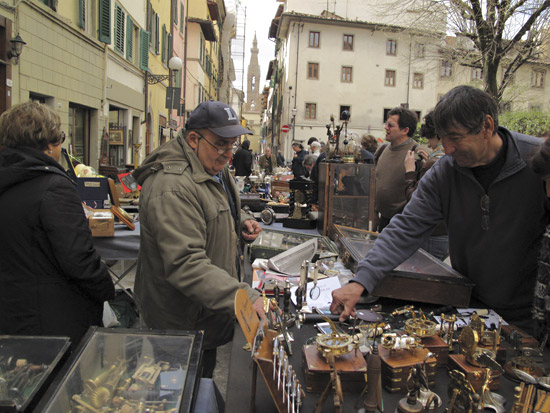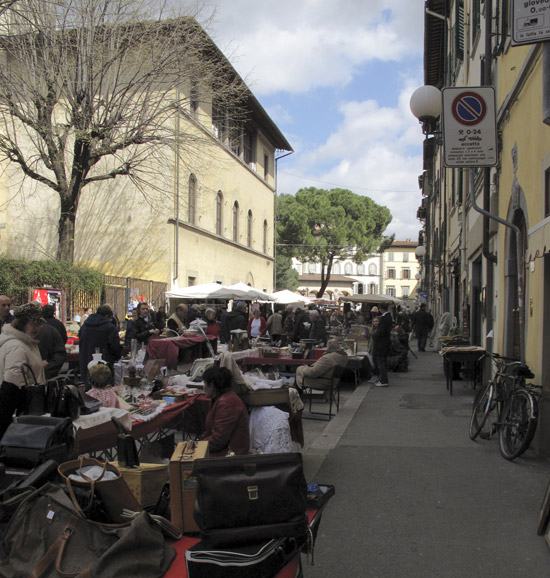 Of course there were iron pieces, linens, books, figurines, clothing, costume jewelry, housewares and miscellanea. What I went in search of were red-stitched linens (thinking of my great, great grandmother and Frette linens) and old penmanship guidebooks. I found both! What I didn't find are the meat and milk signs like I've seen hanging outside markets around the country. I'd gladly hang them outside my door at home in Seattle!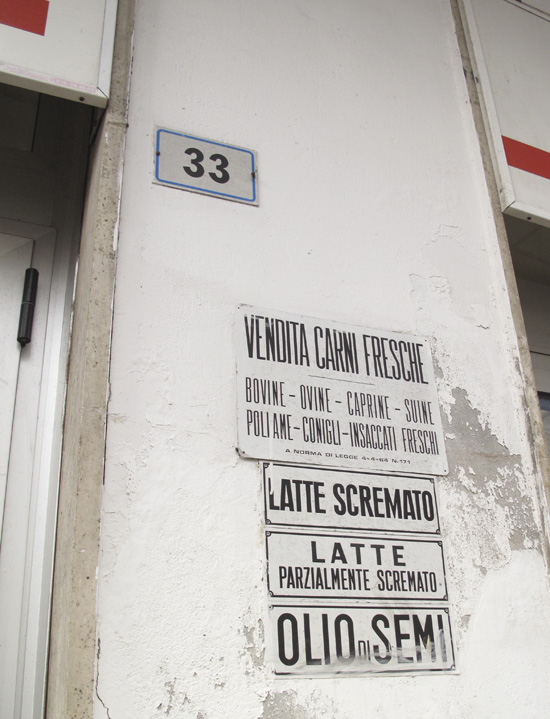 Look at these hat forms! The vendor had about a dozen of them. Many different hat shapes. Beautifully-sculpted hardwood! If I remember right, they were selling for about 80 euro each (about $107).
Years ago, both of my Grandmas let me paw through their button boxes and select my favorites. I now have a collection of thousands of buttons, especially mother-of-pearl. I dig into my collection when I've sewn something and need just-right buttons. When I saw these boxes full of buttons, I was hopeful, but in the end unwilling to pay 50 cents per pearl button.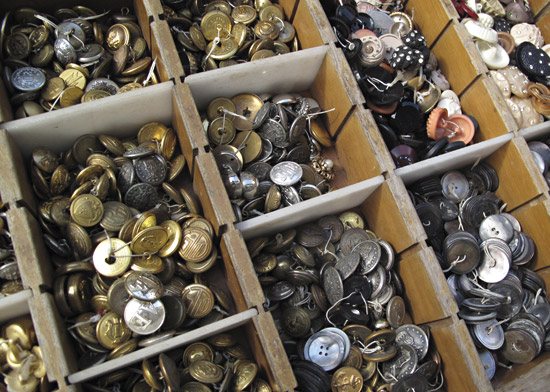 This lovely, white, cotton-with-eyelet dress from Roma was hanging toward the back of one seller's stall. Darn. It wasn't for sale. I would have brought it home to little 5-month-old Audrey, whom I haven't even met yet (!)