French Onion Soup in Paris
After walking in a cold rain for several hours on my first evening in Paris, I wanted something HOT in my belly. I wanted a hearty soup or stew. I walked into the Brasserie Balzar, about 3 blocks from my hotel. Quite brightly lit and full of people. When greeted at the door, I said to the man, "do you speak English?" "No." "Italian?" "No." "Spanish?" "Mexican!" "Great. We'll speak 'Mexican'!" (Even though my "Mexican" is out the door since I've been speaking Italian.)
He showed me to a tiny little table in the corner next to the window. Perfect. I told him I wanted a nice hot meal and his menu suggestion seemed to have been some combination of Spanish and French and I really didn't understand much of it at all. I told him it sounded great, got out my journal and waited.
My actual, "designated" waiter came to the table and HE spoke English. He recommended the French Onion Soup, to be followed by pepper steak with some sparkling mineral water and a nice red wine. (Chateau de Brague 2006, Grand Vin de Bordeaux, Bordeaux Superieur).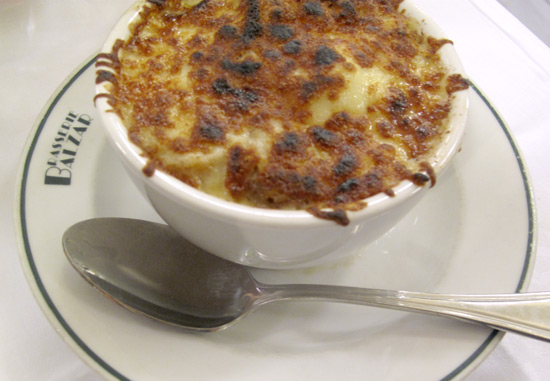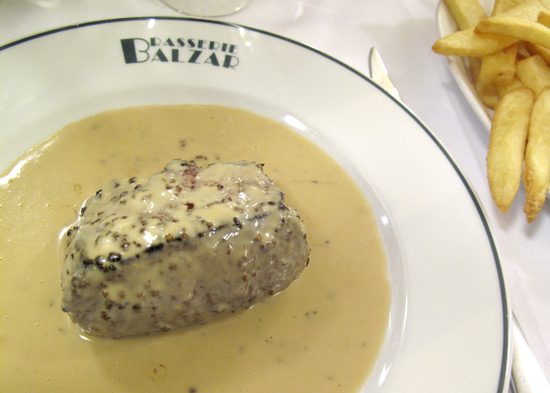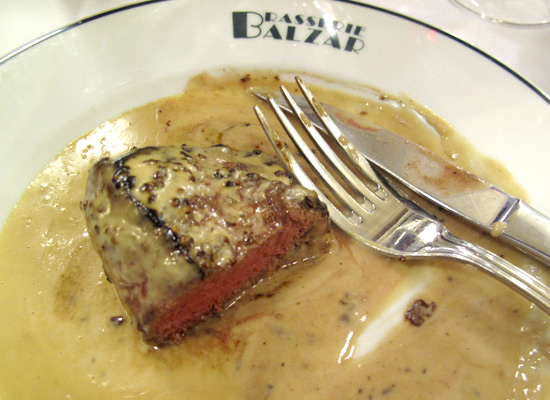 He and I ended up chatting here and there in between his serving the other patrons on a busy night. I had the perfect, cozy spot tucked away from the bustle and could just eat, drink, write, eat, drink, write for three hours. Ahh. Bliss on all counts.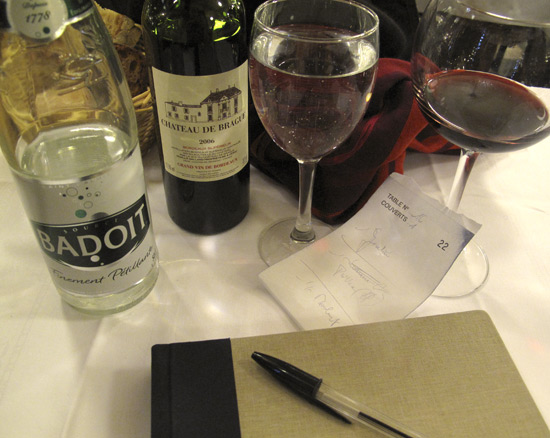 Here's a note from my journal: "The French Onion Soup was perfect after hours walking through rainy and cold Paris. That, and the lovely Bordeaux, have added a rose tint to my cheeks. The Pepper Steak, with its lovely sauce was fabulous and cooked 'til divine. I mopped up the sauce with the steak fries."
The sauce on the Pepper Steak (after asking the waiter): Juice from the steak, pepper, cream, mustard, tomato (hardly a hint) and cognac.
I finished my first dinner in Paris with Creme Caramel. (Why not?) I was full and sated.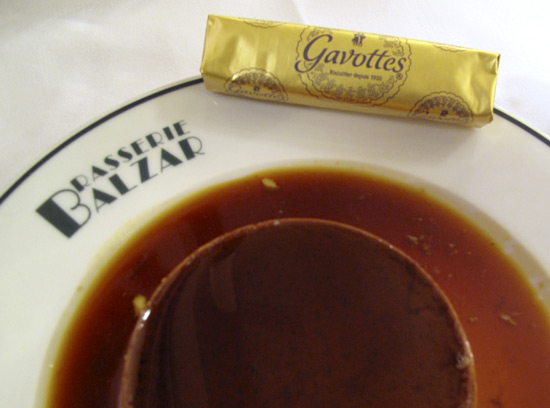 Brasserie Balzar (Ask for Jean)
49 Rue des Ecoles
75005 Paris, Latin Quarter
www.BrasserieBalzar.com
Tel: 01-43-54-13-67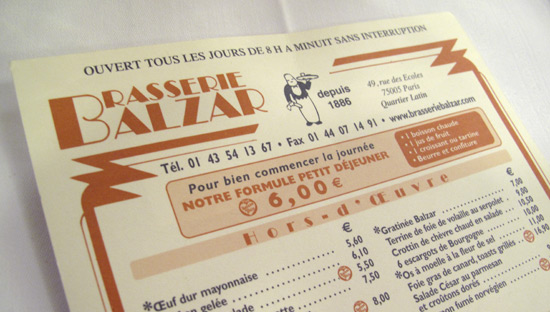 While nestled in eating and writing, I also noted this: "I've been eating bread in Milan for 6 months and haven't found any I like (except the Austrian-influenced bread from Trentino-Aldo Adige). I've been in France half a day and I already think the French make better bread than the Italians! (What I've found here in Paris) is dense, moist, varied, full of texture and flavor. THAT is bread that makes itself worth eating." (I don't mean to insult my Italian friends, but…)