Hannah & Zibby
The excitement of a college-time trek through Europe! Hannah & Zibby started together on June 8, in Newcastle Under Lyme. They went on to Amsterdam and Berlin, took a wrong train into Switzerland, and arrived in Milano yesterday. They'll go on to Venezia, Firenze, Roma, then Athens and Santorini. A time to discover themselves and the world.
There's always the charge of newness when arriving at a train station in a new, as-yet-unvisited city.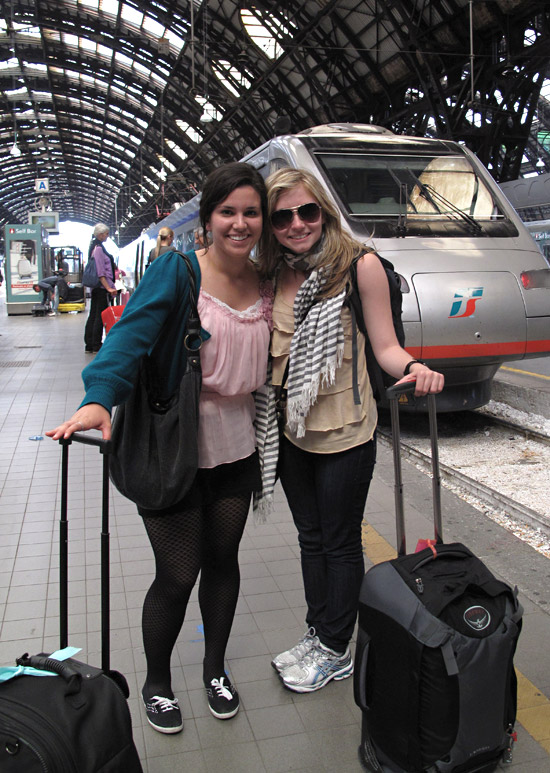 Following their afternoon arrival, we took off on both subway and foot for a whirlwind tour of the city. We wasted no time and stopped at the Spezia Milano Pasticceria, suitcases still in hand, to buy a tray full of the best pastries in the city.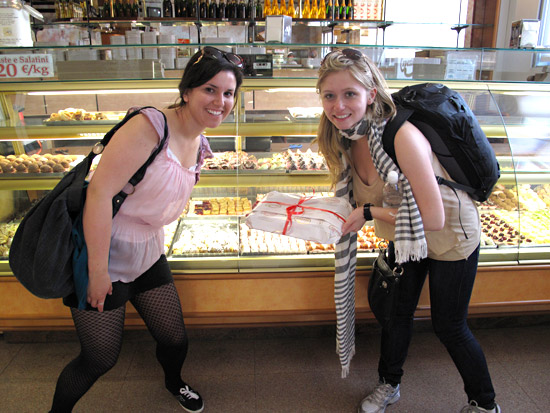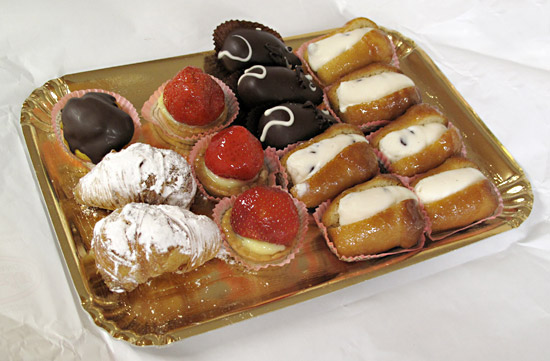 Trying a "BaBA" was a must for these girls and their yen for sweets. These little sponge-cake gems are SATURATED with rum, and filled with a sweet ricotta cheese with chocolate bits. The first bite sends a stream of rum down the arm and leaves a puddle of the alcoholic syrup in the little decorative paper cup. Tip the cup to sip every drop.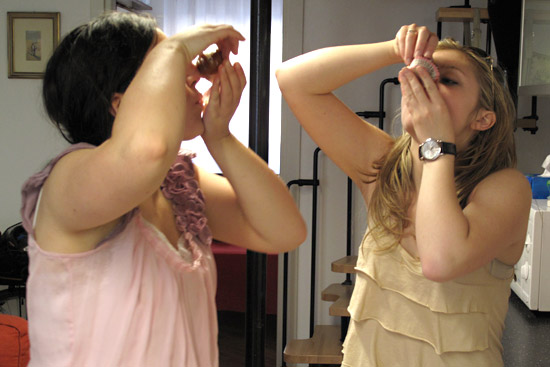 The girls freshened up after their overnight train trip, then we headed for the subway and back to the center of town: the Duomo. We studied the gargoyles, doors, and gory statues all over the church's exterior. In addition to the pious saints and cherubs, there are pensive philosophers, ominous monsters, and poor unfortunates in all states of torture, beheading and disembowelment. We remarked on the many different artistic styles.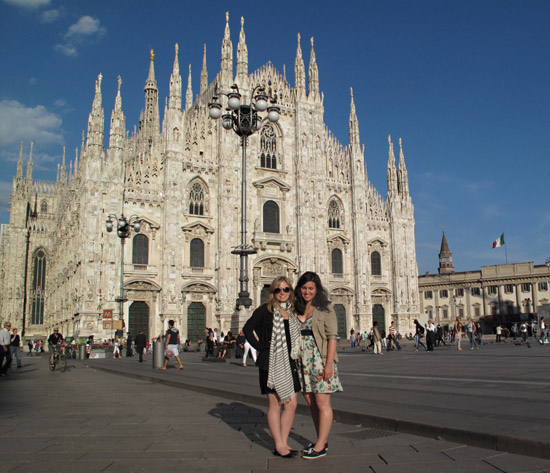 Of course we walked through the grandeur of the Galleria, a must-see for any visitor.
When out in front of the Palazzo Reale – the Royal Palace-turned-art-museum – we had a lesson in paving patterns, learning that, though attractive, the round, embedded pebbles were actually not very comfortable to walk on. That's the reason for the inlay of broad flat stones.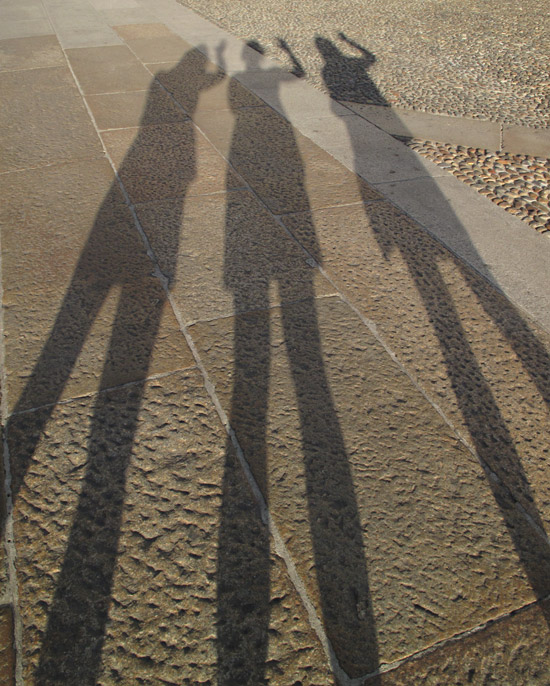 Throughout Italy there are water fountains in the major cities that provide potable water from natural, underground sources (or so I've been told). Locals and tourists alike refill water bottles, or take sips on a hot day. One man knew the trick of blocking the water flow coming out the bottom of the spigot, which then diverted the flow out through a small upper hole, creating a drinking fountain arc of fresh water. Hannah just had to test the waters.
The tired travelers were getting hungry, so we descended into the subway maze, caught the red line, then transferred to the green line. We got off at Porta Genova to stroll through the Navigli – canal – district, the hip, energetic, trendy, scenic zone of antique fairs, flower markets and exhibiting painters. We had come for aperitivi, Milano's traditional all-you-can-eat buffet for the price of one drink, usually 7-9 euro. We picked the restaurant on a floating green barge docked at the junction of the Naviglio Grande and the Naviglio Pavese. In addition to the usual carbs of pasta and pizza squares, they offer roasted peppers, eggplant and zucchini, balls of fresh mozzarella, and an amazing bruschetta of Italy's summer-ripe tomatoes. A very nice Montepulciano and a strawberry mojito are what we selected for making our toast to being in Milano together.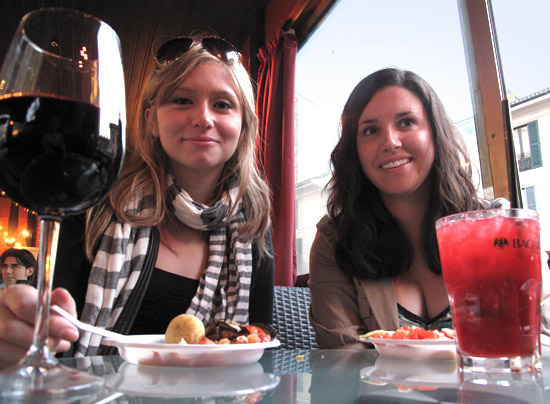 The collective sweet tooth reigned and our meal would not have been complete without a further stroll along the canal and a stop to buy gelato. Hannah and Zibby learned a lesson about design and merchandising. This particular gelateria has very nice signage and interior display… and a line of people out the door waiting to get in. A gelateria 3 doors down is NOT visually impressive and the place was empty.
I was proud of Hannah for ordering her gelato IN ITALIAN! "Vorrei stracciatella." "I would like stracciatella" (A vanilla gelato with little bits of chocolate chip throughout).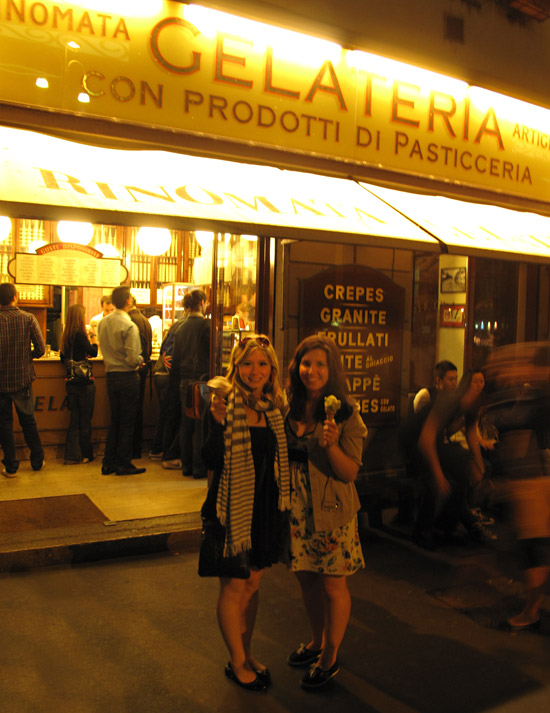 By 11 o'clock on a lovely, warm evening, we were walking along the smaller of the two canals amidst umbrellas, street musicians and candle light. We took a detour for a late night showing of some of Milano's best graffiti, then headed home for a skype session with folks back home.
Hannah and Zibby were gracious, curious and great company during their personal tour of my Milanese haunts. They enjoyed seeing and hearing about some of the particular details of a "local".