Have a Pint or Two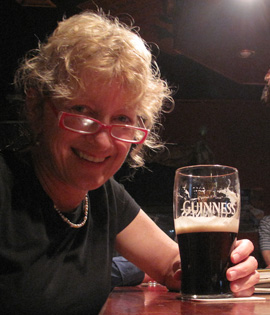 This is what one comes to Ireland to experience: a pint of Guinness and some traditional music. It was after 10:00 on Wednesday night and we walked the half dozen blocks into the town of Carndonagh for "Trad Night" at the Persian Bar. There were 4 or 5 people in the pub and the place was near empty. We took seats at the bar, right across from the table where the to-be-gathered musicians would sit. Within 10 minutes, the place started to fill, and musicians gathered around their table, including the 3 Henry Sisters. The music started at 10:55.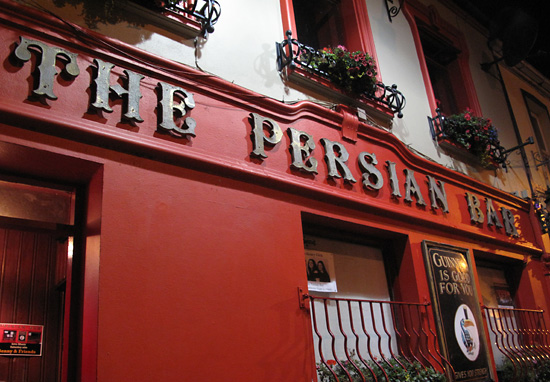 I joked with the bartender, saying that I was doing a Calendar of Irish Bartenders.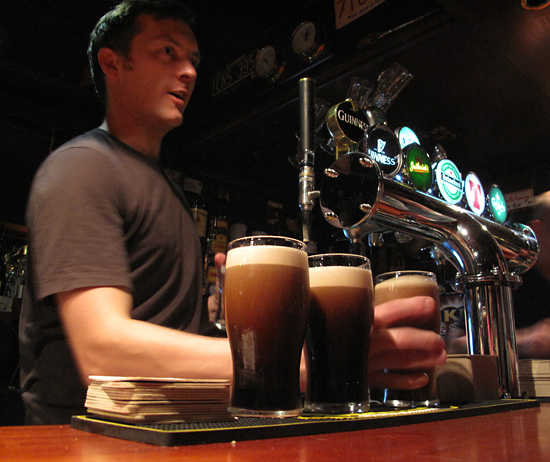 The Inishowen Henry Sisters
Joleen, Lorna and Karen Henry are three of six sisters from Inishowen. Their music has been described as traditional, folk, bluesy, roots, world and contemporary, an eclectic mix of their individual and collective musical experiences. The Henry Girls released their first album 'Between Us' in 2002 to widespread critical acclaim and giving the group access to a wider audience.
http://www.dun-na-ngall.com/nw92.html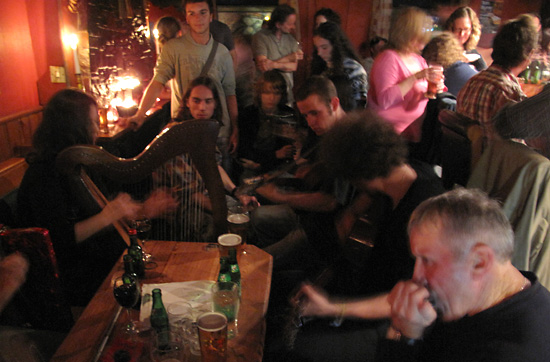 "Convivial" is absolutely the word I'd use to describe the nature of the people here. Everyone is immediately a "cousin", (many of them truly so). Conversations sprout readily whether lubricated by a Guinness or not. And there's something about the lilting music in the voice of the Irish that speaks of welcome.
Trad Night is off-the-cuff spontaneous, yielding songs both mellow and lively. When James Nonne, the local storyteller, began his bawdy, rhyming recitations the patrons in the packed pub would "shush" each other loudly, and then give a round of applause with his story told.
Ballads/Stories:
"Galway Bay/Young Farmer"
"Bonnie Black Hair"
"The Rangy Ribs I Bought from Mickey Dhu"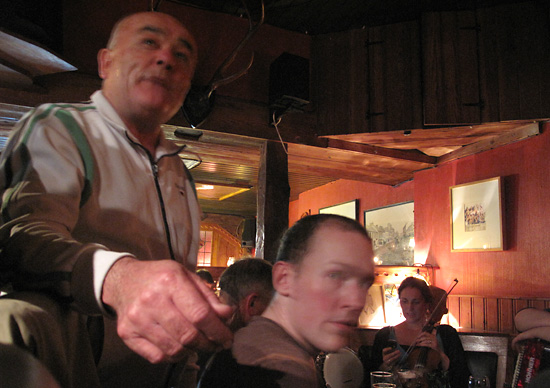 One cousin's advice about getting to know people here: "Never say 'no' to the cup of tea." (That doesn't look like a cup of tea in his hand…)
Another cousin's comment about the reception he expected from his wife when he got home that night (when he had only been expecting to be gone for a short evening): "A cold shoulder and a hot tongue."