Local Specialties
The command came by e-mail from my Italian instructor back home:
"Non dimenticarti di mangiare il famoso 'coniglio all'ischitana' accompagnato di un buon vino dell'isola. Ischia e' famosa anche per il suo vino. Divertiti!"
Translation: "Don't forget to eat the famous Ischian-style Rabbit, accompanied by a good wine from the island. Ischia is famous also for its wine. Enjoy!"
I did, and I did. The rabbit was fantastic! (I even ate it off of Glenda's plate since it wasn't her thing.) Coniglio all'Ischitana showed up as the main offering for dinner at the hotel. Delicious. Just a little spicy. Nice sauce around the meat. (I questioned its being served with french fries and over-cooked baby peas, but hey…) The Rabbit was preceded by prosciutto and melon, then pennoni pasta with rabbit sauce and a fantastic Risotto ai Frutti di Bosco (risotto – rice – cooked with berries and a creamy, cheesy base.) The meal was finished with dessert of a wickedly yummy Napoletano sfolgliatelle pastry. I had only planned to "taste" the dessert, but that plan fell through.
The berries lent a beautiful violet color to the risotto, not a color I usually see on my dinner plate, but very nice with the red-orange.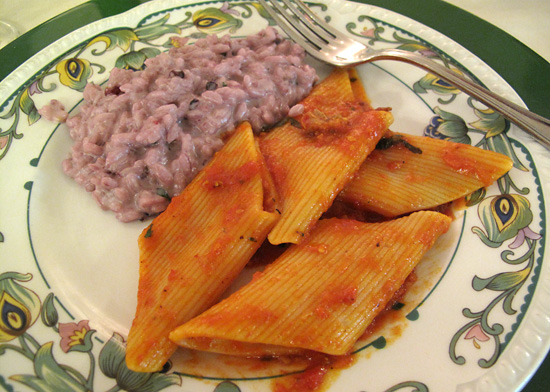 I was so pleased to see the rabbit listed on the menu! That was one evening I wasn't going to eat "out".
Add to this good meal all the other good things I ate while on the Island, such as prosciutto-wrapped fresh figs and melon, followed by the one-and-only, true Napoletano Margherita D.O.C. pizza.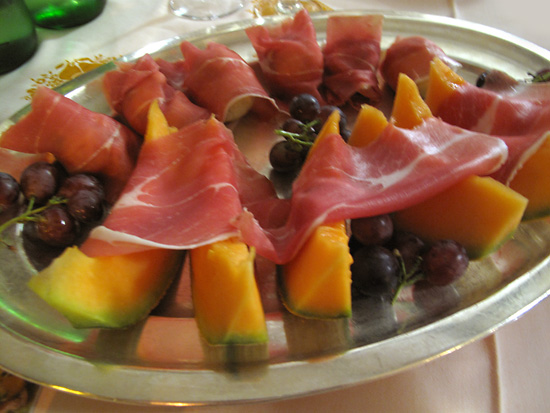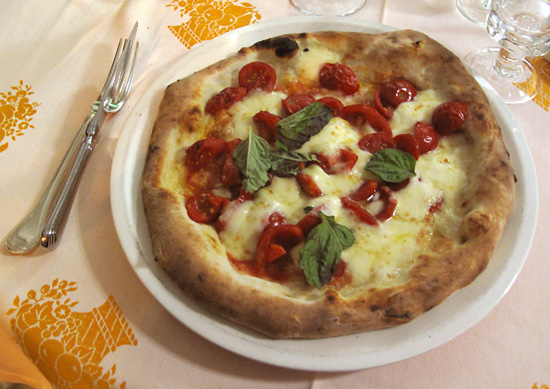 And if only I had a kitchen available, I could bring some of this fresh seafood home and make my own dinner! Displays frequently featured lobster, sea urchins, mussels and countless fish both recognized and unrecognized.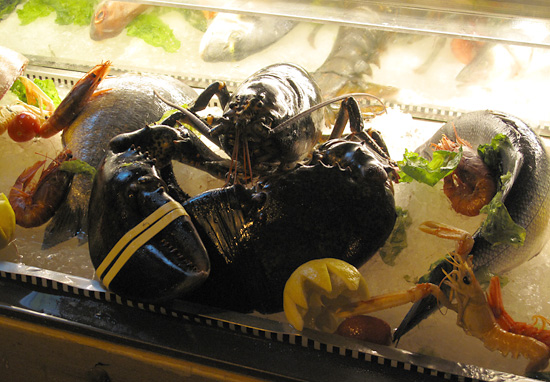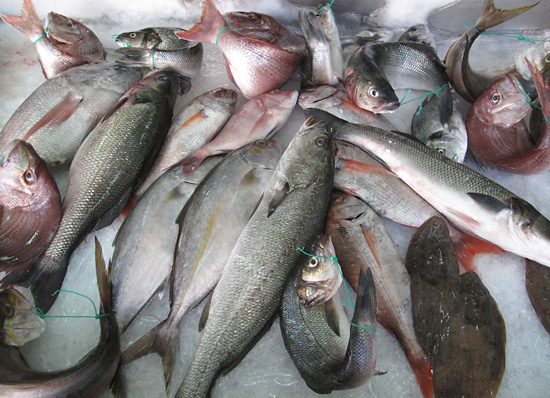 One can also marvel at the pastries displayed temptingly along the main tourist travel route.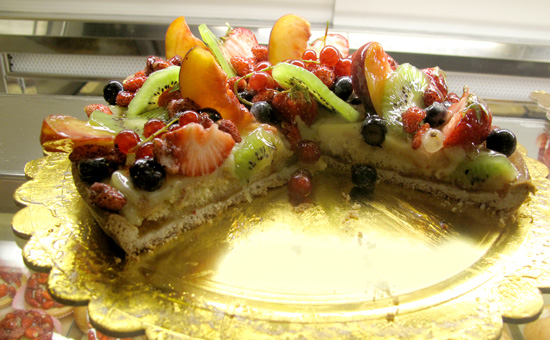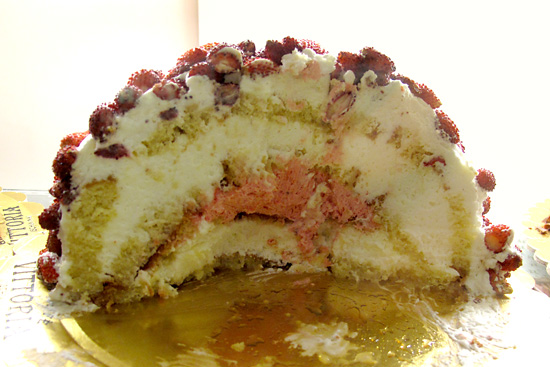 OR, drink your dessert and enjoy a little sip of the local Limoncello, much of it homemade. If you're not one for lemon, there's Meloncello, Kiwicello and a dozen other variations.