Luigi Gathers Wood
Running parallel to the Naviglio Pavese canal, between the bike path and the highway, is a drainage ditch overgrown by a tangle of brush and trees in every state of growth or death. Luigi knows this. The 82-year-old man rides his 70-year-old bike along the canal and stops to cut deadwood.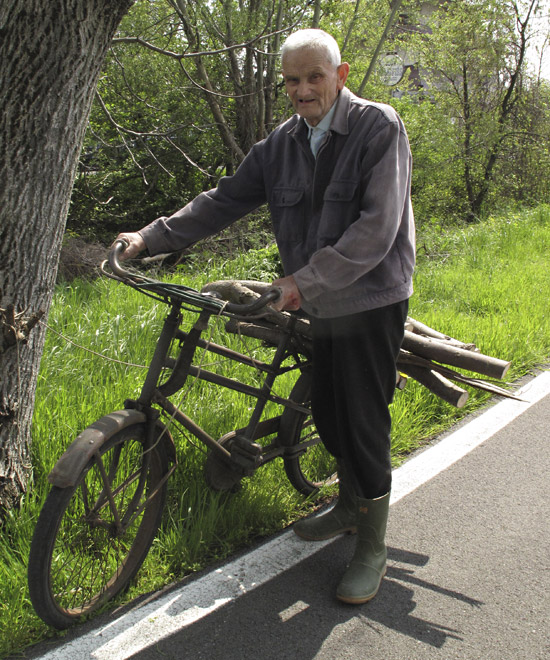 Today he worked on one particularly good dead tree, much like an alder, with plenty of big wood. Knuckles bloodied from hard work in the brush, Luigi spent his time gathering the arm-sized and smaller sticks. With his bow saw, he made half cuts in the wood, then cracked the branches across his knee to break them.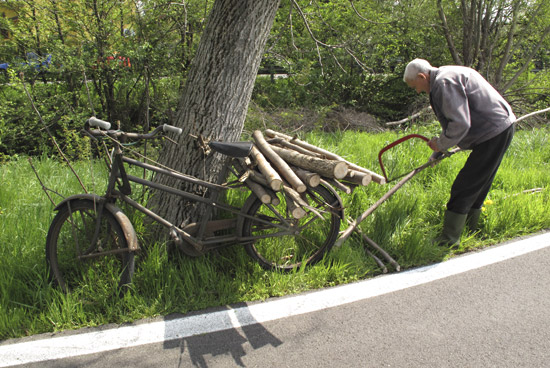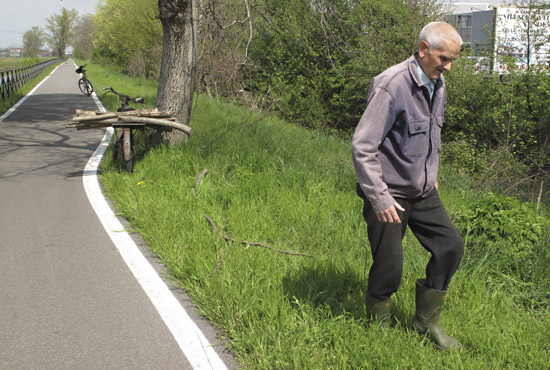 His bike is what stopped me. I don't think I've seen a bike so uniformly coated with such a mist of rust from end-to-end. Think about it. He's been riding this same bike since he was 12. It has only one speed: however fast his legs are capable of that day.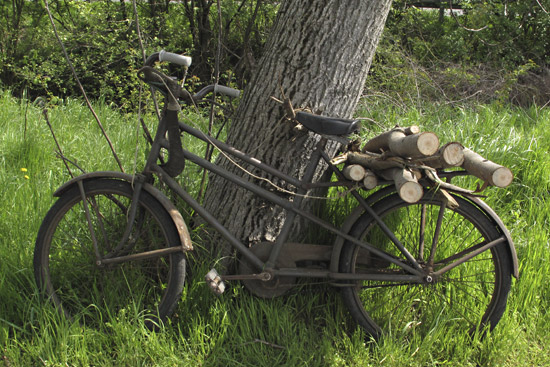 Luigi and I chatted for a little while, and he allowed me to take a few photos as we talked and he worked. I didn't understand everything he said, but we enjoyed the meeting. I said goodbye, then walked back to my bike 20 feet away while Luigi finished loading his bike. Then I heard the bike fall and the wood tumble. It had all been out of balance and spilled.
I walked back, and held the bike for Luigi while he reloaded the wood. He excused himself, wanting me to be out of the way as he swiftly raised his curved machete, and thrust the tip down into one of the larger logs for the ride home. He bound it all with heavy string that stretched across the bow saw blade laying flat on top of the woodpile. (In my mind, I questioned that, but who am I to tell him how to tie down his firewood!?) He pushed his bike to the other side of the trail where there's a canalside railing. I didn't quite understand what he was explaining, but I soon understood by watching him.
Luigi's legs are bad. He propped himself and his bike against the railing. I then held the bike while he used his hands to lift his right leg up and over the top bar. He asked me if anyone was approaching from behind, and I steadied him on his bike as he propelled himself into motion. I ran ahead to make sure that my own bike was well out of his way.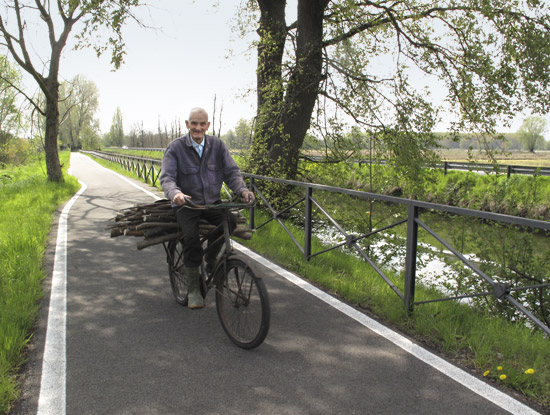 As I followed along behind him, I wondered how in the world he was going to stop where the path meets the road up ahead. And how was he going to get started again?! I too stopped at the path end, and Luigi was stalled there, half-straddling his bike. Another cyclist stopped to offer help. I finally realized that Luigi wanted me to hold the bike still while he manually lifted his leg off. He walked the bike to the crosswalk, and declined any further assistance. I watched him as he walked his dear old bike and his load of wood across the street and down a narrow alley toward home.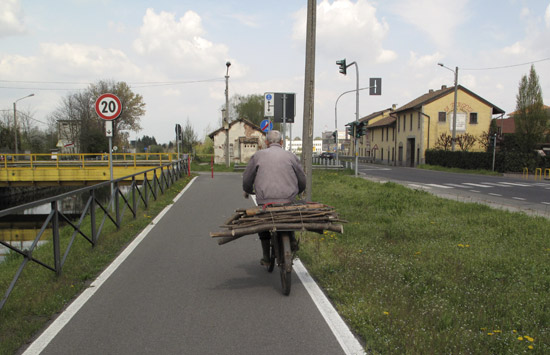 He'll be back tomorrow for the logs.
– – –
It doesn't matter what kind of day I'm having, or what I'm preoccupied with, but a brief, chance encounter like this with Luigi leaves me smiling and bright. These are the moments they don't advertise in the travel brochures, but they are the highlights of my time here.