Meeting Signora Ada
Last September, with just a few clues in hand, I wandered around Venice in search of Trattoria da Ignazio. Having heard about the exquisite meals freshly prepared by Signora Ada, I was disappointed to find the restaurant closed for the day, but vowed to return. With wide eyes, my wonderful Italian teacher in Bellevue, Josefina, had raved about the trattoria.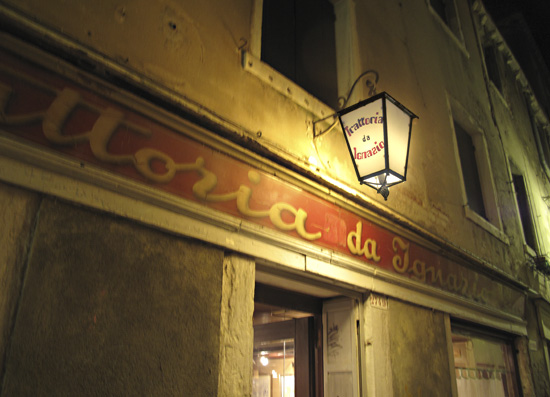 At the top of the list for my visit to Venice last week with my friend, Sally, was a dinner at Signora Ada's. I was able to navigate right to the trattoria (an amazing feat in Venice) and was surprised by it's large size. I had expected a much smaller restaurant with one woman in the kitchen. I was puzzled and thought that maybe someone else had taken over the restaurant.
We entered and were greeted by a waiter in a white tux. I asked if Signora Ada was still there. The waiter immediately went to the kitchen and I heard him say (of course in Italian), "Signora Ada, someone's out here asking for you."
This pixie-like, spry woman with a bright yellow scarf tied around her neck came out to say hello. I relayed what I had been told of her, and that I had been "commanded" to eat there. We talked for a few minutes, two short women, eye-to-eye. Her sparkling warmth was a delight. We were told she's been cooking for 70 years (?!)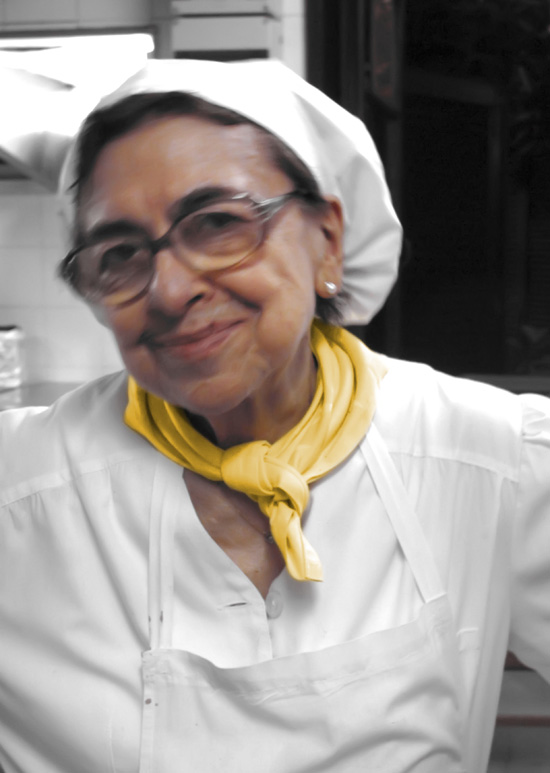 The restaurant has a large internal dining room, and an even larger outer courtyard, with a vine-covered trellis ceiling. (Choosing to avoid cigarette smoke while we were eating, Sally and I chose the inner dining room.)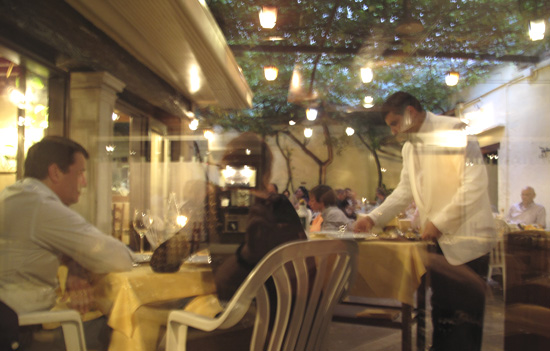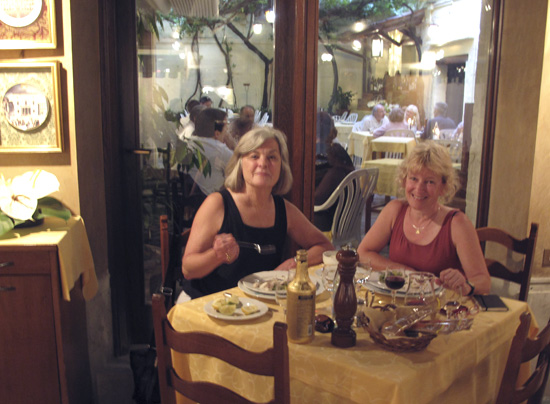 I began my meal with Cape Sante au gratin, delicious scallops baked in their shells.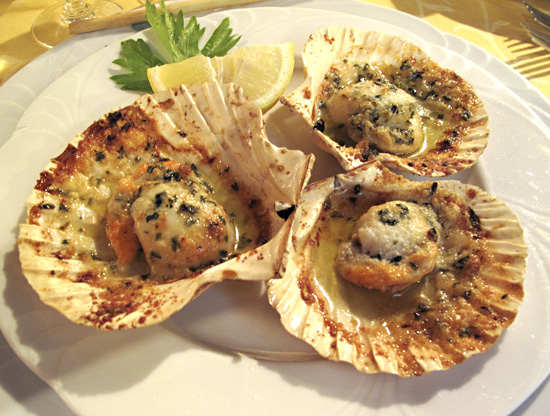 We were well-tended by our waiter, Fausto, who recommended the whole, baked branzino. He even brought it to us on a tray before cooking; it looked like it had been caught just 5 minutes earlier! We ate our appetizers, drank some of the house wine, and then were presented with the fish when simply cooked to perfection with just a little olive oil.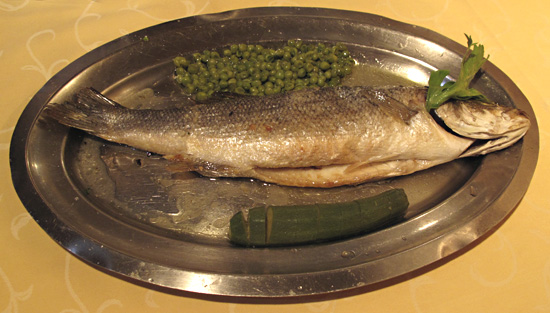 Here's Fausto, ready to debone the fish for us.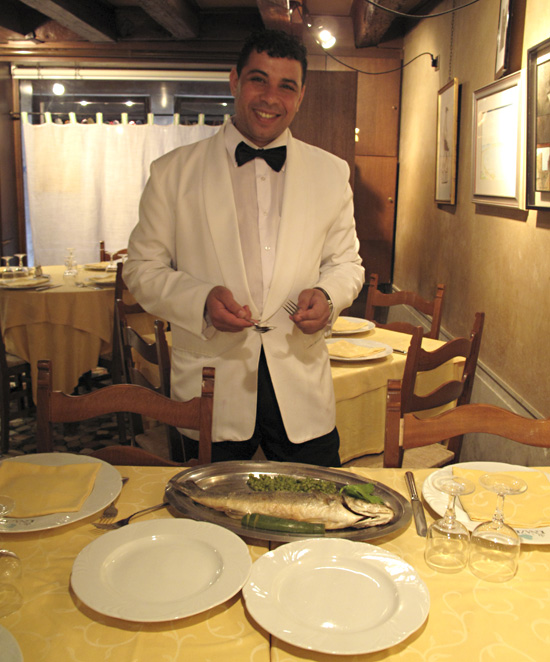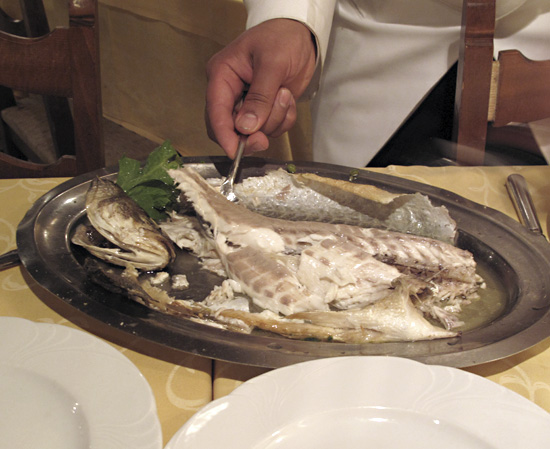 The fish was moist and succulent. Not overdone one minute! Delicate and so freshly flavored.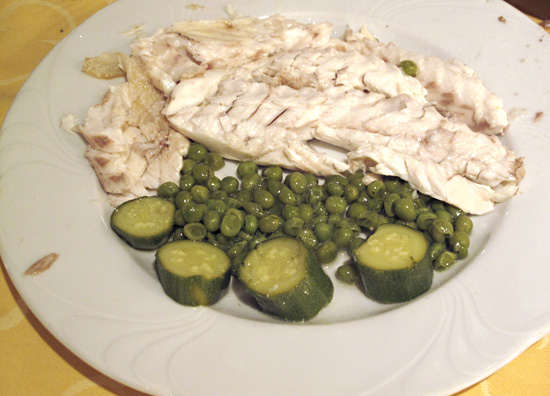 During the meal, I had to get up and take a peak in the kitchen. Signora Ada was hard at work putting her expert touch into each dish for every fortunate restaurant patron.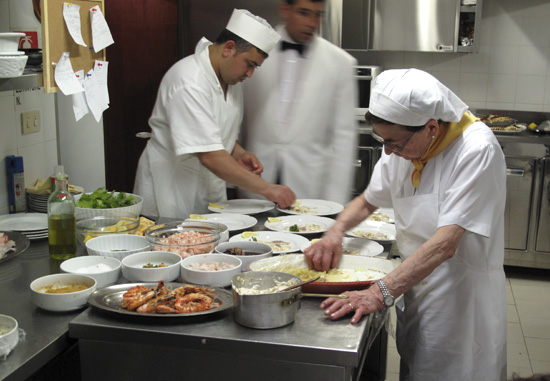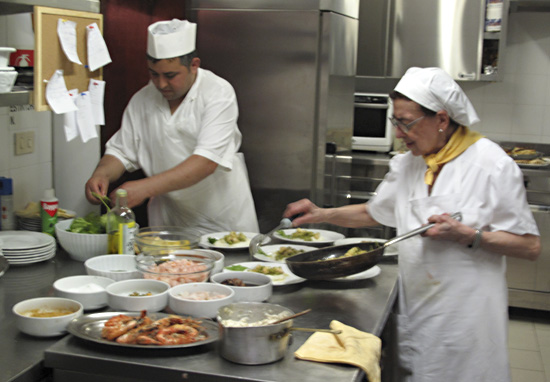 After our long and wonderful meal, Sally and I went back to the kitchen door to say goodbye. Signora Ada and I chatted a few minutes more, gave each other kisses on both cheeks, and shared twinkles in our eyes. Her Trattoria da Ignazio is a must for any visit to Venezia!
TRATTORIA DA IGNAZIO
2749, S. Polo – VENEZIA (VE)
Tel: 041.5234852
Web: www.trattoriadaignazio.com