Sally in Milano
Sally flew over from Seattle a week ago to share the sights of Milano, the wonderful food treats available and the simple efficiency of my apartment. She came off the plane and out of customs beaming.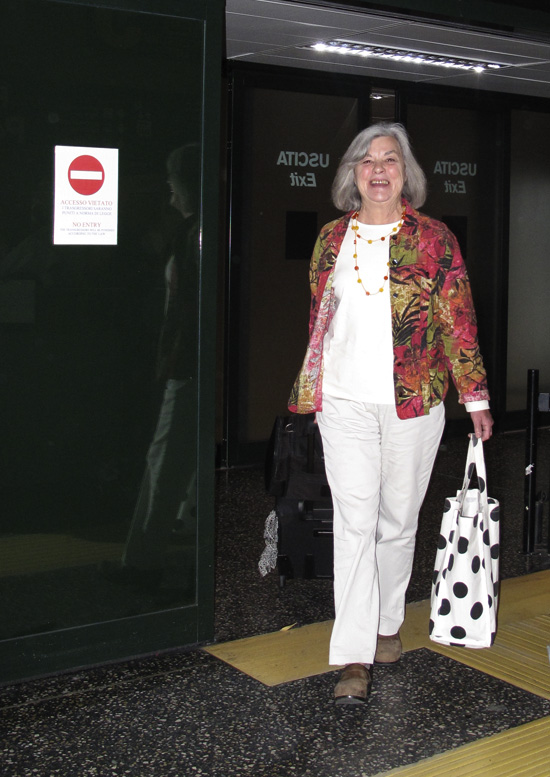 We took the Malpensa Express train from the airport into town, and got out at the Cadorna station. We walked out in front so she could see the "Needle, Thread and Knot" sculpture by Claes Oldenburg and Coosje van Bruggen. The knot is across the street, as if the needle had taken a stitch under the roadway.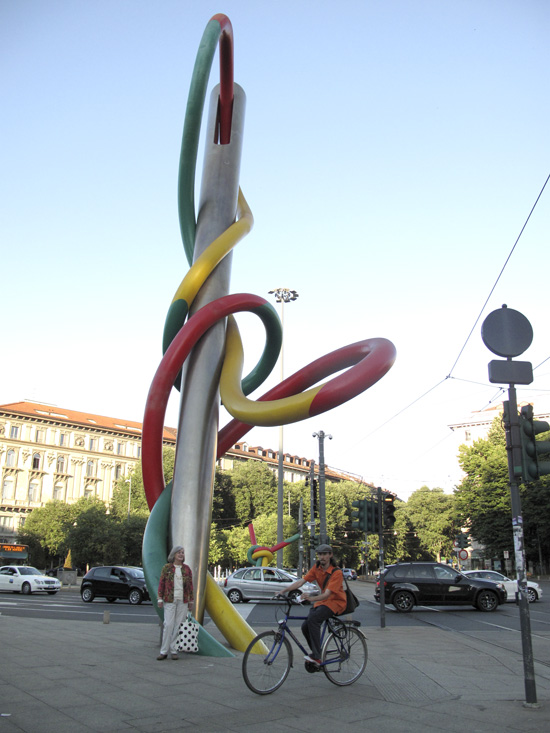 Our first breakfast was a caprese salad with mozzarella from the farm, lovely ripe tomatos, just-picked basil, served on a bed of songino – watercress – and some freshly sliced proscuitto. Not a bad welcome to Milano!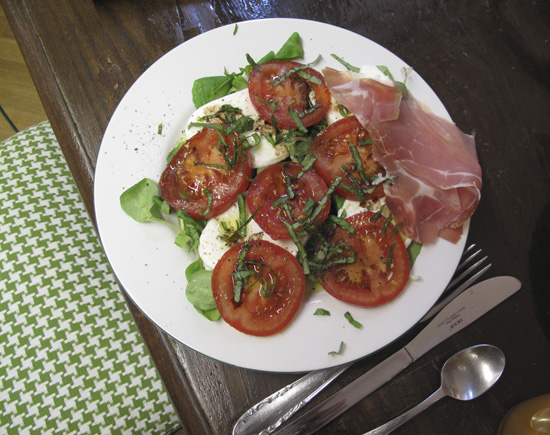 On Sally's first day in Milano, we walked over to the Saturday street market where the vendors were selling fruit, vegetables, cheese, meat, fish, clothes and a few household goods. We stocked our kitchen with fresh basil, red pepper, asparagus, spicy salame with fennel, fresh eggs, cherry tomatoes, blood oranges, pickled onions, both "sweet" and spicy olives, burratina cheese, smoked mozzarella, dried figs from Calabria, prosciutto and bresaola.
With hot weather, we opened the french doors and sat on my "shelf", as Sally called it. Not quite big enough to be called a deck, or veranda, or lanai, it held our two chairs while we put our feet up on the railing. We chatted in the sun and greeted neighbors as they walked past to go dump their garbage in the room below us.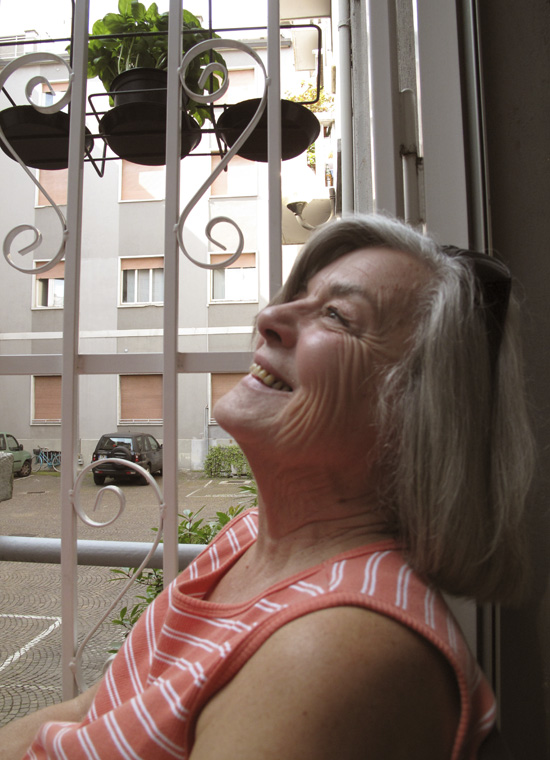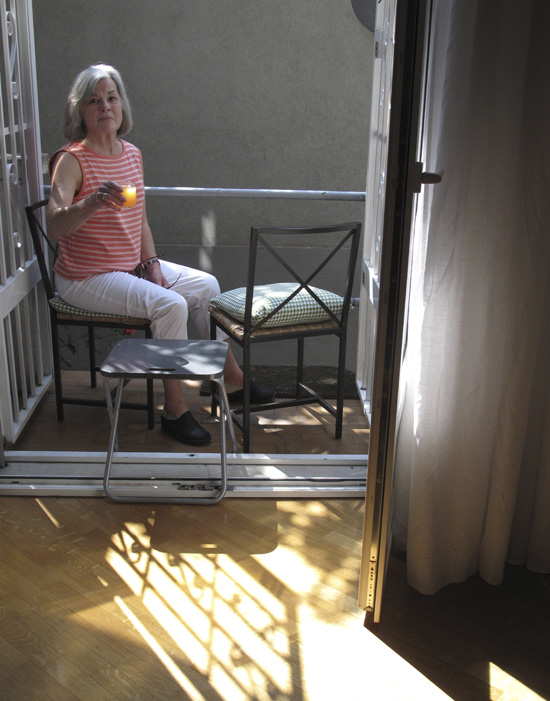 No trip to Milano would be complete without going out for aperitivi. We walked along the Naviglio Pavese Canal and stopped into one of the many restaurants that were hopping and lively on the hot, muggy night. We selected from their buffet of pasta, cheese, meats, pizza squares… and ribs (of all things). Sally's martini was oddly sweet and not at all martini-like.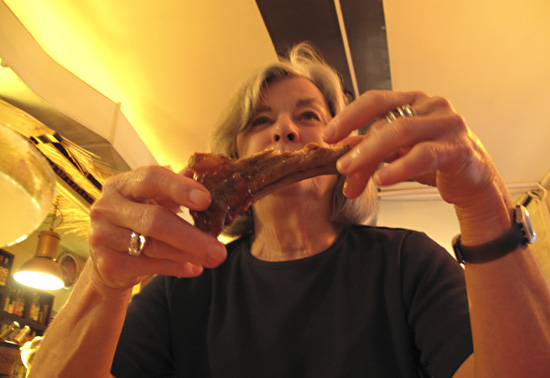 Sally enjoyed online communications, keeping in touch with family through Skype and e-mail.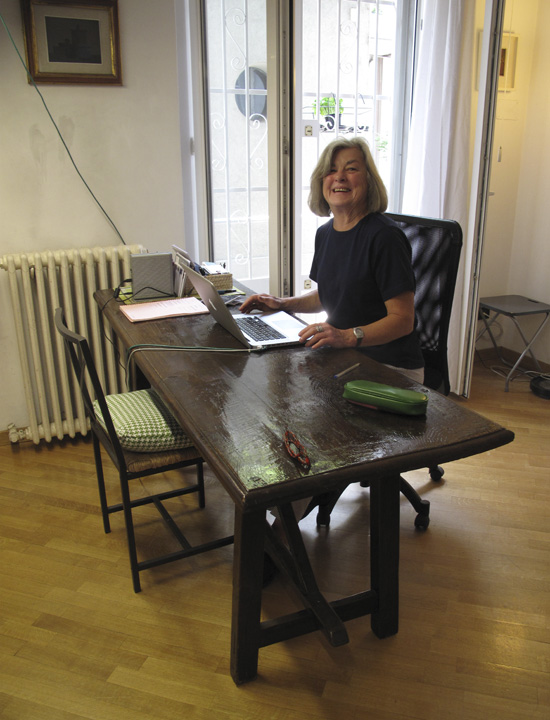 There's a wonderful graffiti wall outside of a garden center between Corso Como and the Monumental Cemetery. What a great backdrop! This is one of my favorite photos of Sally in Milano.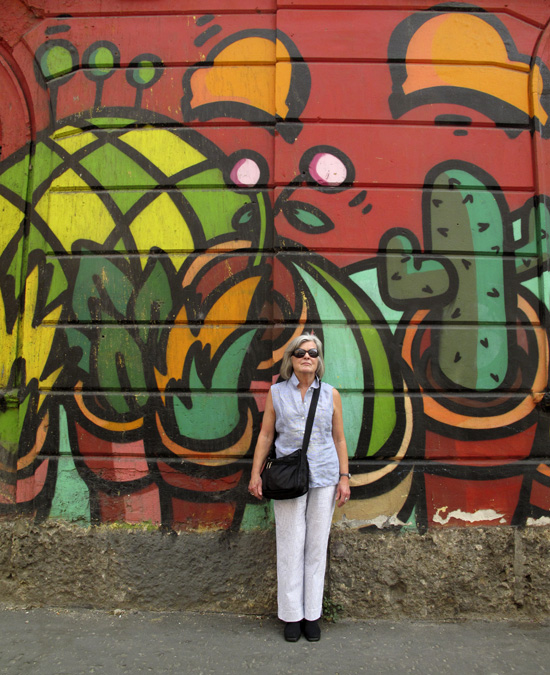 We just had to take a stroll through 10 Corso Como, the city's legendary fashion, accessories, art and design boutique. This is NOT the place to pull out your credit card, but rather just harvest ideas for garment design and construction.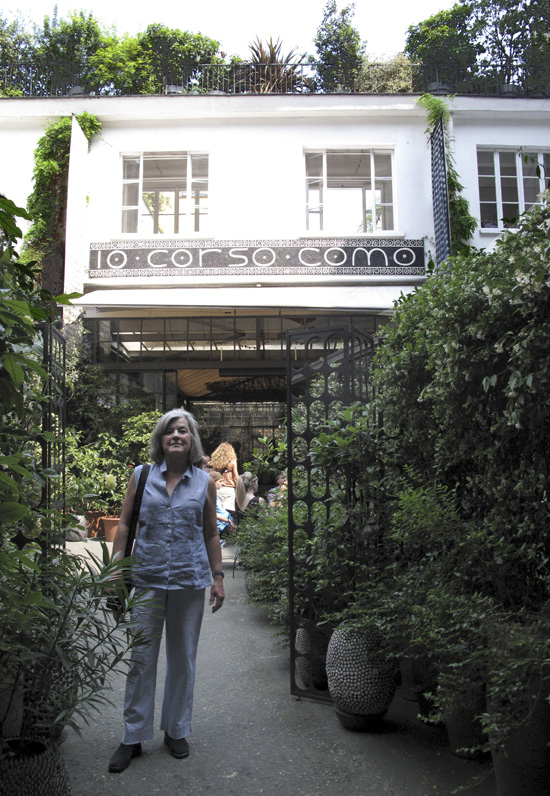 We made reservations for dinner on Saturday at Malavoglia where you ring the doorbell to get in and are greeted by bow-tie-adorned owner, Aldo, and a complementary glass of bubbly prosecco. We shared a primo of fresh pasta with black squid ink sauce. It was delicious.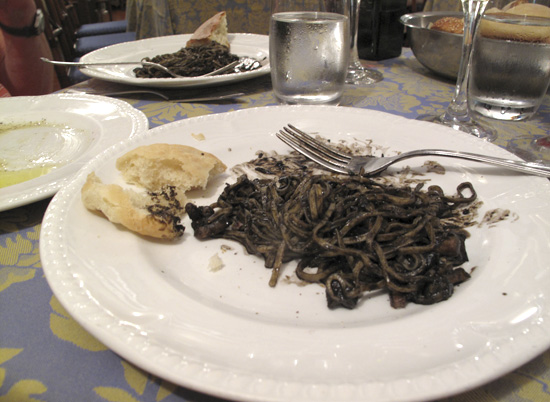 One of the highlights of Sally's time in Milano was her visit to the Duomo. We spent time in the piazza, "the living room of the city". We walked its circumference marveling at the variation in details and gloried at the cathedral's interior. We topped off the tour with time on the rooftop, getting up close to the sculptures, finials and gargoyles, and looking out over the city.