The Perfect Lunch
One would think that in a coastal town on an island in the Tyrrhenian Sea it'd be possible to find a good meal of seafood. I was on a mission to satisfy a craving for a plate of mixed, grilled, fresh fish. I found it, and it was perfection.
It was 2:00 p.m. and I was hungry. I strolled the walk along the string of dockside restaurants and read the menus. The dozen restaurants were empty of patrons, and yet of them all, only one had a waiter that came out to the walk to greet me: "O Purticciull". I told him I was checking out all the menus before I made a decision, then walked on. I walked to the wharf end, and turned around and went back. (The personal touch wins points with me.)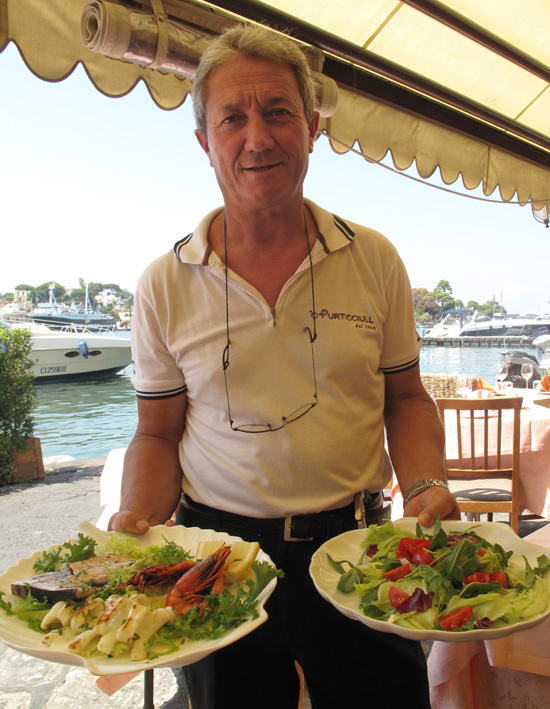 I sat facing the marina, the small local boats, the luxury yachts and the cruise ships. I ordered my mixed, grilled fish and the waiter (I didn't get his name) suggested a small salad, a "quartino" of white wine and some bottled water. Yes, exactly! I sat on that sunny day with my journal, at ease and breezy. When the waiter arrived with my meal I knew I had selected the right place. Heaven on a plate!
The swordfish, squid and scampi were fresh and grilled perfectly. Delicate, moist, tender. Every bite was savored. Absolutely what I had been looking for!
If you find yourself on the island of Ischia, reserve a meal for O Purticcull, and say thank you to the waiter for me.
http://www.porticciullo.it/index.htm